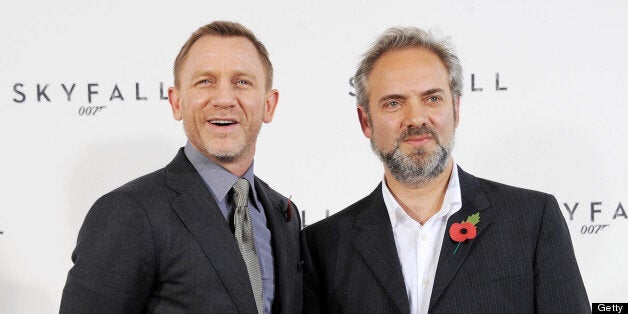 Sam Mendes' return to the James Bond canon bodes well for a franchise which has struggled for successive successes since the Sean Connery era. Not commercially, of course, but critically.
The last Bond director to helm two consecutive 007 adventures was John Glen, who ended with Timothy Dalton's double header of The Living Daylights (1987) and Licence to Kill (1989). Glen, who edited 1969's On Her Majesty's Secret Service, filmed five ambivalent Bond pictures in a row in the 1980s and ended rather too grittily for the masses with the joyless, yet underrated, Licence.
Mendes' Skyfall is the most successful Bond film in the series' 50 years. Laden with humour, excellent sequences, Roger Deakins' dazzling cinematography and a throwback villain, it regained Bond's identity after the rushed and ragged rubbish of Quantum of Solace.
But despite the hype, Skyfall is not even Daniel Craig's best Bond film. It is worthy of a top five slot of the 23 Eon-produced Bond movies, but Craig's debut, Casino Royale, is the superior film.
However excellent Skyfall was it had plenty of flaws, so here are five ways for Mendes to make Bond 24 a better Bond outing.
John Logan is writing both Bond 24 and 25 back-to-back, which hints at a new megalomaniacal organisation. The Quantum idea was abandoned following the Quantum of Solace disaster, but it would be fascinating to see Craig's Bond, the finest incarnation since Connery, take on a 21st century Spectre. The political outlook could have a unique bearing on such an antagonist and however superlative Javier Bardem's Silva was in Skyfall, he was merely intent on gaining revenge on a former employer.
A biased observation, but watching Bond roam the streets of the city you live and work in was genuinely heartwarming. The capital was wonderfully captured by Deakins as Bond visited the Tate, took a tube ride and charged through Westminster.
Foreign locations have become synonymous with Bond, but the sub-plot of an internal threat was a welcome addition to Skyfall and one which was fleetingly wasted in 1999's The World is Not Enough. Innovatively repeating the trick could supplement a new Spectre.
Skyfall paid homage to the Connery films, albeit in reverse, as the villain's raided Bond's lair rather than vice versa, however it was an underwhelming finale. A superfluous underwater battle was desperately added to augment the faltering tension and although it improves with repeat viewings, the Scottish setpiece could not match the sequence in London. Act three proved to be Royale's Achilles heel too, despite Eva Green's Vesper Lynd bringing genuine emotionality, and not since Goldeneye has a Bond film finished satisfactorily.
It was amusing to read a whiny, sanctimonious Times writer, who once told a former colleague to "go f**k yourself, you barren old hag", complain about how anti-feminist Skyfall was. Moneypenny settled for a desk job because she was a liability in the field and after Silva shot dead Severine, who nervously nestled a shot of whiskey on her crown, Bond quipped it was "a waste of good Scotch". M, "evil Queen of Numbers" M, died as well.
So it is through gritted teeth yours truly suggests Mendes include a ferocious female foil. Not because Skyfall was anti-feminist (when was James Bond regarded as the protector of suffragettes?) but because some of the best Bond films have boasted outstanding female leads. Royale had Vesper, On Her Majesty's Secret Service had Diana Rigg's Tracy di Vicenzo and Honor Blackman's allure in Goldfinger is unforgettable.
Thomas Newman has composed all but one of Mendes' films, but his announcement as David Arnold's replacement prompted scepticism. Arnold had gone stagnant, despite rekindling the sound of John Barry in Tomorrow Never Dies and the more touching Casino Royale, but Newman's score for Skyfall was unmemorable.
With the exception of Tennyson and Enquiry, the tracks which complemented the exciting shootout in Westminster, and the taut She's Mine, he failed to bring the bravado to Bond a la Barry and Arnold. The latter's theme from Royale was even partly used when the Aston Martin DB5 made its glorious entrance.
Mendes will almost certainly retain Newman, but Hans Zimmer is likely to be available with Christopher Nolan's Interstellar coming out in winter 2014, and it would be amazing to hear cinema's greatest current composer conduct the Bond orchestra.