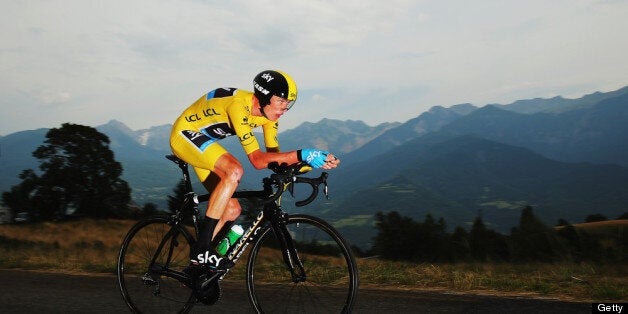 Wimbledon Saturday ranks as one of the British sporting calendar's most loved occasions, not so much for the matches but the personalities who populate the royal box. It is an antiquated and de rigueur occasion which symbolises the beauty of the Championships, though earthier sports lovers will argue it is obsolete and snooty.
Last month, a handful of Team GB's London 2012 gold medallists were required to stand and savour the Centre Court crowd's acclaim. Before they received their cue, the BBC's Olympic anthem played with a magnificent montage which evoked pure nostalgia for last year's hegemony. This Saturday marks a year since Danny Boyle's glorious opening ceremony and just remembering those terrific two-and-a-half-weeks is spine tingling. We would never have it as good.
Only we would just one year later.
The British sporting summer of 2013 will not be held in the same reverence as the previous year, but it trumps its predecessor for the quality of achievements registered.
It may be unpatriotic to scrutinise a plethora of events which prompted strangers to converse on the tube and united a nation which was - and still is - disenchanted with its government, but some of Britain's achievements don't register a year on.
Two golds came courtesy of dressage. It is difficult to justify dressage as a sport. My editor protested it was and I suggested it was "meticulous trotting", which made her laugh as she (possibly) attempted to hide agreeing with me.
Another gold came in team jumping and Team GB thrived on the water again with four golds. These are niche sports primarily defined by class and though rowing is genuinely enthralling to watch during the Olympics, in 2013 Britain has registered exceptional wins in its most popular sports.
The British and Irish Lions' 2-1 defeat of Australia secured the future of an establishment which dates back to 1888. At Lord's, annihilating Aussies continued as England humiliated the Green and Golds to go 2-0 up in the Ashes. Alastair Cook's side should become the first to win three consecutive Test series against their nemesis since Sir Ian Botham's 1981 heroics cemented the previous hat-trick.
Andy Murray's Olympian-like Wimbledon win earlier this month was referenced by Cook as an inspiration to England ahead of the five-Test series. The unity 2012 oozed has not just been retained, but intensified, and in Murray Britain arguably boasts the best tennis player in the world in all but ranking. The Scot holds two Grand Slams and claimed an Olympic gold a year ago, which justifies coach Ivan Lendl's assertion he is superior than Novak Djokovic.
Last night, Chris Froome rode through La Ville-Lumière as the second successive Briton to win the Tour de France in its centenary year. Sir Bradley Wiggins' 2012 triumph, other sporting events the past two months, as well as Froome's dull persona and favourite status, have ensured there is little fanfare. It is testament to British cycling's success under Sir Dave Brailsford such a victory can be overshadowed.
Lee Westwood's major choke at Muirfield should not mar what was another super Sunday for British sport. Froome's Kenyan origins guarantee he will not be as cherished as much as Wiggins, but he represents these isles and his statement that the 100th yellow jersey "will stand the test of time" was powerful and timely.
Justin Rose's maiden major accomplishment at the US Open in June also nestles somewhere underneath this summer's conquests. On Father's Day, he became the first Englishman to hoist one of golf's four majors in the 21st century after a nerveless final round at Merion round. Nick Faldo was the last conqueror before him, at Augusta in 1996.
Next year, they might not have enough room in SW19's royal box.