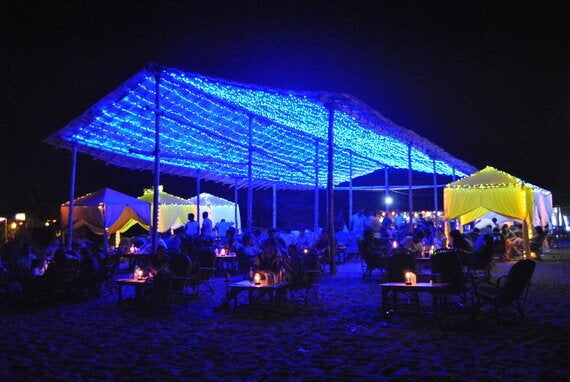 For decades holiday makers have been flocking to Goa for its vibrant clubs, psychedelic beach parties and ambient live music scene. A favourite since the 60s among the hippy community, many have found themselves returning year after year; in love with the state's almost spiritual approach to partying!
I called Goa my home for four months while travelling the country. Here I share my insights of the scene, located in the lively South Indian state.
Revellers tend to gravitate between two lively hotspots, depending on their preference. Those after somewhere playing all the commercial favourites and featuring some big name DJs tend to head to the famous clubbing strip on Tito's Road in Baga. Here, it almost has a continental feel about it with bars, restaurants, tattooists and souvenir shops all clustered along the winding lane. Tito's Road always reminds me of girly holiday to Spain or Greece, as there is always a hub of tourists here for a big week of cocktails and holiday romance. Though you'll often find the busiest days will be the weekends, due to a large number of Indians from neighbouring states travelling down to party for few days before heading back to weekly grind of work.
Two great places to start your evening off on the lane are Hype and Cocktails and Dreams. Sit along the partially open air bars and take in the atmosphere of the coming evening ahead. These cool pre-drinking spots are perfect for people watching and generally kicking off your night out!
Further up the lane are the strips' big three: Cape Town Café, Tito's and Café Mambo's. A popular meet up spot, Cape Town always draws big crowds that even spill out into the street. But that's all part of its charm, as it rarely feels too packed, rather that you are in the right place to be. I never feel more on holiday than when I am in Cape Town; sitting along the vast three-sided open air bar watching the guys make my cocktails or later throwing some big shapes on the large inside dance floor, probably after too many said cocktails! An easy thing to do, with their ever tempting two-for-one deals.
Cross the street and you'll arrive at an original Goa institution Tito's. This iconic club was one of the first to open in the area, and has since established itself as a landmark in its own right. Visit the venue's adjoining courtyard for chilled out drinks before heading inside to the main club. If you're female, another plus is that every night is ladies night at Tito's. That means free drinks whenever you go there! Back in its heyday Tito's was the 'it' club of Baga, however the others in the big three seem to have surpassed it. Either way, it is worth taking a look while you're on the strip.
Tito's sister club Mambo's is a short walk from here and much like Tito's and Cape Town, it is a key destination for full on nights of house, hip hop and r 'n' b. Often with a big name on the decks, enjoy the party from one of the many stylish alcoves in the front bar, before heading back to the lavish dance floor that always tends to be in full swing, with the front always managing to retain its ambience.
From Mambo's the street leads onto Baga Beach, where cosy beach shacks pump out the biggest hits of the season while you party the night away right in front of the ocean. Big favourites of mine are Café Laval, Bottle Bay and Café Del Mar for their vibrantly colourful harem tents; while Xavier's and Love Shack also win me over for their attentive service and abundance of big tunes! If you're in the mood for karaoke, St Anthony's is the place to head, as their vast music selection is equalled by an even bigger drinks menu!
An honourable mention must also go out to Cavalla, a bar that sits between the main strip and the beach. This alluring venue has a different music style every evening, from an in house piano player one night to a live band on another. Its upmarket yet welcoming vibe and charming décor instantly makes you feel at home; with some so much so that they have taken to dancing on top of the bar, coyote ugly style!
Finally, chucking out time at your designated night spot doesn't necessarily mean the end of your night in Baga. Many keep their festivities going by hitting up Kamaki back on Tito's Road; a place that seems to get into full party mood the later the hour. Plus there's Baptis directly opposite, a great eatery for that post clubbing snack.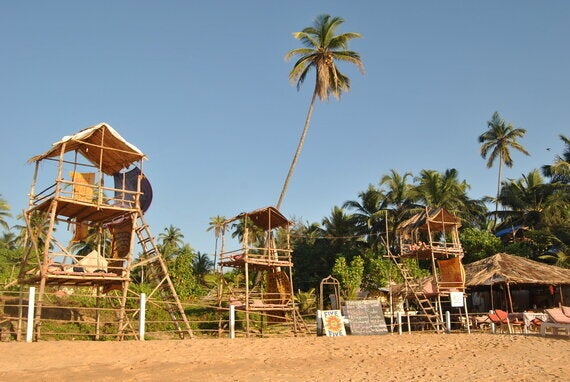 Anjuna and Vagator, on the other hand, provide the outdoor party experience, holding the infamous Goa Psy Trance and Full Moon parties right on the beach. Here you will find the backpackers, musicians and veteran hippies after something a little more off the beaten track; as well as defining experiences and lifelong friends in turn. Here there is more of a community vibe, with many travellers setting up home for the season. You'll eventually come to recognise these faces and characters, who will be found frequenting the parties, browsing the flea markets and relaxing on the beaches.
By day, relaxing chill out music drifts out along the shore line from each of these quirky beach bars. But by night many transform into full on psychedelic raves with trippy artwork splashed on their walls, as colourful individuals fill the dance floors and spill out onto the sand.
The night also brings out the chai mama's, who set up tables every evening across the beaches to sell everything a slightly intoxicated clubber might need; including chocolate, teas and coffees, cigarettes, sandwiches and more.
If you're curious to see what the fuss is about head to Curlies, one of the original beach shacks and a veteran for throwing some of the best nights on the beach. Often there will be a special event where Curlies will take over part of the beach, decking out the rocks and cliff next to the venue with euphoric artwork and wall hangings. These nights have often been my most surreal, memorable and cherished times in Goa; pretty much summing up what the scene is all about.
Next door to Curlies is Shiva Valley, another big one for Psy Trance, that throws their very own renowned parties on a Tuesday night. Further down the beach are Lilliput Café, Hippies Bar and the vivaciously decorated UV Bar, who also provide nights that keep that Psy Trance pumping all the way along the beach.
If you're not ready to go full power on the raving yet, or fancy a quieter drink beforehand, I'd suggest checking out Five Five, a tree-house style bar that is not far from Curlies and Shiva Valley. With views of the ocean and beach from high up, Five Five offers a more unique drinking experience. The decadent Shore Bar and Elephant Art Café also offer something a little different, as they are more trendy wine bar - without the prices - than shabby chic beach shack.
Seahorse Café however is very much shabby chic beach shack, but that is not a bad thing at all. Marvel at its Beatles style artwork and Jim Morrison mural as you sit on harem style cushions and watch the waves. Or admire a view of the rocks at Guru Bar; a place where you can often spot Monty Star, India's Strongest Man, among its revellers. Guru's, another of the original beach bars, also throw a host of live music events with local artists playing everything from rock and metal to jazz and Indian folk music. Further down the beach Janet and John's throw a weekly seafood buffet and live music night every Thursday. The event has very much become a weekly tradition amongst Anjuna revellers, packing out the venue on a regular basis.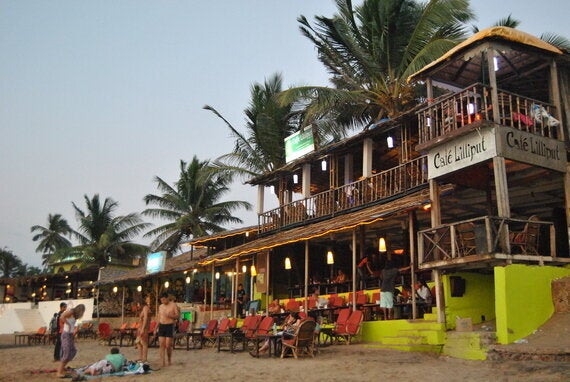 Alternatively, head to Vagator who also host their own Psy Trance shindigs. Visit Hill Top on a Sunday for its legendary parties that kick off at 5pm. Dance in the kitted out neon palm grove to some world renowned DJs and mix with the diverse bunch of hardcore trance aficionados, student backpackers and locals in the know. Or head to Nine Bar and Primrose, which are both situated at the top of the Vagator cliffs. Dance at the open air terraces, before hitting the main clubs where the parties rage on until the early hours.
My favourite Vagator haunt however is at the bottom of the cliffs and built beautifully along the rocks' formation. It may be called Our Shack, but it is certainly more than a shack. This stylish bar, with its opulent design and attention to detail, adds a touch of sophistication to the beach. While its fine dining will enthral you by day, its glass walled dance floor will have you partying until the wee hours, as majestic views surround you from every direction. Also look out for the bar's owner Richie, who I have affectionately re-named Indian Jim Morrison, for his striking resemblance to the singer! He will often be found behind the decks topless, never a bad thing!
Last but not least, no stay in Goa would be complete without a trip to Club Cubana, situated between Baga and Anjuna in the Arpora Hill. Dubbed the 'night club in the sky', the climb to the top is well worth it as its picturesque views are equalled by its hedonistic atmosphere. If you're feeling daring, take a dip at its open air pool, or hang back at the adjoining bars. Situated on several floors, Cubana is a winding maze of levels and terraces that are adorned with chic four poster beds to sip cocktails on and stunning décor and lights that illuminate the surrounding trees. Head there on Wednesday's ladies night, the club's biggest evening that offers free entry and drinks for girls, as well as unlimited drinks for guys once they pay the entry fee. Named one of the best night clubs in Asia, it truly is like no other!