Welcome to Catching the Comet's Tail, a series of interviews with writers, artists and musicians discussing creativity and their creative process. This week, I spoke to Swedish contemporary artist Ylva Kunze during her first London show, Artist in Residence. Her canvases, informed by the woods and lakes of her childhood in Småland, are deeply affecting, filled with kinetic fervour. It was no surprise to me to discover that her name, Ylva, means 'she-wolf' in Swedish.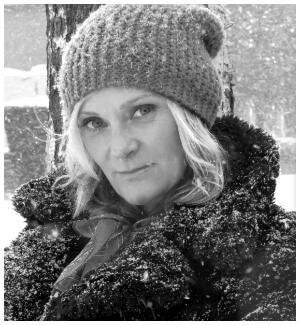 Ylva on creativity and the creative process...
For me, creativity is an urge that I have to act on. It's a total body feeling, something I get if I see something that inspires me. I immediately want to act - to experiment - there is a sense of urgency about it, like with everything in my life! I don't know where the urge comes from, but when I'm involved in the process of making a painting, I do sometimes wonder where the feeling begins. If, for some reason, I can't get to my studio when I have the urge to create, I can put the feeling on hold and tap back into it. It's a sense of wanting to try - like I am desperate to start the journey, the process. For me, creativity is about 'finding out' and the origin of it is not in my brain but my body. The urge might be to explore colours or experiment with the medium I am putting on the canvas. I never feel any fear around my process as it's the actual doing that makes me creative - it's the doing that makes me discover new things.
Was creativity encouraged in you as a child and who were your early inspirations?
Creativity was all around me as a child, for example, my dad made all our furniture. It's a very Swedish way I think, this idea of making things; you don't employ someone, you do it yourself. In school we studied textiles and woodwork from a young age. My mum has a studio and still paints. My childhood home was full of paintings, and my grandma, who was from Vienna, went to art school in the early 1900s. Her father was an architect who the worked on Vienna's famous opera house and mixed in Art Nouveau circles.

However, I never thought I would be an artist ~ perhaps it was something to do with being in Sweden in the 1970's, but I just didn't see art as my path and didn't discover it until I was in my 20s. I was traveling a lot, living in Los Angeles, New York, Stockholm and Gothenburg before I came to London. I was living in a squat with musicians and meeting artists, and decided to start a foundation course in art at Chelsea. That's when I painted for the first time. I still have my first painting. It was a dead animal project; three pig heads!

My grandma was one of my earliest artistic inspirations but I also remember, when I was about 10 years old, being blown away by the vastness of the paintings in the Louvre in Paris. It was the sheer size of them that took my breath away - a strong bodily sensation that I remember very clearly.
How long have you been working on Artist in Residence and is the final result what you originally planned?
I found my painting voice about ten years ago. This process of placing canvases flat on the floor, using buckets and buckets of paint, mixing the paint with glue and the way I drag the paint across the canvas has been with me for some time. This show, Residence, took around two years to complete. A few paintings came about at the last minute and were still wet while I was hanging them.

It's important to me to know the space I am showing in because I plan canvas sizes and the way I want the finished show to look. Hanging the pieces is a very important part of the process for me, and original concepts will change according to the space.
How do you know when a painting is finished?
I get a gut feeling when a painting is finished. I feel exhilarated. It makes me excited and that feeling is the whole reason for painting in the first place. A painting is done when I feel a sense of unity with it.
Who, what or where always inspires you?
Walking in the the vast, raw woods in Småland inspires me; the beauty of the heavy snow glimmering on the tree branches; hearing my footsteps crunching the snow or swimming in a lake with just the sound of the birds and my arms stroking the water. That tranquillity, emptiness and space, rawness and simplicity, is a necessity for me. Being separated from it influences my work. To create, I have to sweat and get my whole body involved so the worst thing for me is to be still. I often do body painting where I'm heaving paint around physically, it's very kinetic process for me.
Is there a collaborative element to your creative process?
When I am painting, I am a very private person so I never have anyone watch me while I paint, but the hanging of a show is a different matter. I love having people to bounce off at that stage and having my representative (Sarah Smith) has been fantastic for me. I needed that support otherwise I'd probably still just be in my studio not showing anyone anything! I am confident as an artist but wasn't that confident about showing my work in London until I started to collaborate with Sarah.
Where do you most like to be when you paint and do you have a routine?
My time is limited because I am a mum, but generally I turn up at my studio and plan what I'm doing, then I mix the paint which is a very meditative part of my journey. Painting grounds me, quietens me down. When the actual painting process begins, I like to have loud music in the background, XFM radio playing indie rock. I find the energy of London more conducive to painting than the Swedish countryside although my work is completely informed by the latter. The first thing you are told as a child in Sweden is, "Don't go out into the woods because you will get lost like Hansel and Gretel... you will disappear."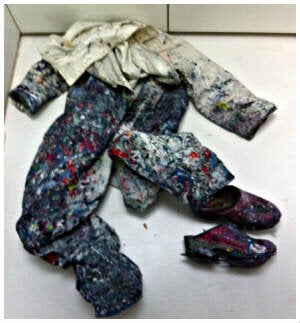 In my studio, I need complete freedom to make a big mess. I use so much paint, there are huge puddles of it everywhere. The photo shows my overalls and my clogs literally clogged with layers of paint. My environment allows me to lose myself, just like I was warned not to as a child, in the smell of the paint, the music I play, and the paint itself.

It can be frustrating having to stop painting to pick up my children, but I have to look at it positively. I am a daytime person now but before children it was different. I have bad days and good days, but I can bring it on... I can bring on the she-wolf!
Please share a special object that connects with your painting.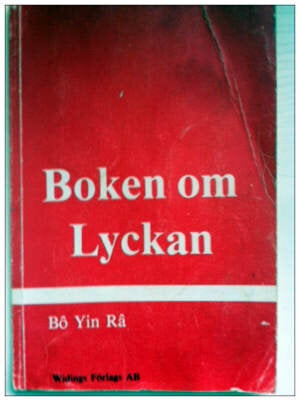 This is a book my grandma gave me in my late teens when I was on a journey in my life. She was a fantastic person; at 85 she was wallpapering her own walls, a total inspiration. She wrote a special message inside it and it means a lot to me. Boken om Lyckan means 'The Book of Happiness'. It makes me feel like my grandma is still here and reminds me of her inspiring character.
Are there other creative art forms you wish you could master?
There's nothing I want to do other than paint, but a nice singing voice would be good! I used to dance a lot... that and horse-riding are other art forms I love.
How did becoming a parent affect your creativity?
Becoming a mum made me much less self centered. It changed my work in that I didn't care so much about what people thought. I was less afraid to try new things once I had been through childbirth. I did some of my best work when I was pregnant and have photos of me, huge, in my studio painting frantically. I did some really key pieces at that time. John Cage said, "When you start working, everybody is in your studio - the past, your friends, enemies, the art world, and above all, your own ideas..." Motherhood gave me perspective, it helped me leave all those voices behind.
What are you working on next?
I am just breathing right now. I am going to carry on where I left off, ideas are brewing. I definitely have things that I need to do.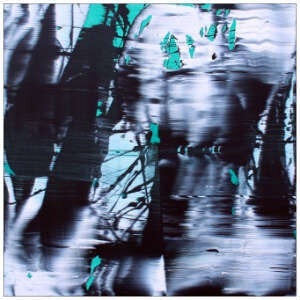 Ylva Kunze: Artist in Residence is showing at the C99 Art Project Gallery, 99 Chamberlayne Rd, Kensal Rise, London NW10 until 9th May. Open Monday-Friday 10-5, Saturday 10.30am - 5pm, Sunday 4pm-7pm. Contact 0208 969 6154
Related