On Saturday I marked International Women's Day by proudly marching in the name of ending male violence towards women and girls.
In the UK alone, one in four women will experience domestic violence at some point in her life and two women are murdered every week by a partner or ex-partner.
On average, a woman will endure around 35 domestic violence assaults before contacting the police. And yet, one incident of domestic violence is reported every minute. You do the math indeed.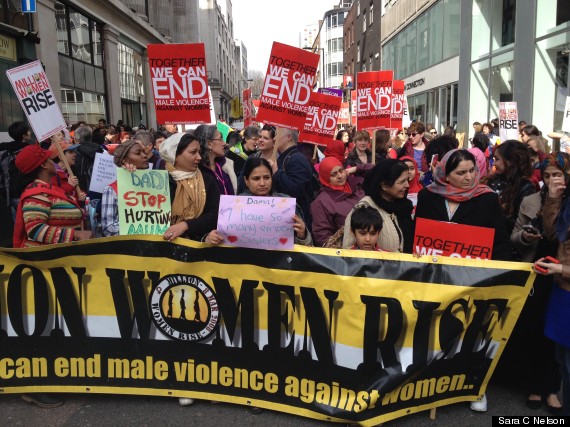 United: Participants in the Million Women Rise march preparing to set off
The annual march I attended is organised by the Million Women Rise coalition, which campaigns tirelessly for the right for women to live in a world free of male violence.
And if you don't support that, you might as well stop reading now.
I've marched in the past to protest NHS cuts and have attended pro-Palestine rallies, so I'm at ease with a placard in a throng of people and the tension that sometimes comes with that.
This felt different somehow. It was a beautiful sunny day, possibly the first of the year, and I felt palpably loved and protected, standing shoulder to shoulder with a veritable army of women fighting to make the world a safer place for now and for the future.
We marched through central London accompanied by drum beats, whistles and I'm sure I even heard a vuvuzela. Women young and old chanted and sang. Some pushed babies in pushchairs, some handed out flyers and some simply darted through the crowd offering smiles and support to everyone who had made the effort to come.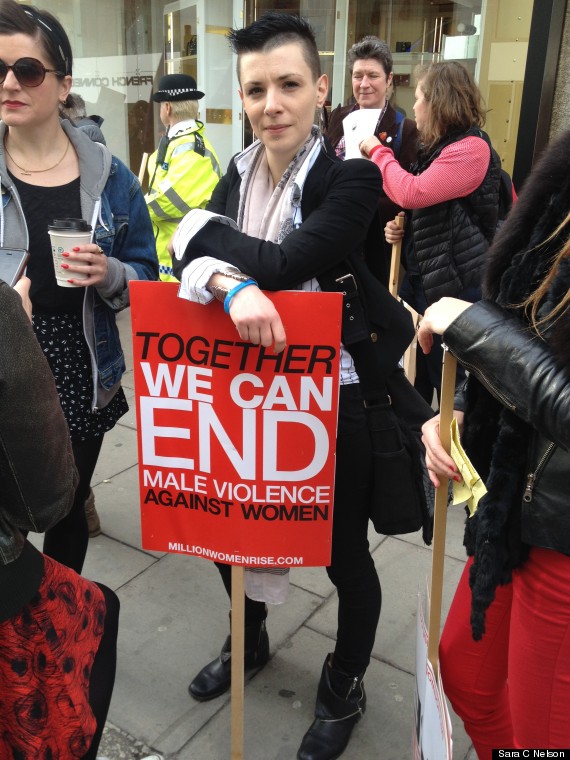 Marcher Christina French takes five
But we were all there for the same reason. Because we give a shit - about each other, about the women who couldn't be there, about the women we'll never meet because they've lost their lives to violence and about the unborn women who will take our places long after we're gone.
People gawped and took photos. One man called out "come on girls, give us a dance", but it didn't matter. We were joyful, united and proud to part of something so vitally important.
When we reached Trafalgar Square there was live music, entertainment and speeches. Beer cans and sandwiches appeared, it felt almost like a festival.
I even got to meet one of my personal heroes, Karen Ingala Smith, the chief executive of NIA, a charity which campaigns to end violence against women and children.
Being pro-woman is not a negative or threatening thing. Acceptance of misogyny, violence and rape culture is. And if you limply stand by or acquiesce, you are essentially an apologist for these "qualities".
As the afternoon sun beat down on me I realised that during the march I had felt safer than I have ever felt in my life. And hence I demand the right to live in a world where my relatives, friends and children can experience this priceless feeling too.
That means I will never accept persecution or violence in whatever forms they may lurk, and neither should you.