Feminism is officially fashionable - Chanel is on board with gender equality. Hurrah for Karl Lagerfeld!
Well, at least that's what the fashion house wants us to think. That was the message behind its Spring/Summer 2015 show at Paris Fashion Week - a rousing feminist demonstration led by Cara Delevingne and Gisele Bundchen.
Chanel invigorates fashion month every season, revealing its collection via an event that's part performance, part art installation.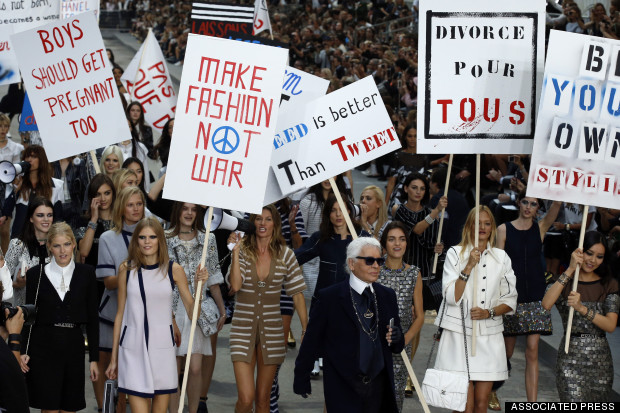 But its latest - this feminist rally - makes me feel uneasy. Wonderful that equality is being brought to the forefront in such a dynamic manner, but worrying it's being utilised as part of a trend.
Worrying that brands - not just Chanel - are using feminism as a way to sell, as if the ideology and movement needs merchandise. Personally - when it comes to being a feminist - my aim is to have been there, done that, not bought the t-shirt (because I'll wear whatever the hell I want).
There's a nagging feeling that come next season, feminism will be "over" and just like that engagement will fizzle out. Would it have been genuine interest anyway or simply a way to imitate zeitgeisty icons like Delevingne?
The problem - of course - is not the women making a crust off these brands, but that feminism is being commercialised, sold and turned into a business. It's a product. It's a label. It's a dead-behind-the-eyes version of actual feminism in which pound signs replace passion.
Perhaps this - celebrities, stunts, stuff - is the way to reach the Instagram, hashtagging generation and feeling good about being a feminist should not be underestimated. The trouble with brands using feminism as a marketing tool is they're not trying to make change happen, they just want our money.
They don't care that we earn less than men, they just want our money. They don't care if our right to choose is in jeopardy, they just want our money. Doing feminist-y style stunts and campaigns makes them look right on. But they're not right on, they just want - you know where this is going - our money.
Chanel's feminist rally was a high fashion version of freshers wearing Che Guevara t-shirts - it looks politically motivated but is actually just for show.
I mean, come on - Karl Lagerfeld is a man who could be using his influence to inspire and drive women. Instead, he's called Adele fat and said he doesn't like Pippa Middleton's face.
I love fashion. I love Chanel. But do I believe it cares about feminism beyond trying to sell next season's line? Sorry, but I just don't buy it.