Fact: Londoners hate waiting. Tubes more than two minutes away, be damned. Slow walkers, we curse you.
So, to get a Londoner to queue - to wait - for bloody hours, something extraordinary has to happen. Isabel Marant has to launch a collection in H&M. There must be the promise of Harry Styles.
Or the world's first multisensory fireworks display has to be happening on the Thames to bring in the New Year. Yeah, I know - what the hell's that, right?
When I arrived on London's embankment, an estimated quarter of a million people were already there and some had been queuing for an inconceivable six hours. It was freezing. It was raining. The DJ was playing Craig David.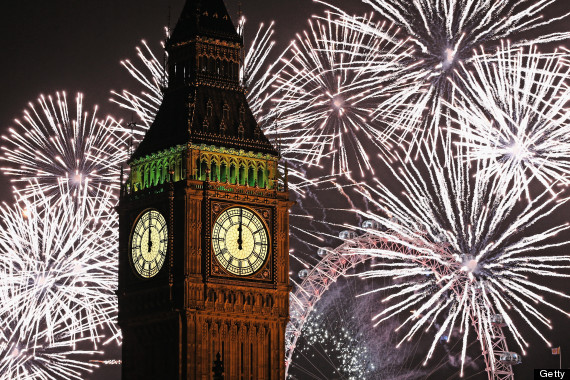 The multisensory fireworks show started at midnight, lighting up Queen Elizabeth Tower
Yet, the atmosphere was incredible. Dancing, singing - cheering when Boris Johnson appeared, hologram-style, on a huge screen across the river.
The main event, of course, was the fireworks - a show devised by Vodafone and food design geniuses Bompas & Parr. We were promised peach flavoured snow, edible banana confetti and huge orange bubbles during the display - so far, so Willy Wonka. So fantastical you think to yourself, this couldn't work. I couldn't even picture it - it sounded like something out of a children's book.
But Big Ben banged in 12am and off the fireworks went - a relentless 20-minute show of whizzing fire and light that dared you not to blink. The smell of peach announced the snow and down it fell - like the real stuff except much nicer. We were doused in the scent of strawberries and huge orange bubbles floated out over the crowd - great big popping zesty spheres.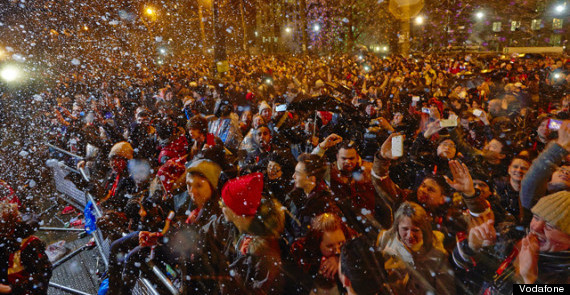 Thousands of people thronged along the Thames for the multisensory display get a taste of peach snow from Bompas and Parr
I'd wager there wasn't a single person not saying "wow" every 30-45 seconds - you barely got to grips with one spectacle before another happened. It was magic - like something from Roald Dahl's imagination made real.
Then we all sang Auld Lang Syne and it was over for another year. Everyone dispersed at high speed - the tolerance for waiting replaced by the need to sort out numb feet - and that rare thing of London celebrating as a city was over again until the next big thing.
I never understood the appeal of standing in the cold for all that time just to see some fireworks. But if they do it like this again, I can say hand on heart, I can't think of a more fun and uplifting way to bring in the New Year.