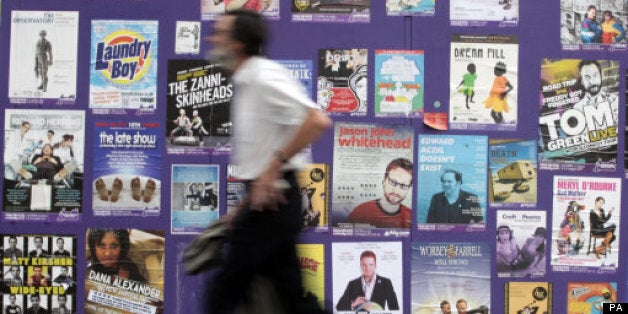 For the whole of August Edinburgh finds itself knee-deep in tourists visiting the biggest arts festival in the world. The population of Scotland's capital doubles as the Edinburgh International Festival, the Fringe, The Edinburgh International Book Festival and the Edinburgh Television Festival get underway. It's an exciting time about which locals complain constantly. The centre of the city is residential and the flamethrowers and mime artists get in the way of those of us who aren't on holiday. I've lived in Edinburgh most of my life and this year I'll be appearing at the book festival a corking four times. I'm used to the festivities, the late nights and the swathes of Irish comedians mainlining espresso and beer. So how do locals manage the crazy circus? Here's a list of places you can escape...
Most venues are concentrated between George Street and the High Street though some stretch a little beyond that, as far as the University. This means that some of the city's central areas are barely grazed by the influx of tourists. The area around the West End (currently disabled by tram works on Shandwick Place) is beyond the scope of the majority of tourists. It's only a couple of streets away from the main action but here normality is possible. Queensferry Street marks the start of the West End Village host to several hairdressers (for men Ruffians or Boombarbers), beauticians, coffee shops, restaurants and boutiques. Browse antiques in Goodwin's, grab a cheap Italian lunch at QuattroZero or settle down in the capital's only Hawaiin themed bar 52 Canoes Tiki Den. Around Stafford Street you'll find West End newcomer Hogarth, which stocks high-end cashmere and accessories and here there are also a smattering of private galleries and even more coffee shops and pubs. No-one in the West End will be in fancy dress though sometimes there are one or two hardy souls handing our fliers. Only one or two - Happy days.
Also (ahem) you can nip into the Book Festival in Charlotte Square Gardens for free. It's lovely and fliers are absolutely verboten - a haven...
North of the main body of the New Town lies the suburb of Stockbridge - a stretch of fun shops running from Peter's Yard to the Scran and Scallie. There are charity shops to browse and great coffee shops (try Henri's and look out for the little alleyway next to it which leads to an emporium of Oriental delights). The main street houses lots of specialist outlets including an independent toy shop, Toys Galore, Flavours, a specialist Italian Cookery Holiday company and delis a-plenty including Ian Mellis's fantastic cheesemongery and Herbie's. Along St Stephen's Street there is an array of intriguing shops where you can while away an afternoon browsing vintage clothing or locally produced art. Behind the main run of shops you can also cut through to Inverleith Park and sit on the grass if it's sunny or keep going to the Botanical Gardens, where there are greenhouses, if it's not.
Running parallel to George Street Thistle Street houses some of Edinburgh's best fashion boutiques. Starting with the long-established Jane Davidson (touted over the years in an array of glossy mags) to the newer Kakao by K (specializing in stylish affordable Scandinavian labels) and ALC (specializing in denim). The city's best shoe shop, Pam Jenkins, hails from this little stretch and there's also a great accessories outlet - Covet. For the gentlemen 21st Century Kilts offer more than your usual tartan, with kilts available off the rack or made to measure in leather, linen and tweed. Some of Scotland's most famous faces buy their formal wear here. And lastly you can take home the makings for some fascinating cocktails from Bon Vivant - a chain of Edinburgh pubs with its own off-licence. One of my favourite places for lunch is Iris but Café Marlagne is equally as popular. For a short stretch Thistle Street packs a hefty non-festival punch. And there's even a walk-in massage bar where they'll sooth away your Festival exhaustion.
You don't have to look very far to see signs of Edinburgh's illustrious history. All the usual amenities of open-top bus tours are available at Waverley Bridge. There are a plethora of walking tours - mostly picked up on the High Street so if you want to spend an hour in the company of the city's famous ghosts or follow in the steps of Inspector Rebus, keep your eyes out for the signs near the Mercat Cross. If you're more independent minded, the recently launched Purple Trails app lets you take your own literary walking tour through the city's heritage with interviews from local writers and inside information on buildings of particular interest in this, the world's first UNESCO City of Literature. And the City of Literature itself has created a set of free apps which let you follow the trail of the city's celebrated paper sculptures, gifted to Edinburgh's cultural institutions by an anonymous and extremely talented local - the stuff of legend - as well as the more traditional trails of Iain Banks, Robert Burns and Ian Rankin.
The Festival in Edinburgh is a marvel. There really isn't anything like it anywhere else in the world. But don't forget to sneak off now and then and discover what's made this city a world-class destination ever since the Enlightenment - take a peek beyond the fringe.