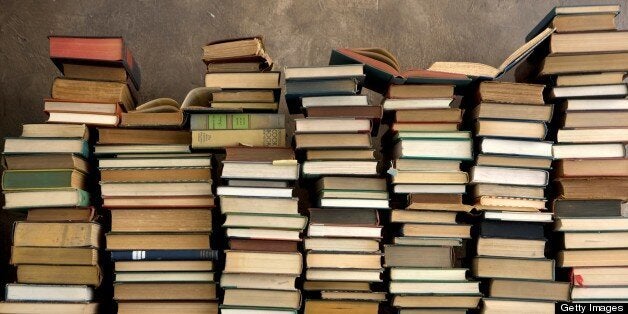 There are almost 150 book festivals all over the UK and most of them take place in the summer. Business is booming and you'd think that one festival would be much like another. After all, the organisers choose from a pool of the same writers and the festivals take place only weeks apart. But no, in that peculiarly British fashion our festivals are individual. I love book festivals and I spend at least every second weekend over the season talking about my books in a variety of tents, classrooms, huts, proper theatres, village halls - you name it. I'll speak over afternoon tea and cocktails or in the hallowed confines of national institutions to audiences dressed in shorts and wellingtons, evening dress or well, you name it. The big book festivals tend to be corporate (they run on sponsorship) but the smaller ones can be gloriously quirky and truly the Best of British. Here are some of my eccentric favourites.
This annual book festival on a gorgeous Hebridean island takes place in the village hall over two days at the end of April. Access is only by a two-hour ferry ride from Oban on the mainland and the programme totals about 8 writers. It's intimate - tea and cake is served between each event during which the writers mingle with the audience. Local specialities include Colonsay honey and Colonsay oysters. If the weather is poor and the ferry can't dock to get you off the island again, the festival will just roll on....
It takes some kind of vision to set up an alternative book festival in Edinburgh, home of the world's largest. West Port is the capital's Soho - seedy strip joints sit alongside student coffee shops and second hand bookshops just round the corner from the capital's Traverse Theatre. During the last week of November West Port hosts a quirky programme with the kind of individual events that large corporate-funded festivals just can't put on - all taking place in the local bookshops, pubs, fish and chip shops and cafes. The whole thing is funded by subscription - you can donate on the site. Expect poetry, short stories, writers talking about unusual aspects of what they do and the occasional unexpectedly high-tech event hosted in university premises nearby.
Near lovely Lewes, on the south coast of England, this festival focuses on short stories over the last week of September and is held in the grounds of Charleston, a country house where the Bloomsbury set used to holiday. The main events are hosted in a barn and the smaller events in an Arabian tent. I kid you not. Bring warm clothes - it can get cold but thankfully the fully licensed café is open for the duration. No novels here!
One of the venues in this festival is Cromarty Courthouse. It seats a tiny audience and writers talk about their books from the dock. A new festival, Cromarty focuses on crime - this is in vogue at the moment in Scotland with the founding of Bloody Scotland last year in Stirling (now an annual returning crime writing extravaganza) and the Unsolved Weekend at the National Trust for Scotland's Haddo House. Cromarty boasts a varied programme including a Murder Mystery Dinner and the eccentricity of the venues alone (a brewery among them as well a the courthouse) marks it out.
Held at the Free Word Centre in Farringdon in mid-October this is a writing festival with a difference - it doesn't focus on books. Run by the pioneering writers' collective '26' it brings together writers from all fields - poets, screenwriters, novelists, biographers and most controversially (and interestingly) business writers too. Lasting only 1 day Wordstock is a celebration of the quirky and interesting including a Pecha Kucha session, Q&A with high profile multi-media talent (26 recently hosted an evening with BAFTA winner Tessa Ross, Controller of Film and Drama at Channel 4) and sessions that turn out to be of as much interest to advertising executives as to poets. That's quite a feat.
Lots of small towns have a book festival but no-one does it quite like Wigtown - also known as Scotland's National Book Town because of the fantastic selection of second hand bookshops. For two weeks at the end of September and beginning of October, the main square is given over to marquees, an urban beach is built by the town hall and the inventive programme of events kicks off. With some of Scotland's most unspoilt landscape and the clearest skies in Europe, this festival is definitely one of Britain's most spectacular and includes a fireworks party on the opening night.
Wherever you land up in the UK this summer, keep your eyes peeled. There's almost certain to be a book festival nearby. Enjoy.