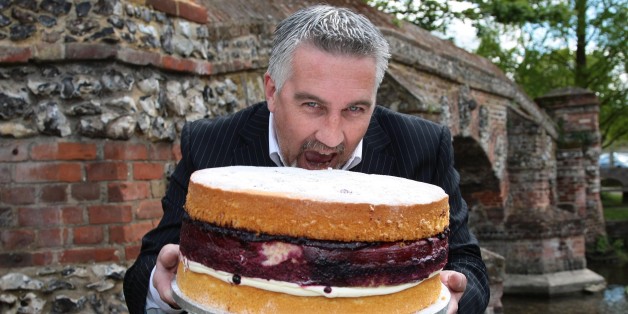 PA
All images, unless stated, owned by the BBC
WARNING: This is jam-packed with The Great British Bake Off spoilers because - well - it's all about The Great British Bake Off.
Originally posted on The Bake Off Update.
Signature - roulade
Technical - marjoulaine - a mille-feuille wannabe taking three hours to bake (dramatised by a cut to Benjamina whispering 'three hours!', because obviously three hours is an insane amount of time (an insanity completely bypassed for us as we experience two days in 60 minutes...))
The Bake Off stockists have undoubtedly been Whole Food-ing their produce: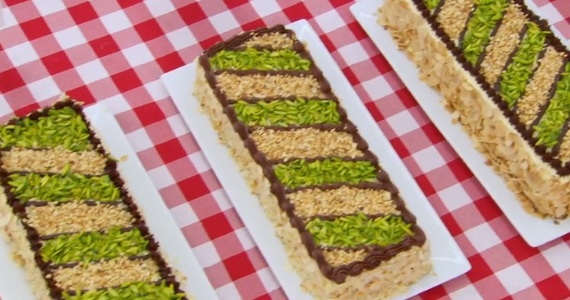 Showstopper - mini mousse cakes - not a fan of seeing gelatin in sheets. I am definitely one of the shallow, ignorant people who want to see their mousse or meat or moose meat on their plate, without any detail of how it was made. And proud of it.
Our much-loved lesson was back, this week on the thrilling life of praline.
We gained valuable knowledge:
1) Praliniers are health freaks, forcing bald men to wear hair nets: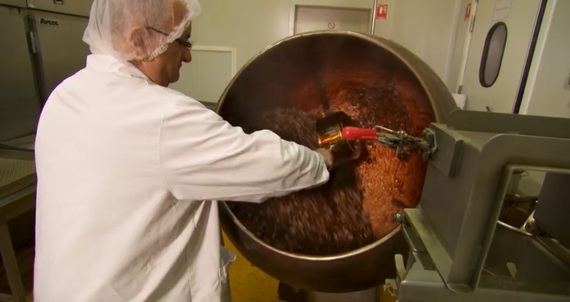 2) Praliniers are the only tribe in the world to record time starting by century, e.g.: 'One century and 10 years'
Note to 80 year old self - make sure you wear blazers that makes women in their 40s look like grannies: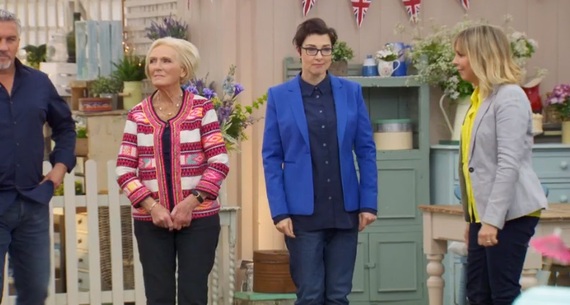 Mary's face of the week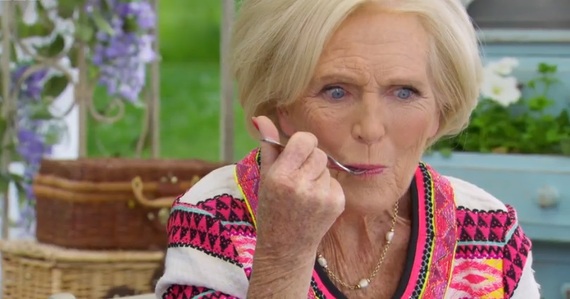 Mary also had some lovely smiling going on this week which is a joy to see, warms the cockles.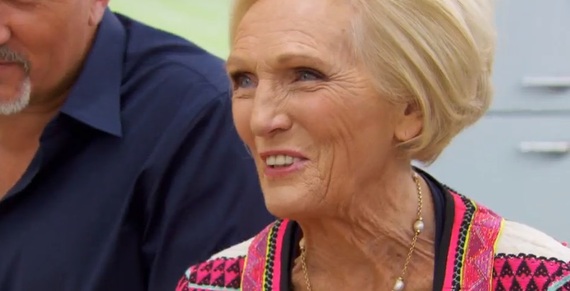 Paul was thoughtful enough to bring some technical baking lingo down to a level us mere peasants could understand:
Paul: Think of a roulade like a sandwich.
Us: Holy shit, yes Paul, a sandwich. We're with you.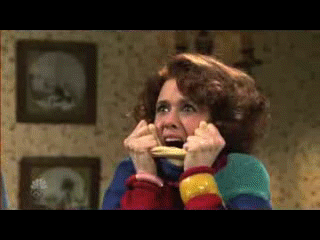 Source: http://www.drodd.com/html4/Excited-Gif.html
Mel and Sue were their usual fine selves.
Sue reminded us why wearing glasses on TV is a general no-no.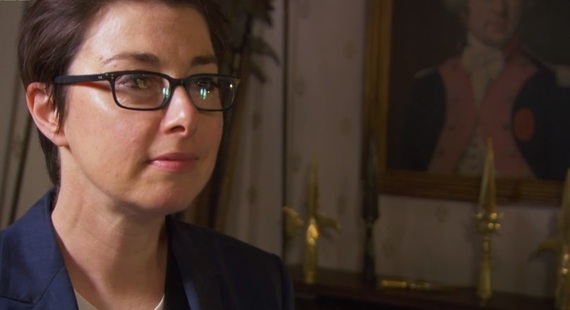 And Mel reminded us of their other hairstyle options.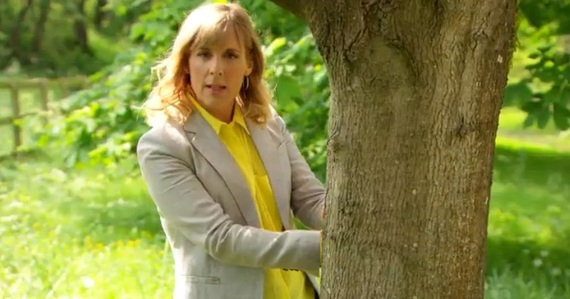 Apologies if I mention their appearance too much, I just think they don't need to treat the presenters and judges like The Simpsons. We can deal with costume changes people.
Andrew
He aced the technical despite messing up a bit, managing to completely hide it. He was so excited about winning the week by about 9.35pm, which is cute and all, but also let's not get too big for our boots here.
And finally: 'I've got confidence in dad's curd'. I don't think this is/ hope this isn't an innuendo... but it's a weird phrase to hear none the less and worth a mention.
Candice
Our style queen is back with her lipstick pout, impractical heels and metallic pumps all in one hit. The editors must be hating on her, their sacred continuity was done for.
She wangled herself a Mary wink and picks out the big flavours we all know and love, big fan of her Prosecco jelly presented in a glass.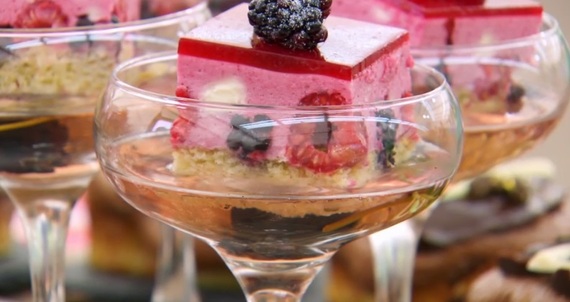 And her mousses were just perfect cubes. There's everyone else flailing about with collapsing mounds of fluff, and Candice calmly whacks out perfect bakes.
Tom
There's only one rule of being a hipster, and that's that you don't call yourself a hipster.
Photobooths are about as hipster as Banksy t-shirts or NME.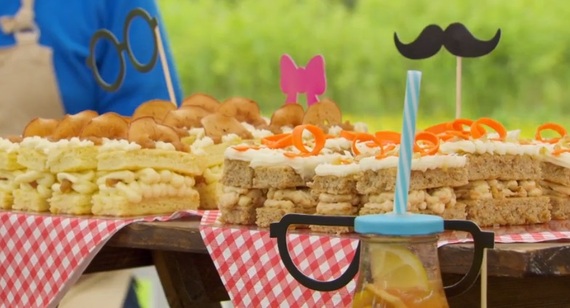 Jane was a big fan though: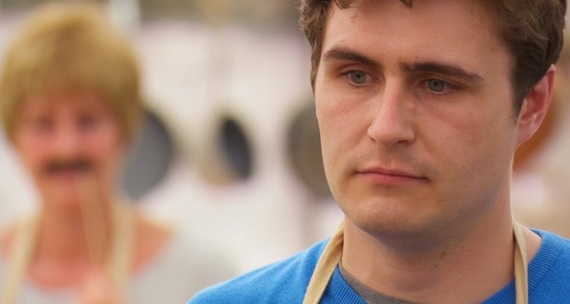 And pink, hand-powered fans are fine if ironic, but that fanning wasn't ironic Tom. You were just using a pink, hand-powered fan (!?).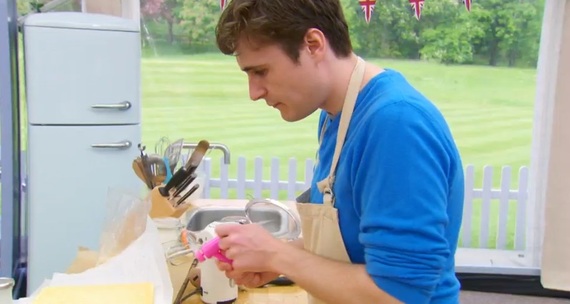 He was one of the weakest links from the start and, even from last week, you knew he was in trouble. And then he goes and admits to never having made caramel before. Sweet Jesus.
Paul tried to be kind of supportive: 'If this was a challenge for a picnic theme, you'd be top of the class.' Yes Paul, and what a shit theme that would be.
Selasi
Where others cry over underfilled curd, Selasi simply looks forward to having it on toast (and I completely agree with him, any more curd and it would've been a state, oozing everywhere (love the way he says ooze)).
This guy is increasingly chilled and increasingly gifted with an icing pipe in his hands.
Continues to struggle during technicals so needs to up his game if he wants to survive much longer. (How one can up their game when it comes to surprise rounds, I do not know.)
Selasi's Face of the Week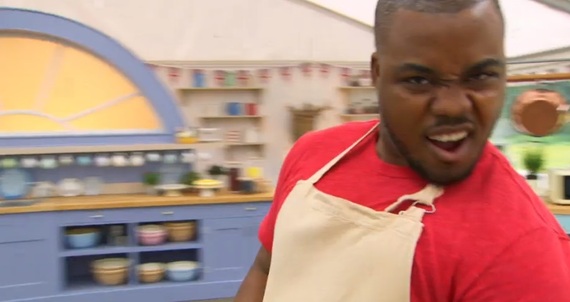 Jane
Jane looked noticeably more rested this week, but did echo the Rod hair do.
Source: http://ravepad.com/page/rod-stewart/images/type/photo/10
She decided to roll her roulade width-ways, rather than length-ways, which is wrong (as any sane person knows).
But at home she finds it's better for getting more slices out of the 'lade. So it makes total sense for her to follow this when she's baking for two people, and those two people are judging her based on the norm, and (again) it's wrong.
You always know you're in for a decorative treat with Jane, and this week's showstopper didn't disappoint. I don't know what the technique is called. I don't know how she does it. But I do know it looks like wallpaper. And I know that's always a good thing.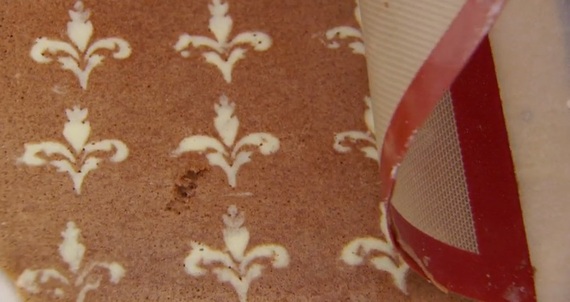 It's clearly messy work though. Still funny that chocolate looks like poop, and always will be.
Benjamina
Benny has become our own little Val with comforting gems like: 'If [the roulade] does crack, it's all part of the charm.'
She wasn't her usual smiley self this week, and looked like she could not give less of a fuck during the technical.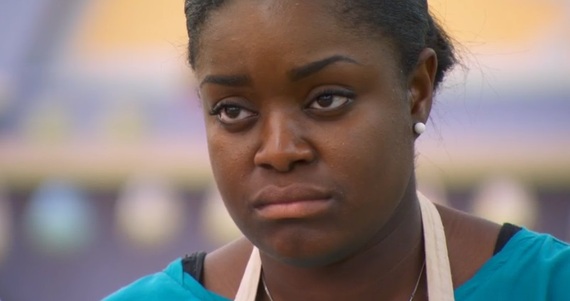 Her showstopping mousse suffered under the pressure and she had some major collapsing, but her flavours pulled her through.
The Beeb have never bothered with reality show tension:
Mel: is Benjamina safe, Paul?
Paul: yeah, I think she is
They knew they didn't need to attempt a Cowell-like cliff hanger as we all knew:
Andrew is star baker!
Tom is out!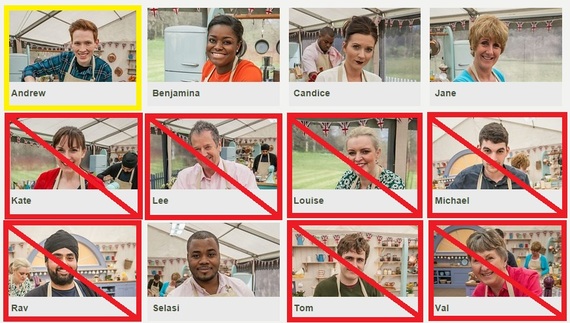 Mel & Sue best bits
'That is a lovely, lovely, lovely sight. A man. Spreading cream. Onto sponge. I'm getting giddy!' Mel
'Of the many Bake Off secrets I've held close to my bosom' Mel
The ridiculous statement more fitting of a Scorsese film
'Good enough is not good enough anymore' Tom
Innuendos of the week - with saucy MBez taking the lead
'I'm hoping there'll be no crack whatsover' Mary
'Tom, tell us about your roulade' Mary
'This is always so hard' Benjamina
'He has a very good finish' Mary
Until next time...