I'm a comedian "doing Edinburgh" (see the trailer for my show here). I have also decided to set up as a reviewer. Not of shows, you understand, but of EVERYTHING ELSE. I mean why not?
Really quite well-established form of technology totally pissed on.
Edinburgh is the capital city of Scotland. It's a capital city. Next year it could be the capital city of an independent Scotland. It's a capital city.
Edinburgh is a world hub of banking activity. We're talking billions of bytes of fiscally crucial data flying around the air - billions of pounds in ones and zeroes! It's not just attention-seeking hippies like me using the mobile network, it's The Man! The Actual Man needs this for capitalism and buying suits!
Yet Edinburgh cannot seem scrape two bars of phone signal together.
I understand that you can't get reception in the many caves and basements of this city - I get that, I really do. But my flat's on the third floor, centrally located on The Meadows, and I have to go to the park if I want to make a phonecall, like I'm in The Wire or something. At least it didn't rain in Baltimore. Today I had to sit on a plastic bag.
This is my 'Phone Bench':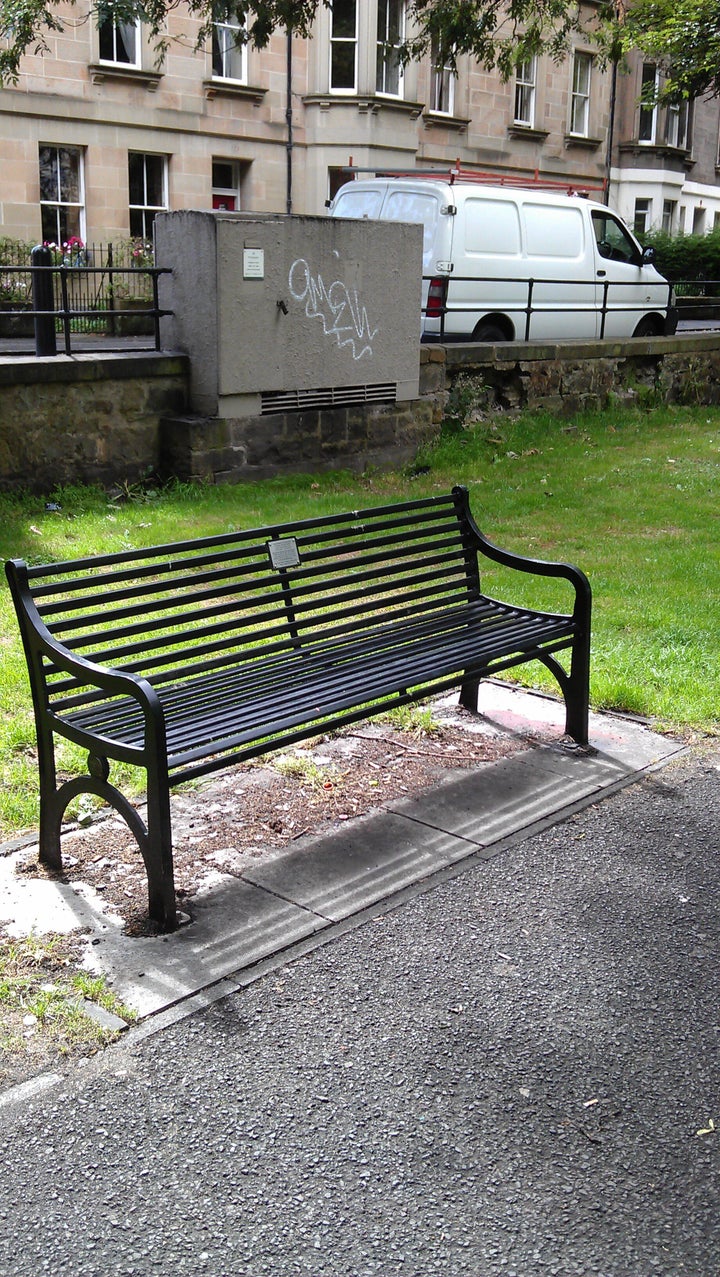 If an audience member's phone goes off during my show, I do not berate them. I give them a teary-eyed hug, look them in the eye and whisper "you must live on to tell our story!"
Pampered westerners moaning about minor mobile phone flaws have been beautifully sent up by that titan of comedy Louis C.K. I'd like to invite Louis to perform this routine here at the festival. I can safely say it would fucking bomb. People would throw their redundant lumps of Gorilla Glass and conflict-zinc at him. And he wouldn't even be able to send a catty tweet about it.
The irony is that this state of affairs generates thousands of extra text messages and voicemails in Edinburgh a day, all along the same lines: "can't seem to get through to you - I'm going to assume you wanted me to blue-tack that 100 quid I owe you to the lamppost on Bristo Square. Hope you get this in time!!! xoxo" All of which must squish and piddle through the one bent coat hanger they have sellotaped to the top of Arthur's Seat.
I've been to Liechtenstein. And my phone worked there!
I'm not setting myself up as some kind of economics expert (although I was in the top set of maths at GCSE) but I'd like to propose the hypothesis that in early 2008 Mervyn King sent a really quite important group text, and instead of reaching the relevant CEOs it bounced a bit wrong off the coat hanger and ended up in Leith where it was eaten by junkies.
VERDICT: As many stars as I currently have bars on my phone. LESS THAN NONE. I'VE GOT A LITTLE PICTURE OF A CROSS ON MY PHONE. SO IT GETS FUCKING THAT.
Popular in the Community