Behind the power ballads, sparkly outfits, over-enthusiastic dancers and huge stage props at the X Factor final is a very well oiled machine, which I got to witness on Saturday night.
"Up on your feet, you can't sit down if anyone is performing," instructed the bossy compere.
"Try not to sit there taking pictures all night, it just looks stupid," he added.
Within minutes of arriving at my seat in Wembley Arena I realised it was time to give up my autonomy and learn the instructed dance moves.
Here are five more things I learned from being in the audience:
Nicole Scherzinger and Sharon Osbourne don't look that fabulous by chance. Well, of course they don't. But after they walked onto the X Factor stage in their beautiful gowns to the Final Countdown and took their seats on the judging panel, I was shocked to see just how many times Nicole and Shazza's makeup was adjusted at every given chance by a herd of 'retouchers'. Like flies to...
Gary Barlow is still clinging onto his musical integrity. The Take That gent, who was pimped out to the audience for free hugs throughout the show, still wants to hear some 'proper' singing on the X Factor. "Your strength is your voice... tonight is not the night for this," he told Nicholas McDonald after the teen landed on the stage in a faux hot air balloon, surrounded by sweets and ice creams, singing Candy. "But Gary, he's singing a song you wrote," laughed Louis Walsh.
Sam Bailey is the only X Factor finalist who has a voice that can fill Wembley Arena... but even she can be overshadowed by Nicole. It wasn't the first time the former Pussycat Doll has showcased her powerful voice on the show but that doesn't stop many from forgetting that it actually exists. The X Factor's silliest judge's 'schamazing' rendition of And I Am Telling You from Dream Girls saw her receive a hug from her fellow judges and half the show's production crew afterwards. Guys, wasn't it meant to be about Sam Bailey?
Despite being told "no booing tonight, people" by our authoritative compere, that didn't stop the audience voicing their disapproval as Luke Friend, aka the guy with the hair who looks like Kimberley Walsh, was sent home and Nicholas made it through. Oops, maybe the audience can't be controlled after all.
Remember Tamera Foster and Sam Callahan? Since they were booted off the show there have been numerous stories about their blossoming romance and at the show's official after party I witnessed them walking through the crowds hand-in-hand. Later, I chatted to the pair as they made some kind of transaction at the check in desk of the Wembley Hilton hotel. Apparently they still aren't official. Oh.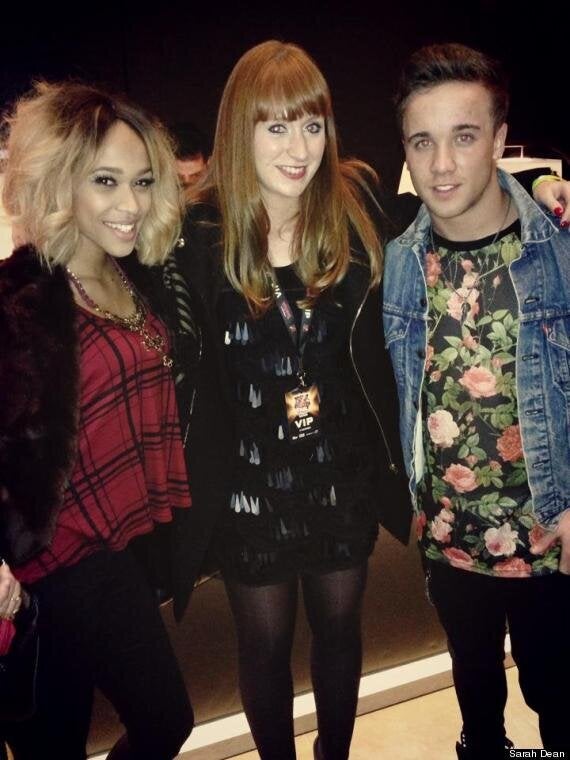 Moving swiftly onto the second most important question, I asked Tamera, who is - as Louis Walsh would say - "a ready-made popstar": "Have you been contacted by record labels yet?"
"Not yet, but hopefully after the X Factor tour," she smiled. Fingers crossed for the sweet 16-year-old, who despite all those diva reports was actually really friendly