I remember going for my first interview for an office job, it was only a office junior position - which everyone knows is a glorified tea-maker (I make a mean cuppa) - but I was ecstatic.
I was now one of the power dressing, shoulder pad wearing business women, and the essential item in every business woman's wardrobe was the suit. Forget the briefcase, the kitten heel or the concrete hair-sprayed hair - oh no! - for me, the suit, or more importantly, the blazer was power dressing in its entirety.
After getting the phone call that I had got the glorified tea-maker's job, I dragged my mum down to the local high street to kit me right up in said suit. My job didn't call for a suit, but I wanted one - I loved the look and sense of importance it gave off, I felt like 'somebody' even if I was employed to be the tea donkey.
Times have changed and not many people wear the humble suit to prove their worth in the boardroom, the hair has flattened itself out and people finally realise that having American football sized shoulders is never a good look. So the power dressing style of the 80s dissipated but the blazer has since grown its new 2012 style. Enter the printed blazer - yes, that's right, the printed blazer.
I am being serious before you all run off, and as ghastly as this may seem it's really rather pretty - yes, pretty. Not quite the 'dad at a wedding' look but more bang on trend, easy to wear, versatile and accessible.
I caught glimpse of a stunning blazer in River Island that literally made me say "I have to have it". Being of a curvy size 12 figure, sometimes when the summer season approaches I begin to die a little inside knowing the high street brands (Topshop) bring out the smallest shorts known to elves along with mini cropped tops... sorry, it's just not me. But when I caught sight of this blazer with its delectable bright, fresh print, my first thought wasn't to run for the hills but I knew this would look good once on.
The printed blazer works for you. If you're scared of colour or print and don't want to walk out looking like Hawaii has thrown up on you, the blazer lets you add a little bit of trend, subtly. If you're of a bigger size the blazer will help nip in the waist giving you a more sensual hour-glass figure. If you have a slightly bigger bottom half the print or colour can help draw the eye away from the problem area and lastly, the printed blazer will work during the night or day. I'm sold on them. Here are my picks: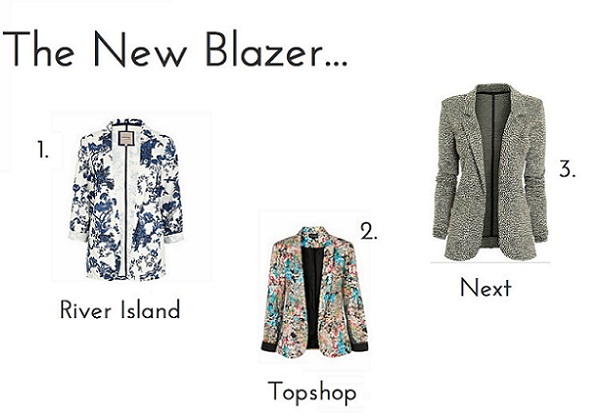 1 - Blue floral blazer £35.00 River Island
2 - Co-ord Floral blazer £65.00 Topshop
3 - Dalmation print blazer £34.00 Next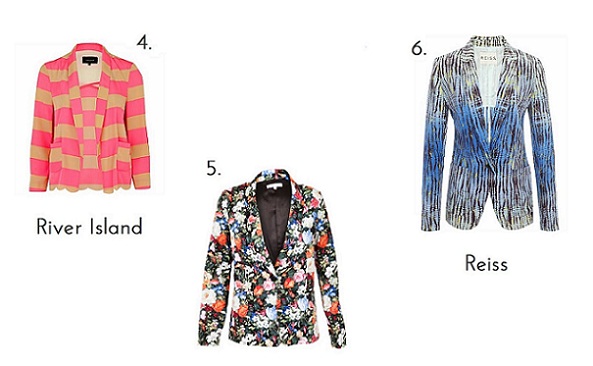 4 - Pink stripe blazer £40.00 River Island
5 - Glam floral blazer £50.00 Republic
6 - Printed silk blazer £225.00 Reiss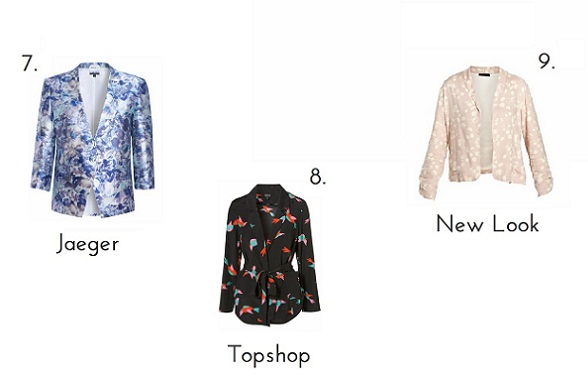 7 - Diamond print silk blazer £220 Jaeger
8 - Bird print blazer £40.00 Topshop
9 - Pink Lola drape blazer £27.99 New Look
For me, as much as I love the Reiss and Jaeger ones I'm not sure I'll be spending more than £50 on mine - trends do come and go, but other than that the printed blazer really does seem like the perfect way to go - personally I love a good cover-up and think donning these bright morsels help make the office a bit more fun.
What's your view?