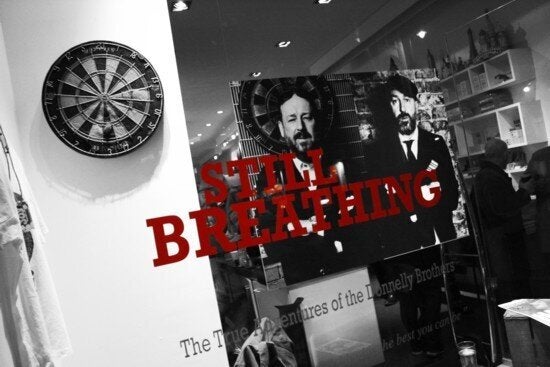 Last week saw the London book launch of Still Breathing - The True Adventures of the Donnelly Brothers; and whether they were ready or not, the southern softies (a slightly harder bunch maybe) were treated to a dose of Donnelly mayhem at Casa Negra's Playroom on Great Eastern Street.
Brothers Anthony and Christopher Donnelly were raised in and amongst what was allegedly one the UK's most legendary and elusive crime families - Manchester's Quality Street Gang. How they found riches and fame with their fashion label Gio-Goi is one of the more unconventional and compelling stories in the history of the rag trade. They were called both 'ambassadors for a generation' by Vivienne Westwood and 'a menace to society' by Parliament.
So if there's one place to expect the unexpected, it's at a party held by the Donnelly's. The brothers were pioneers of the Acid House scene in Manchester and count Happy Mondays, New Order and The Stone Roses as both their friends and brand ambassadors. No surprise then when Keith Allen literally blasted into the party in highly inebriated spirits. Like, drenched in them. He was joined by daughter Lily Allen (in a supporting role) with other notable guests including Plan B, Jamie Winstone, Graeme Park, Mike Pickering, Joe and Deaks of The Heartbreaks, and football hooligan turned respectable author, Cass Pennant.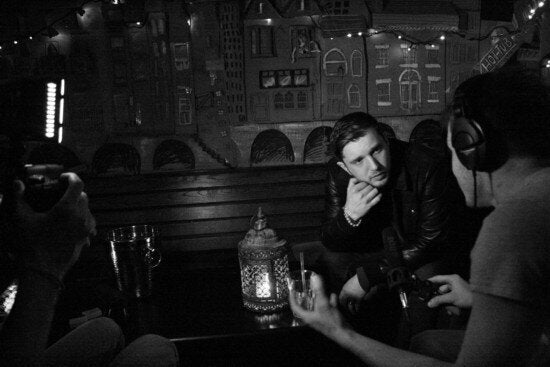 Mancunian poet Mike Garry (don't talk over him unless you want to be branded a cunt) was asked to write a poem to recite for the Donnelly's launch. He apparently relayed this request to his mother, who immediately hit him back with "well you've got no fucking choice then". As a warm-up, the crowd was treated to a poem about their late mutual friend Tony Wilson of The Haçienda, entitled Saint Anthony; then followed his ode to the Donnelly's, which he declared "is not even about them".
The brothers took to the floor for an interview with Luke Bainbridge who picked up on some of the stories in their biography. Apparently, the name Gio-Goi (despite mugging people off with random anecdotes along the way) was picked out of a Vietnamese dictionary. A pin homed in on the word Gio and Goi was found underneath it. Anthony coined the name: "It sounds like Giorgio Armani, why don't we just have it as Gio-Goi?" But not to pass if off as the brand, more to ride on the familiarity.
You'll have to pick up a copy to read more, but as a taster, in 1994 Anthony and Chris were arrested as part of a huge police investigation into the Quality Street Gang. The Donnelly Brothers lost everything amid lurid 'drugs and guns' headlines, but after years in the wilderness, they made a remarkable comeback in 2005 with Pete Doherty (then dating Kate Moss) designing a high-profile collection for the re-launched Gio-Goi. Further attention-grabbing headlines featuring Robbie Williams, Arctic Monkeys, Liam Gallagher, Kasabian, Rihanna, Amy Winehouse, Plan B, Calvin Harris and Deadmau5 emphasized the label's runaway success.
The Donnelly Brothers were more notorious than ever as Gio-Goi hit the top of The Sunday Times Fast Track 100 in 2009 with a £19 million turnover (and would peak at £40 million annual turnover). They bought a pub, promoted club nights in Ibiza with Cream, made award winning pop videos and launched new fashion label, Your Own [YO]. Gio-Goi was hit by further scandal in 2013 and a spectacular crash saw investors, including The Donnelly Brothers, lose millions. The saga of the brand continues...
Still Breathing - The True Adventures of the Donnelly Brothers is available from Amazon
Co-author Simon Spence collaborated with Andrew Loog Oldham on the acclaimed memoirs Stoned and 2 Stoned. His 2012 biography of The Stone Roses, War and Peace, was 'pop book of the year' in the Financial Times, BBC 6 Music 'book of the month' and 'Book of the Week' in The Times.