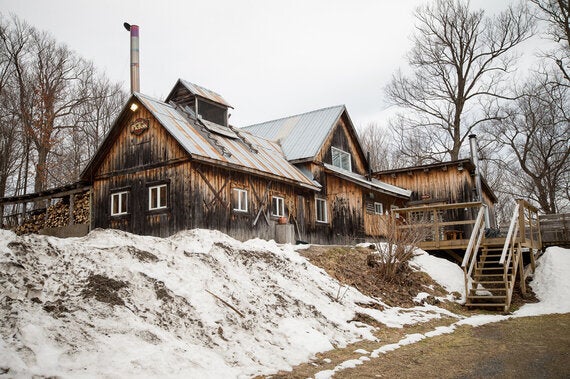 Spring is in the air, and as freezing nights turn to warmer days, so the sap begins to flow, thus marking the beginning of the glorious maple season in the French-Canadian province of Quebec.
It was the Native Americans who first discovered the delicious sap of the maple tree - well, after the animals that is, who they observed feeding on the trees - and the French-settlers who refined the production of maple syrup. The rest, as they say, is history.
Today, Canada is the number one producer of maple syrup, distributing 71% of the world's maple to our tables, 91% of which originates in Quebec. Of course, it does help that maple syrup is pretty unique to Canada, and the only place that you also get to visit the awesome cabanes à sucre, or as we call them... sugar shacks!
Just last month, I had the opportunity to visit a traditional sugar shack on a mountainside in Brigham, near the town of Bromont. Cabane du Pic Bois appeared down a winding road, bathed in snow, within the maple wood that creates its delicious produce. It was beautifully picturesque, the cabin itself being built by maple farmer, André Pollender, who also happens to be an award-winning cabinet maker.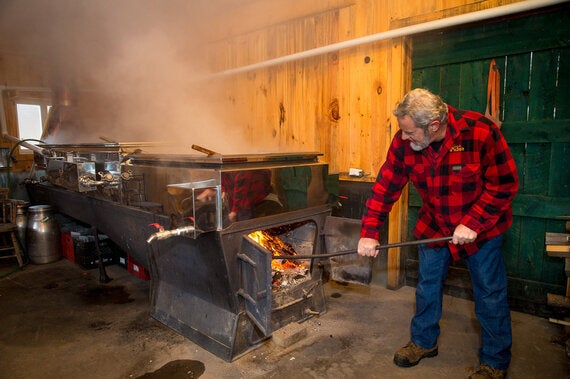 Now in their fourth generation of maple production, the Cardin-Pollender family still tap all their maple trees with buckets, and boil all the sap on fire, whereas larger scale producers will connect all their trees via tubing, which collects the sap using a vacuum system. As it boils, water evaporates until it becomes the density of maple syrup. It takes 40 litres of sap to produce just one litre of syrup, which is 100% natural, organic and unrefined.
Cabane du Pic Bois is open during Maple Season, March 5th to May 1st, serving a traditional sugar shack meal, with a crushed green bean soup and country style bread starter, followed by an all you can eat buffet of maple sausages, crispy pork rinds, maple baked beans, fried sliced potatoes, beets and pickles and the like, with the condiments of choice being Pic Bois maple syrup and maple vinegar. Of course there are delicious desserts too, including maple syrup dumplings, maple pie and maple taffy on snow.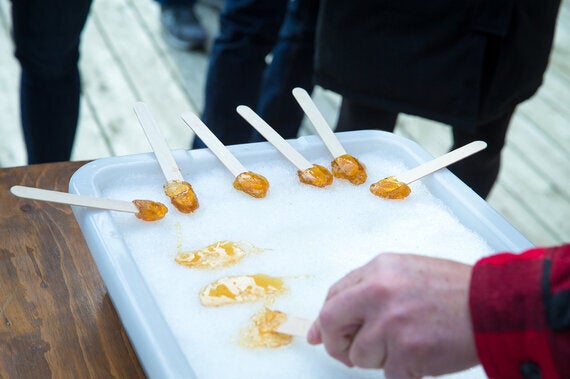 Maple syrup is just one of many products produced from the sap of the maple tree, with everything from maple mustard to maple butter on offer, the latter being a real hit on Sunday Brunch recently, when André Pollender appeared on the show. While maple butter is a little sweet for my taste, since returning to the UK I have been well and truly converted to enhancing my own meals with a drop of maple, in one form or another. Check out some of my favourites below.
Maple Delights Fish Rub: A delicious mixture of herbs and spices combined with maple sugar - my new favourite coating for salmon (and I'm running out.)
Pic Bois Maple Vinegar: In addition to using as a salad dressing, try adding a splash to pan-friend vegetables and omelettes.
iSens Extra Light Maple Syrup: New trick I learned in Quebec - adding a spoonful to soup, or other dishes, somehow enriches the flavour. Maple syrup is also a great vegan alternative to honey for drizzling over vegetables before roasting. Obviously also great over cereal or... pancakes!
Photos: Maple Products of Quebec