As the longer nights settle in, our wardrobes also tend to turn to the dark side. And whilst I'm by no means advocating banning black or grey from anyone's wardrobes, wearing colour can really help to boost your mood on miserable autumn mornings when coffee is just not enough.
The following collections - some for women, some for men, some for both - are extreme examples of how you can introduce a bit of colour into your outfits this season.
If you absolutely will not be parted from your darker styles, why not try wearing them with a pair of amazing, colourful kicks like these Mary Katrantzou x adidas Originals designs? Or add a pop of pink or teal with pieces from Finchittida Finch's latest jewellery collection?
For the guys, grab a bit of Jonathan Saunders' fabulously fun collection for British menswear institution, Lyle & Scott. Or if that's just too much, you can't go wrong with some Happy Socks - or even some happy pants now they've released their debut underwear line.
You can also find more examples of cheery colourful finds on my instagram @sarahmcgiven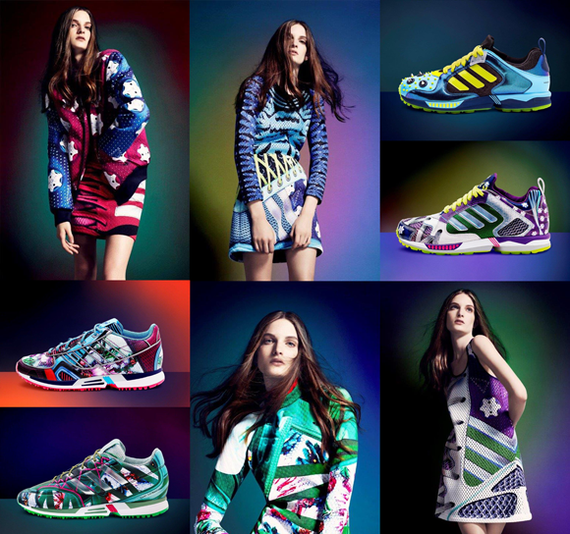 Adidas Originals by Mary Katrantzou
This is a little preview as the hotly anticipated capsule collection doesn't actually drop until November 15th. Fash pack fav and Queen of Print, Mary Katrantzou has produced a range of innovative apparel and footwear for adidas Originals that fuses her iconic use of hyper-color and kaleidoscopic patterns with athletic sneaker-style inspirations.
Unlike previous designer and celebrity adidas Originals collaborations, which have served mostly to reinterpret existing adidas Originals designs with new prints or embellishments, Mary Katrantzou has produced a particularly fashion forward collection. Whilst the inspirations and technical fabrics may scream sportswear, the clothing silhouettes and cuts are entirely more high end. This is a collection that people with absolutely no interest in sport and every interest in fashion will love just as much as adidas aficionados.
The vivid colours and artful print combinations are an utter joy throughout and I can't think of a better outfit to make you look forward to Monday morning more than the incredible 'go faster' A-line mini dress with the lacing print, pictured above (bottom row, far right). Colourful and cute without being childish or costumey. LOVE.
adidas Originals by Mary Katrantzou drops 15 November at www.adidas.com and various other retailers.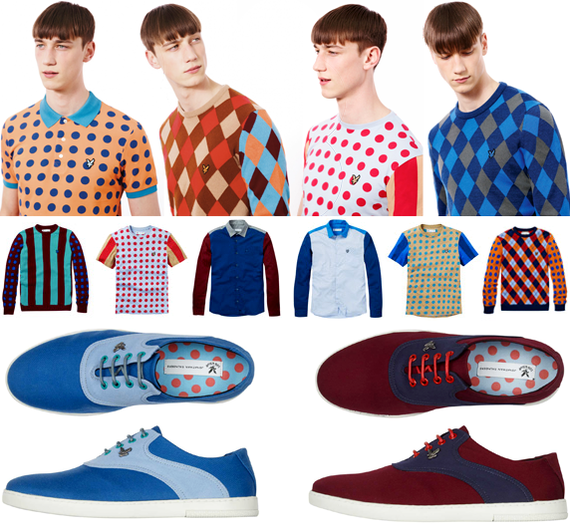 Lyle & Scott x Jonathan Saunders
Top of the colour pops this Autumn is Jonathan Saunders' premium capsule collection for menswear mainstays Lyle & Scott. The heritage Scottish brand, which is celebrating its 140 year anniversary, got top Glaswegian designer Jonathan Saunders on board to provide these fun styles for Fall.
Known for his impeccable use of colour, Saunders turned his signature style into cheerful, bold, graphic designs that are gloriously fresh and upbeat. Taking the brand's golfing past and translating it into present day pops of pattern and colour, the collection features one-colour, colour-blocked and cheekily pattern-clashing styles across knitwear, footwear and shirting.
These would make the coolest Christmas jumpers around so snap them up now, and look forward to more to come from this perfect partnership. Prices from £70-£265.
Lyle & Scott x Jonathan Saunders is available from www.lyleandscott.com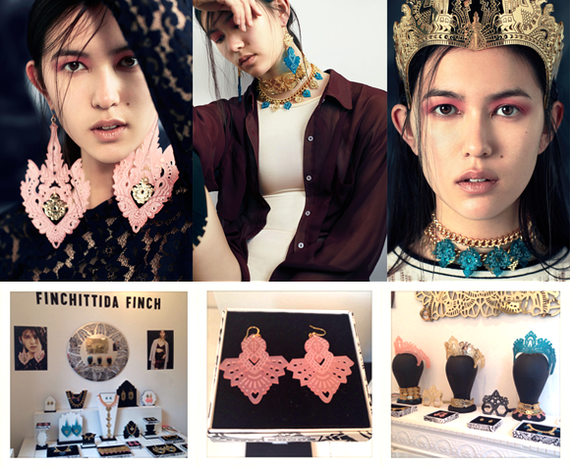 Finchittida Finch: 'The Empress' Collection
For the first time, London-based design duo Finchittida Finch have introduced colour into their third collection, The Empress. Featuring stunning statement pieces like crowns and ornate body harnesses, as well as wearable every day styles, including chokers, bracelets and earrings in a range of sizes, their sophisticated jewellery is made more fun through their use of perspex.
The collection, which has already been spotted on tastemaker FKA twigs and Eliza Doolittle, is also helping to raise money for charity, in line with the brand's core values, or as they put it: "We believe in having a positive impact with our brand - helping social inequalities, environmental issues and spreading peace & love. Because kindness is sexy as hell."
Tida and Lisa Finch, the twin sisters behind the brand, have partnered with the humanitarian charity MAG (Mines Advisory Group) for this collection, so that 10% of every purchase helps to clear bombs from conflicted areas around the world. MAG carries out extensive work in Laos, where the Finch sisters' mother is from, due to it being the most bombed country in history, making the charity particularly poignant to them. Prices from around £35 to £525.
The Empress collection by Finchittida Finch is available now from finchittidafinch.com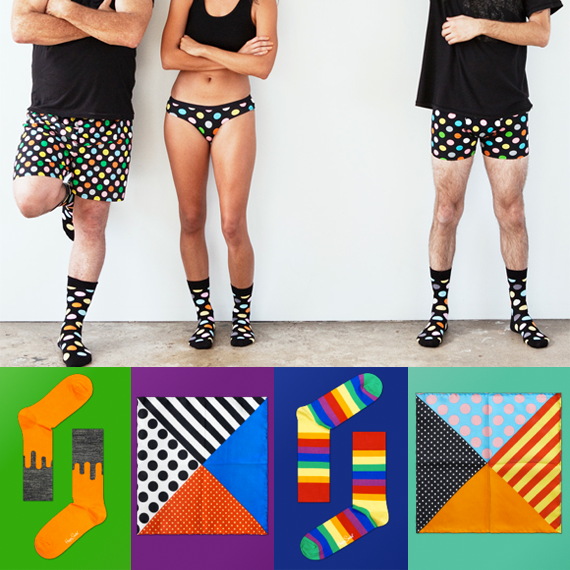 Happy Socks (and Underwear, and Accessories...)
Happy Socks, the go-to brand for those cheery, eye-boggling designs that peek from beneath the trousers of hipsters and city types alike, was founded in 2008 and has since sold over 12 million pairs of socks.
They launched their first underwear collections for men and women, featuring similarly jazzy, colourful patterns, in August to coincide with National Underwear Day, and also do a number of accessories from handkerchiefs to notebooks.
For those who are less comfortable with grand displays of colour, Happy Socks - whether socks and a matching pocket square, or hidden bright boxers - are a great first step. They also do really cute gift boxes so make great presents for people who could do with a burst of brightness in their lives. Prices from around £8 although they also have an outlet on their site.
Happy Socks designs are available from Selfridges, Urban Outfitters and www.happysocks.com