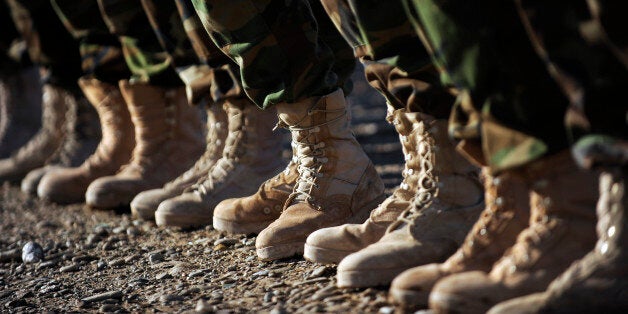 From festival goers in second-hand Army Surplus Store and charity shop overshirts to high end runway styles in fine fabrics, camo print is everywhere right now and will be going right through into next season. Nike just dropped an Air Max Hyperfuse Camo Collection featuring camouflage prints from a range of countries, only for every single design to sell out straight away, just proving how hot this military motif that's been on the fashion radar for a while now, still is.
AW13 is lining up to be printastic with tartans, polka dots, animal prints and every which way with florals all over the catwalks, but, when it comes to camo, I'm personally delighted that it's hanging around as I'll be able to get even more wear out of my old grunge-era oversized camouflage jacket that I've taken to wearing again over the past 18 months after rediscovering the cool, ease of urban camo (and its ability to disguise morning coffee stains).
Camo is a recurring trend and one you can nod to with some printed footwear or accessories, if you're not feeling it for your clothing.
Surf and skate brands like Addict and Carhartt, tend to do camo pieces all year round, and super hot, super spendy streewear label, A Bathing Ape, always has some amazing pieces - particularly their footwear, hoodies and watches - in pop coloured tonal camouflage but it sells out really quickly and is priced more for the name than anything else.
If you want a slicker take, try designer pieces from the likes of McQ Alexander McQueen, 3.1 Phillip Lim, and Michael Van Der Ham, which are new in store now. And keep an eye out for an AW13 camo invasion of stores over the next few months, with great designs to come from the likes of MichaelKors and Christopher Kane.
Here's a line up of some of my favourite camo pieces for a variety of looks...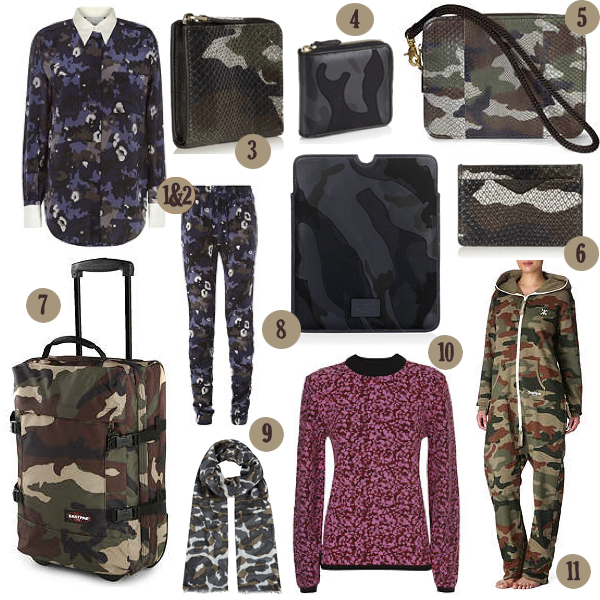 1 3.1 Phillip Lim Camouflage Print Shirt, £380, and (2) matching track pant style trousers, £445,3 Alexander McQueen Zip Around Wallet, £225 and 4 Valentino Zip Around Wallet, £255, all from www.harrods.com, 5 Alexander McQueen Python Camouflage Bag, £1,225 from www.selfridges.com, 6 Alexander McQueen Card Holder, £150 from www.harrods.com; 7 Eastpak Transfer Small Two-Wheel Suitcase, £95 from Selfridges.com; 8 Valentino iPad Case, £355, 9 Maxmara Weekend Camouflage Wool Scarf, £74.95, and 10 McQ Alexander McQueen Textured Camouflage Sweater, £385, all from www.harrods.com; 11 OnePiece Camo Onesie, £159 from Selfridges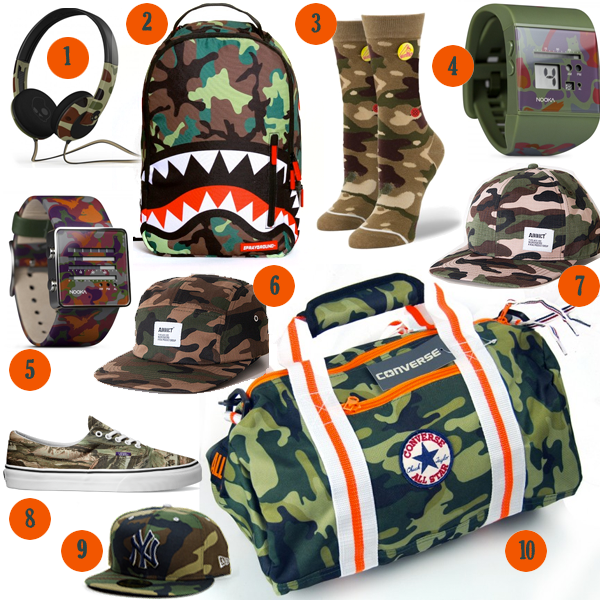 1 Skull Candy Camo Headphones, £25, and 2 Sprayground Camo Backpack, £59.99, both from www.urbansurfer.co.uk; 3 Private Socks by Stance www.stance.com; 4 Zub Zoo 40 Urban Camo Watch, £79.78 and 5 Zen-H Urban Camo Watch, £166.94, both by Nooka from www.nooka.com; 6 Camo Snapback and 7 Five Panel Cap both reduced to £12.50 each from Addict who have some great camo pieces in their Summer Sale at www.addict.co.uk;8 Liberty x Vans shoes, available in Era (£57) or Authentic (£55) styles from www.vans.com; 9 New Era Yankees camo cap, £28.50 and 10 Converse Duffle Bag, £25, both from www.urbansurfer.co.uk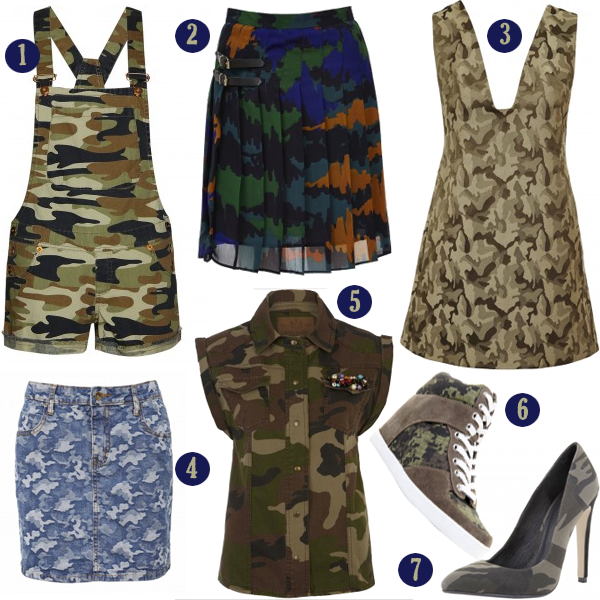 1 Dungarees, £25 from www.boohoo.com; 2 Camo kilt, £40 from www.asos.com; 3 Deep plunge camo dress, £50 from ASOS; 4 Denim blue camo skirt from www.asos.com; 5 Embellished camo shirt, £25 from River Island; 6 Camo 'Bounce' wedge hi tops, £45 from www.office.co.uk; 7 Camo 'Razzle' heels, £55, also from Office.
Popular in the Community