Spring may be all about florals and this season's big daisy print trend, but why not pair it with something a bit more fun?
Last spring saw one the release of the most perfect fashion collections in recent memory, from Alexander McQueen. Based around bees and women as worker bees, this fantastically visual theme was cross-pollinated with the brand's dark romance. Immaculate construction ensured each elegant look was executed in the most high fashion way, erring well away from even a hint of being costumey, despite comprising elements like bee keeper style hats.
Sarah Burton's inspirational designs for the Alexander McQueen SS13 collection continue to filter down to the high street. Mainstream stores and boutique brands such as Reiss and Jaeger are currently offering accessible ways to get the look this Spring, translating the McQueen vision into more subtle takes on the trend.
Honeycomb mesh pieces are popping up all over the place, alongside bee motif jewellery and there are plenty of more literal, playful insect prints too, with yellow and black remaining a popular colour combination for right now.
The influence, along with the Save the Bees awareness campaigns, can also be felt in homewares with stores such as M&S bringing out bee-printed ranges.
Here's a selection of a few bee-autiful products from the fields of fashion, accessories, beauty and lifestyle.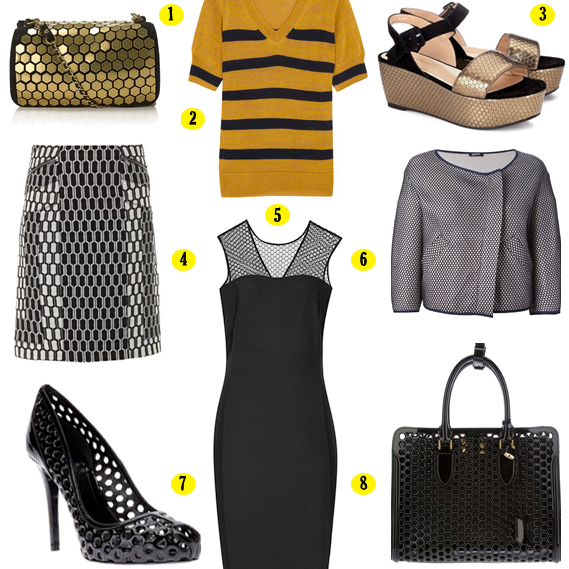 1 Jerome Dreyfuss gold disc Bobi shoulder bag, £685, from www.avenue32.com; 2 Suno striped cotton top now £84 from £240 at www.theoutnet.com; 3 Robert Clegerie bronze leather Frak wedges, £355, from www.avenue32.com; 4 Diane von Furstenberg honeycomb print skirt, and 5 Reiss honeycomb mesh dress, £189, both from Selfridges; 6 Jil Sander Navy honeycomb short jacket, £660, from Feathers via www.FarFetch.com; 7 Perforated honeycomb pumps, £467, and 8 Heroine tote handbag, £2,050, both from the Alexander McQueen SS13 collection, still available from FarFetch.com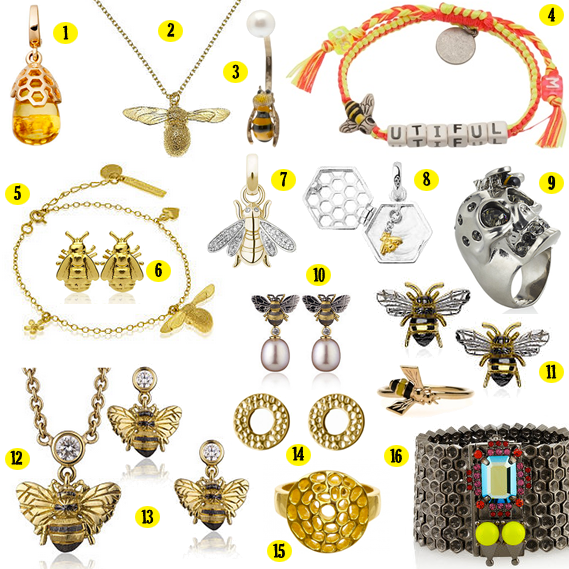 1 Astley Clarke 18ct rose gold vermeil Citrine Honeycomb charm, £195, from Selfridges; 2 Alex Monroe baby bee necklace, £132 from www.Harrods.com; 3 Delfina Delettrez 'To Bee or Not To Bee' earring, £341 from FarFetch; 4 Vanessa Arizaga bee-utiful bracelet, £58.22 also from FarFetch; 5 Alex Monroe 25th Anniversary Baby Bee charm bracelet in gold, £195, and 6 Alex Monroe bee stud earrings, £105, both from Harrods; 7 Links of London 18 carat gold and diamond Bee charm, £450, and 8 Links of London 'Sweeter Than Honey' sterling silver locket charm, £55, both from www.Selfridges.com; 9 Alexander McQueen silver bee and skull cocktail ring, £155 from Harrods; 10 Theo Fennell bee drop earrings, £2,850, 11 Theo Fennell bee stud earrings, £495, 12 Theo Fennell bee necklace, £1,150, and 13 matching earrings, £1,250, all from Harrods; 14 Vermeil gold stud earrings, £99, and 15 small disc ring, form £99, both from the Enkai Sun collection by Luxe Rachel Galley from www.rachelgalley.com; 16 Mawi hematite-plated, Swarovski crystal and bead honeycomb cuff, now £288 from £640, at www.theoutnet.com; 17 Alison Lou bee ring, £541 from www.farfetch.com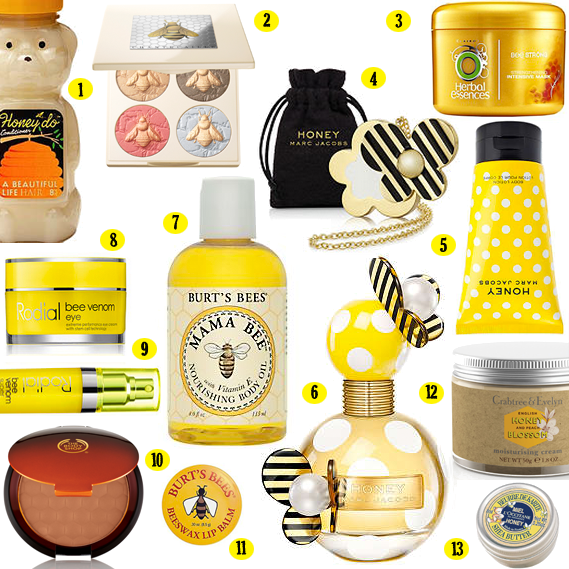 1 Honey Do 'A Beautiful Life' Conditioner, £12.50, from Selfridges; 2 Chantecaille 'The Bee Palette', £74 with 5% from each sale donated to help protect bees and their environment, from Harrods and Space NK; 3 Herbal Essences 'Bee Strong' hair mask, £2.39, from Boots and Boots.com; 4 Honey by Marc Jacobs solid perfume necklace, £34, 5 Honey Body Lotion, £27, and 6 Honey Eau de Parfum, £50, all from Harrods.com; 7 Burt's Bees Mama Bee Nourishing Body Oil, £10.99, from Boots.com; 8 Rodial Bee Venom eye cream, £115, and 9 Super Serum, £160, both from Harrods; 10 Body Shop honey bronze bronzing compact, £13, from www.thebodyshop.co.uk; 11 Burt's Bees lipbalm tin, £3.69, from Boots; 12 Crabtree & Evelyn English Honey & Peach Blossom Moisturising body butter, £22, from www.crabtree-evelyn.co.uk; 13 Miel Shea Butter balm, £8, from L'Occitane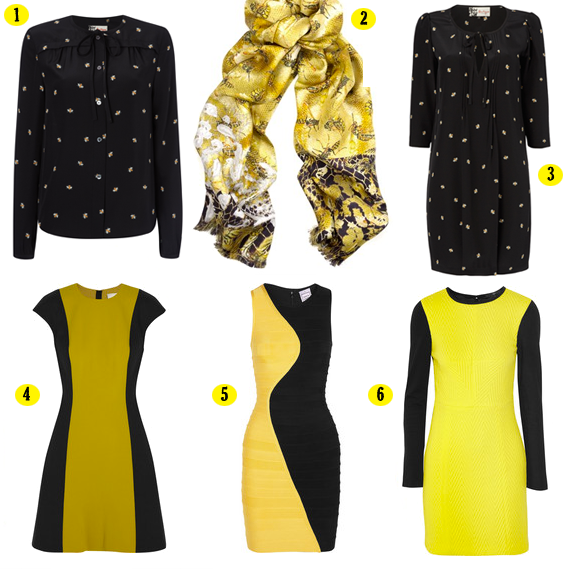 1 Jaeger Boutique bee print neck tie blouse, £99, from Jaeger.co.uk; 2 Ginny Litscher yellow silk honey bee scarf, £290, from Avenue 32; 3 Jaeger Boutique bee print dress, £120, from Jaeger; 4 Jason Wu stretch-wool crepe dress, £600 from £1,715, 5 Hervé Léger colour block bandage mini dress, £424 from £1,210, and 6 Tibi matelassé mini dress, £151 from £335, all from www.TheOutnet.com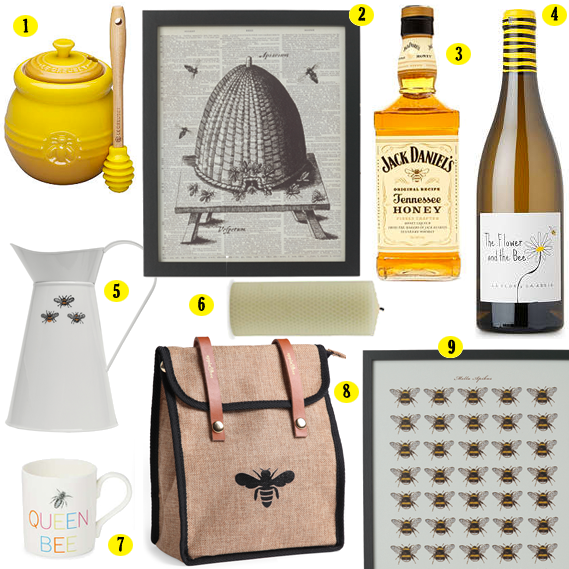 1 Le Creuset stoneware honey jar dijon, £19 from £24 at Selfridges.com; 2 and 9 bee art prints, £25 each from Marks and Spencer and www.marksandspencer.com; 3 Jack Daniel's Tennessee Honey, £34.99, and 4 Coto de Gomariz 'The Flower and the Bee' white wine, £14.99, both from Selfridges; 5 Large bee jug, £19.50, from Marks & Spencer; 6 Beeswax candle and 7 Queen Bee mug, both from Selfridges; 8 Apple & Bee eco lunch satchel, £21.99 from John Lewis and www.thegreensuitcase.dk/stockists
Related