If this isn't just the cutest way to tip a wink to the seventies revival I don't know what is. The Cambridge Satchel Company, the British leather bag purveyors single-handedly responsible for bringing those quintessentially English school bags back into fashion, have teamed up with Peanuts to release the happiest handbag range around, The Cambridge Satchel Co Peanuts Collection.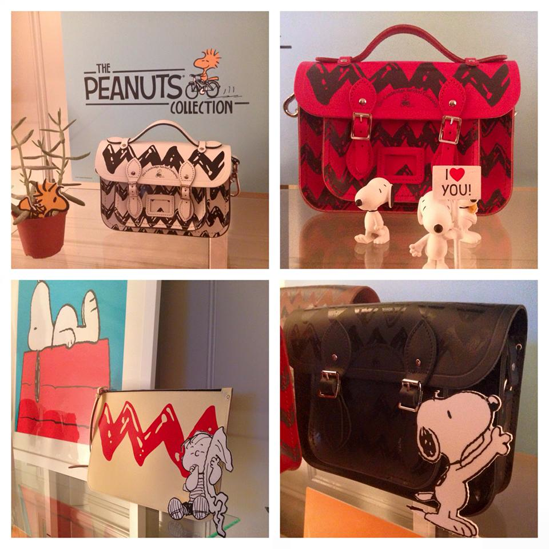 Although Snoopy and co. first debuted as a comic strip in the 1950's, the 60's and 70's were the cartoon's heyday. In fact, Woodstock may have first popped up in the 1960s but he didn't actually get a name until 1970.
I recently went to an intimate launch at the brand's flagship Covent Garden store, to get up close with these fun pieces and meet the wonderful team behind it. Despite kindly receiving a slew of daily invitations to launches and events, as blogging isn't my full time job, I rarely attend any events but made sure I was free for this, given I'm a huge Peanuts fan - I'm talking Charlie Brown-themed front room, Snoopy T-shirts 'at my age' etc - who's also obsessed with her neon pink, embossed Cambridge Satchel Company satchel which I bought as soon as they came out and, despite being hugely fickle with my accessories, still use and love (and am frequently asked about by strangers who are similarly drawn to it's quirky Britishness).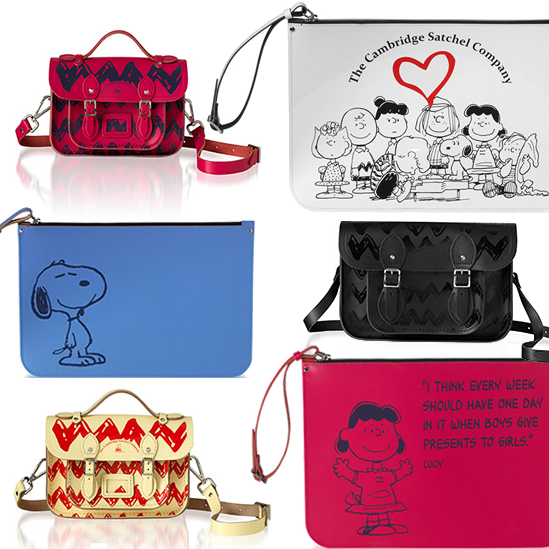 The Cambridge Satchel Company have cleverly taken Peanuts' most recognisable motif, the signature Charlie Brown zig-zag, and worked it into an all-over print. This has been applied to a range of bag silhouettes from their classic satchels to the utterly adorable mini-satchels and, for the first time, pouches.
The range of vintage colours evoke a perfectly retro feel, whilst still being modern and I was generously gifted a red satchel which is still making me smile when I use it. There are a lot of other colours available too, including a glossy, rich teal and an adorable cornflower blue that are so chic, and the black on black is just perfection. There isn't a dud among the colour ways to be honest, and as a someone who never wears anything in any shade of brown, even the archetypal schoolbag-brown shade looked fantastic.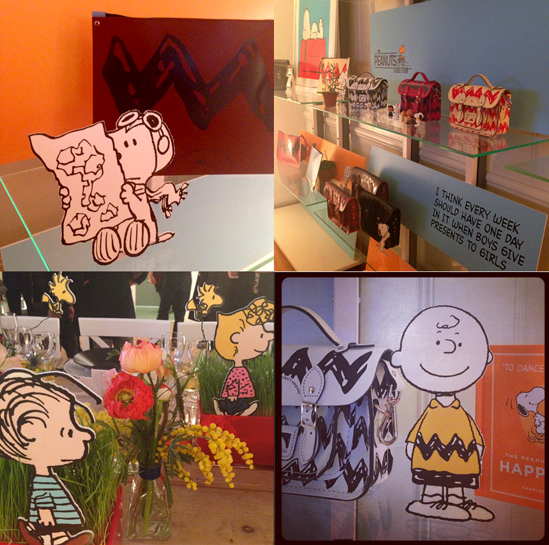 There are two particularly noteworthy details that are also worth a mention as, for me, they epitomise the love that this family business puts into everything they do. One is the addition of Woodstock riding the company's bike logo on each piece - have a look at the website for a close up to see it properly - and the other is a cute little addition inside each bag. But I'll leave it for you to discover that on your own as it's such a lovely surprise.
These snaps from the night and of the products as they appear on the website should give you an idea of what to expect but one thing that isn 't pictured here but which you can find on their website (although they are not available just yet) are dog collars! And, cat lovers do not fear, we haven't been forgotten - I asked and they will fit even the smallest dog which means you should be able to get one to fit your cat too. I'll be buying one for my little tiger so you can check out how it works out on my instagram as soon as they're available.
Cambridge Satchel Company x Peanuts Collection available now only from Cambridge Satchel Company stores and from their online shop at www.cambridgesatchel.com. Prices start from £70.