I'm busy packing for Christmas in New York (woo!) at the mo so this is just a whole bundle of Christmas present fun with loads of stuff from some of my favourite brands and stores - more of a wish list than a shopping one - for you to have a quick nose at and for my friends and family to take 'inspiration' from...Cold, hard cash and Starbucks vouchers also accepted.
Happy Holidays everyone! X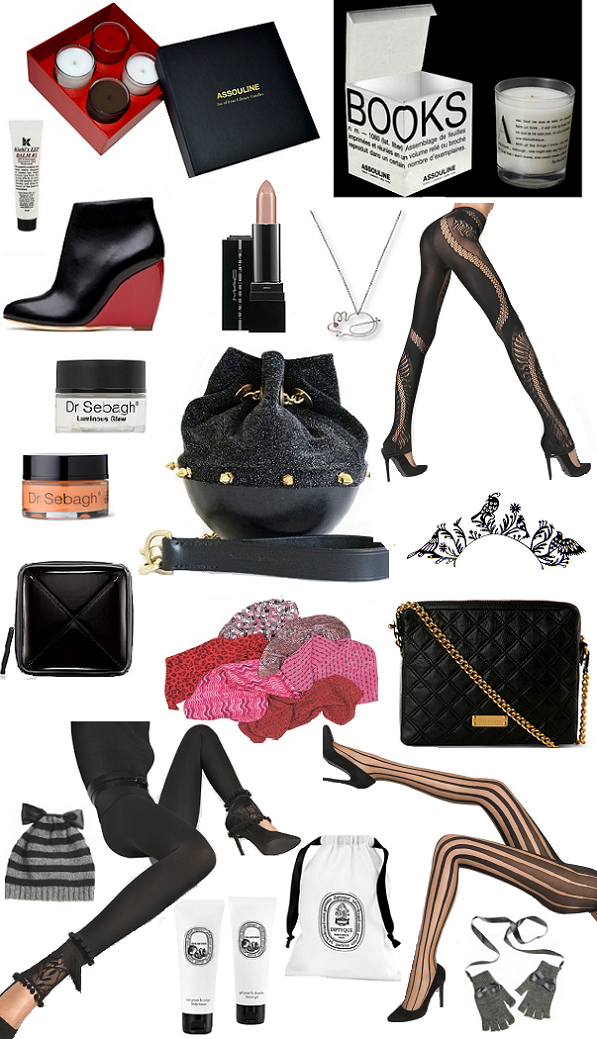 Clockwise from top left:Assouline candles, set of four - Books, Wood, Culture Lounge and Leather - or available individually from Liberty and boutiques worldwide, Wolford Starlette leggings, £58 available at Selfridges, Luna & Curious x Paperself Bird paper eyelashes, £12 from www.CultureLabel.com, Marc Jacobs quilted leather iPad tote, £350 from Selfridges, Wolford Skyscraper tights, £33, Bernstock Spiers ribbon idiot mitten fingerless gloves, £59 from Tatty Devine, Diptyque Philosykos Collection Voyage shower gel and body lotion set, £25 from John Lewis, Wolford Passementerie Leggings, £259, Bernstock Spiers bow tie beanie hat, £55 from Tatty Devine, Gareth Pugh x MAC make up case, £60 from Selfridges, Charlotte Sparre Scarves £77 (small) or £99 (large) available at Fortnum and Mason, Deep Exfoliating Mask £59 and Luminous Glow Complexion Perfector, £72, both Dr. Sebagh from Selfridges, Aerion bag with small spikes, £358 from www.tamzinlillywhite.co.uk, Hillier paperclip Mouse necklace, £350 from Selfridges, Gareth Pugh for M•A•C Lipstick in Restrict, £20.50 at Selfridges, Rupert Sanderson Hanover ankle boots, £625, Kiehl's Lip Balm #1, £9 from Selfridges and other stockists.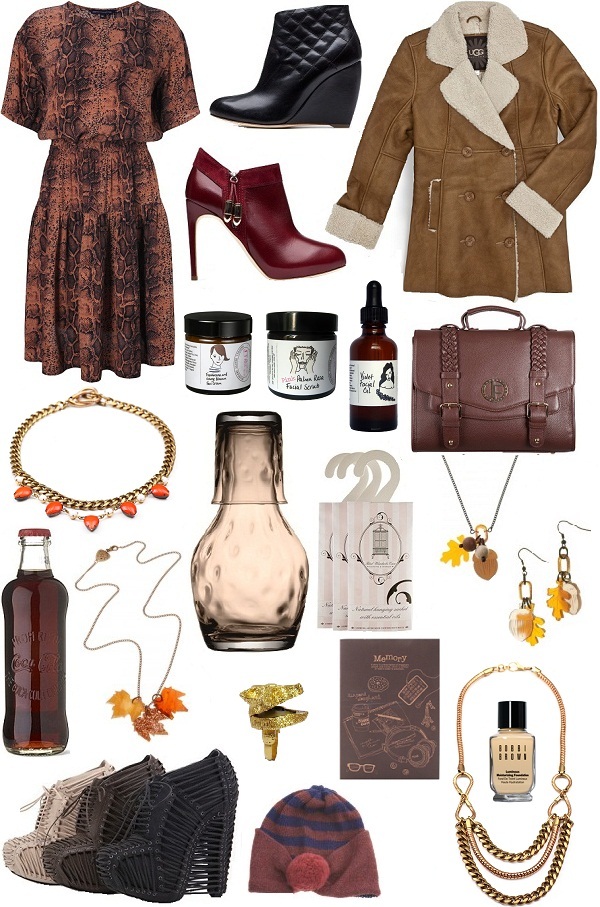 Clockwise from top left:French Connection Sissy Snake print crepe dress, £88 from £110, Rupert Sanderson ankle boots - Glen (grey) £595 and Talisman (red), £685, Ugg sheepskin coat www.uggaustralia.co.uk, Jack French London 'The Holland' satchel style handbag, £185 from www.jackfrenchlondon.com, Tatty Devine Forest Charm Acorn Necklace, £27 and matching earrings, £36, Bobbi Brown Luminous Moisturizing Foundation £29 from John Lewis, Lulu Frost multi chain necklace $290 from www.lulufrost.com, Notebook, £1.90 from Artbox, Bernstock Spiers pom pom 'turbini' hat, £70 at Tatty Devine, Andrea Garland La Renard lip balm ring, £34, Iris van Herpen X United Nude Crystallization shoes, £695 from www.unitednude.com, Tatty Devine Fallen Leaves Triple Pendant, £30, Coca-Cola in the original Hutchinson glass bottle, £1.99 exclusively from Selfridges, Lulu Frost Brass teardrop necklace, £300 from Net-A-Porter, Andrea Garland natural, aromatherapy skincare - Face Cream with Frankincense and Orange Blossom, £16.87 (special offer), Pink Palma Rosa Facial Scrub, £12.50 and Violet Face Oil, £24, all from www.andreagarlandshop.co.uk Total Wardrobe Care Anti-Moth hanging sachets, £5 from www.wardrobemistress.co.uk and LSA bedside 'Lucie' carafe and tumbler set, £26.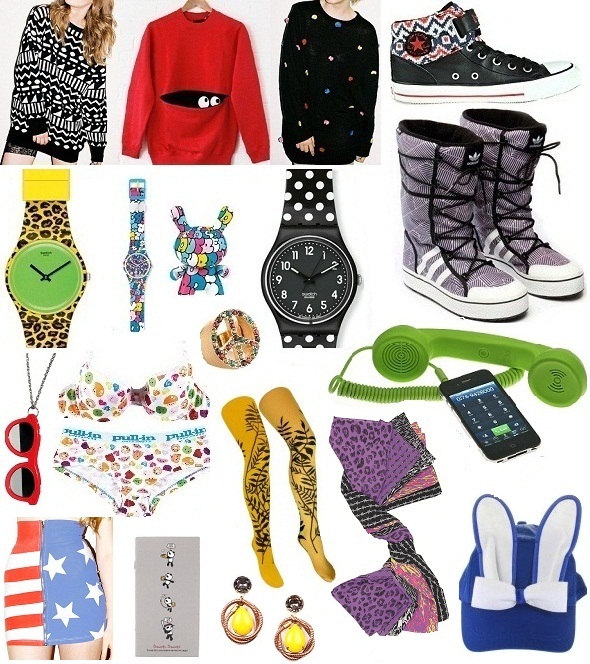 Clockwise from top left:Black metric jumper, £60, red men's Peek-A-Boo sweatshirt, £75, and Fur Balls knitted sweater dress, £60 all from www.lazyoaf.com, Converse Padded Collar 2, Retro Ski shoes (Aztec design shown), £59.99 at Footlocker, Adidas 70's ski collection Honey Hook winter moonboots, £72, Moshi Moshi pop phone retro handset for smartphones, £24.99 from www.iwantoneofthose.com, Bernstock Spiers bunny cap, £45 at Tatty Devine, Charlotte Sparre Scarves £77 (small) / £99 (large) from Fortnum and Mason, Earrings from www.lulufrost.com, Panda Notebook from www.artbox.com, Lazy Oaf Stars and Stripes body con skirt, £38, Andrea Garland Molly sunglasses full of lip balm necklace, £28, Leopard print Jeremy Scott x Swatch watch, Kid Robot x Swatch Tilt watch and Dunny, £44.50, black with white polka dot Swatch, Me & Zena Peace ring (possibly sold out now! try instore at Lazy Oaf), Pull-In Underwear - 'Yum' set, Glam bra, £32.95 & Kirra knickers £28.95 and Les Queues de Sardines Black Forest tights, £40 at Tatty Devine.