I've just got back from a few weeks in New York so plan on bringing you posts on some of my favourite new discoveries from the Big Apple over the next few weeks.
First up, how DKNY are embracing the whole local/global and curating trends with their first concept store.
From East to West London and from Uptown NYC to Downtown, all over the world different neighbourhoods have their own, individual styles. Whether high street retailers, department stores or independent boutiques, stores carefully select styles to reflect the tastes of local shoppers. What American design powerhouse DKNY has done is to take their approach to an even more refined, local, boutique level with their first standalone DKNY Concept Store.

The shop, in Manhattan's Flatiron district right across from the iconic landmark building, offers a perfectly curated range of 'IT' womenswear pieces and accessories specially selected from across the DKNY labels (DKNY, DKNY Jeans and DKNYpure) to appeal to the cool, arty intelligensia who live and/or work in this part of the city.
The small Fifth Avenue store initially caught my eye thanks to the white neon coat hangers in the window. As I nosed through the windows one snowy evening, it looked more like a laidback, low key-chic boutique than a major designer retail destination, mostly thanks to the relaxed, urban minimalist design - all exposed brickwork, fluoro coloured piping and understated branding.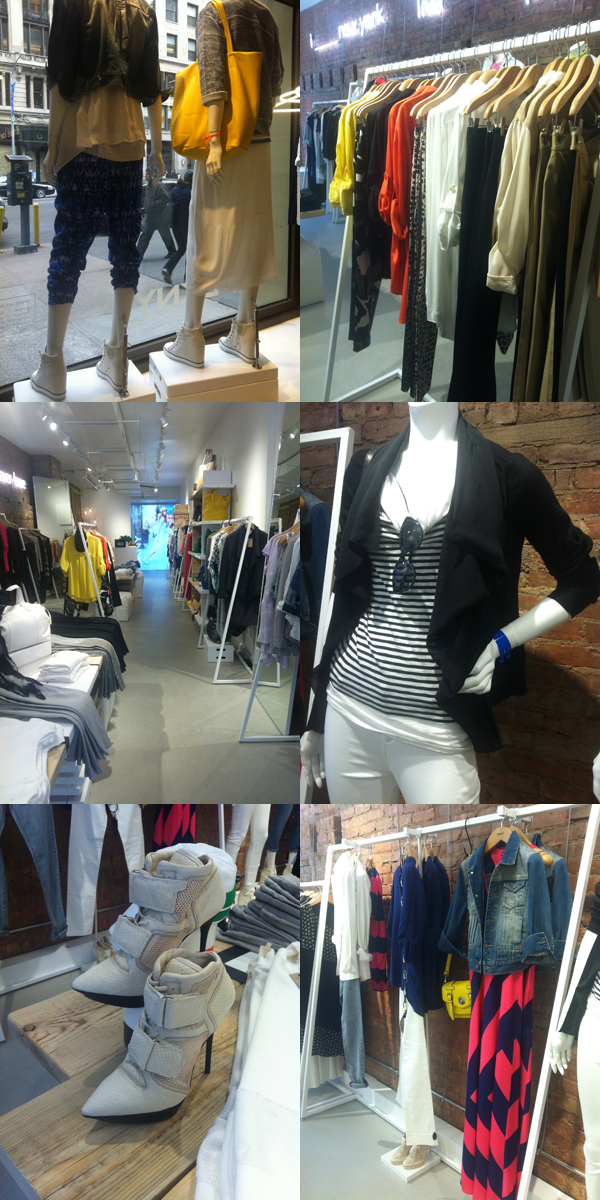 When I visited one afternoon I was struck by how the space manages to be both sleek and white, yet cosily warm and inviting at the same time. Large mirrors and the comfiest, pouffiest, armchair - like a big white leather marshmallow - create a clean, airiness whilst the exposed red brickwork and touches like wooden ladders propped up against walls to display hats and scarves, and shoes balanced on rolls of colour-matched duct tape add a carefree, urban edge to the design.
Packed with looks that range from runway to more relaxed styles, embarrassingly I was so taken with the peppy electric blue wristbands on some of the mannequins I asked one of the two super helpful shop assistants if they were for sale only to find they were actually just some particularly funky cable ties used as styling. For me, this kind of embodies the spirit of the store - cool, clever, totally easy and absolutely in keeping with the area's aesthetic.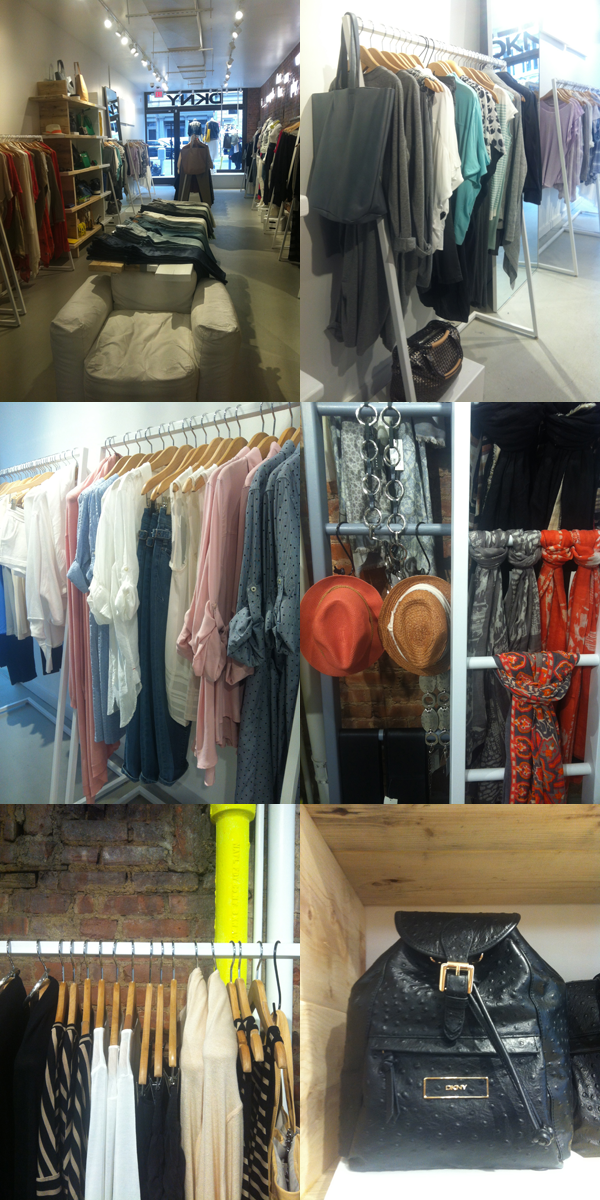 I spent ages rifling through the racks which contained everything the busy downtown chick needs for a workable, easy to wear wardrobe, all handpicked and highly edited from the main collections to appeal to the clientele's look and needs - lots of gorgeous leather, denim and quintessential DKNY jersey pieces, as well as some seriously hot footwear and great, fun bags - I wanted to make off with half the store but really can't stop thinking about the ostrich leather mini backpack snapped above.
Now, when everyone is time poor, the edited approach is key in retail - see the success of curated sites like Fab.com, The Fancy etc - and I love how DKNY has taken this pretty unique step of being a global brand curating on a local level. This is such a great idea I really hope the brand plans to roll these stores out to areas of other major cities sharpish. London next, please?
Visit the DKNY Flatiron concept store yourself to see what you think, at 168 Fifth Avenue between 21st and 22nd Streets. Or if you're not in NYC, check out www.dkny.com
Popular in the Community