For those of you who don't plan on stuffing your face with chocolate eggs this Easter Bank Holiday weekend (truly the worst time of year after Christmas to be on a diet), here's a bunch of non-fattening, fun suggestions for Easter gifts to indulge in - and a few sweet treats too.

If you're after more of a visual feast, check out the Fabergé Egg, Easter pop-up salon at Harrods in London's Knightsbridge, which runs until 21 April. The accompanying exhibition includes the aristocratic Parisian jewellery house's famous Imperial Easter Eggs, creations for the Russian Imperial Court and a dazzling Apple Blossom Fabergé Egg from 1901, crafted from gold, diamonds and nephrite, displayed in the Fine Jewellery area - the first time such treasures have been seen in the UK and outside a museum setting. You can also visit the Egg Bar where contemporary egg pendants, including an exclusive Fabergé Spiral Tassel Pendant, are on sale and can be engraved (ps. engraving is free on weekends...).
Happy Easter, everyone!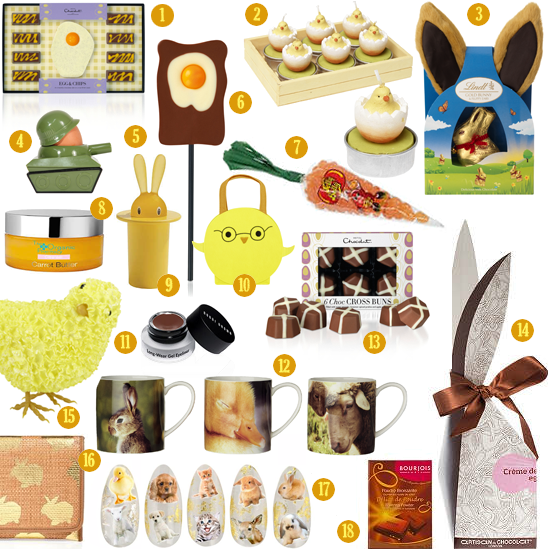 1 Hotel Chocolat, egg and chips, £14 from www.hotelchocolat.com; 2 Dotcomgiftshop, Easter Chick tealights, £6.95, from www.dotcomgiftshop.com; 3 Lindt chocolate bunny with rabbit ears headband, £4.99 from various supermarkets and www.lindt-shop.co.uk; 4 Scribbler, Egg-splode egg cup, £6.99, from Scribbler stores; 5 & 9 (oops) Alessi, Magic Bunny toothpick holder, £17.95 from Selfridges; 6 Hotel Chocolat, Egg on toast, £2.00, from www.hotelchocolat.com; 7 Jelly Belly, Carrot jelly beans, £6.99, and 8 The Organic Pharmacy, Carrot Butter Cleanser, £40 both from Selfridges; 10 Paperchase, Easter chick small bag, £3.00 from paperchase.co.uk; 11 Bobbi Brown, Long-Wear Gel Eyeliner in Chocolate Shimmer Ink, £17.50 from Harrods.com; 12 Marks & Spencer bunny, chick and lamb mugs, £6 each from M&S stores; 13 Hotel Chocolat, Choc Cross Buns chocolates, £7.50 from www.hotelchocolat.com; 14 Artisan du Chocolat, Creme de la Creme chocolate eggs, £19.99 from Selfridges.com; 15 Paperchase, petal 7.5 inch chick, £7.75, from www.paperchase.co.uk; 16 Marc by Marc Jacobs, woven metallic clutch, £130 from www.stylebop.com; 17 Elegant Touch x House of Holland, Kitty Kitsch press on nails, £7.99 from Boots and www.eleganttouch.com; 18 Bourjois, Delice de Poudre bronzing powder in medium/dark, £6.99 from Boots.com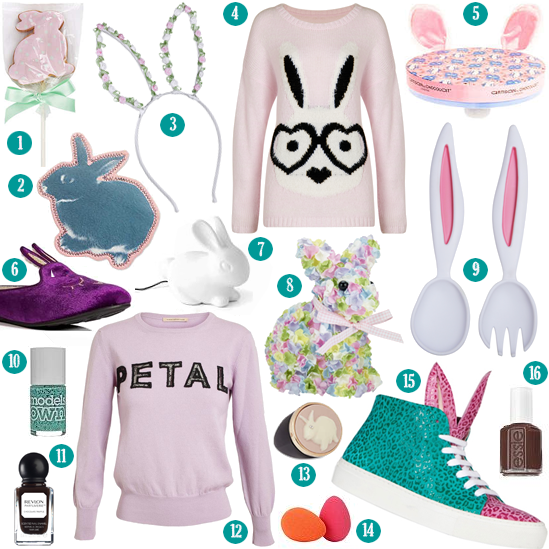 1 Peggy Porschen, Easter Bunny cookie pop, £6.99 and 2 Marc by Marc Jacobs, Rabbit coin purse, £62, both from Selfridges; 3 Monsoon rosebud rabbit ears headband, £6.00 from Monsoon stores; 4 George at Asda, G21 Eyelash Pink Bunny jumper, £16, from Asda ; 5 Artisan du Chocolat, Fluffy Bunny chocolate egg assortment, £39.99 from Selfridges; 6 Marc by Marc Jacobs, velvet slippers, £175, from www.stylebop.com; 7 Suck UK, Bunny Light, £60, from www.suck.uk.com; 8 Paperchase, Easter petal 7.5 inch bunny decoration, £7.75 from Paperchase; 9Scribbler, Rabbit ear salad servers, £6.50 from Scribbler stores; 10 Model's Own, Speckled Eggs nail polish in Magpie, £5.00, and 11 Revlon Parfumerie, nail polish in Chocolate Truffle, £6.49, both from www.boots.com; 12 Christopher Kane, Petal cashmere and lace sweater, £650 from www.brownsfashion.com; 13 Marc by Marc Jacobs, Cameo bunny ring, £60, from Selfridges; 14 Model's Own, egg-shaped makeup applicator, £8.00 from Boots; 15 Minna Parikka, Limited Edition Bunny Sneaks, E.245 from www.minnaparikkashop.com; 16 Essie, nail polish in Chocolate Cakes, £7.99 from www.boots.com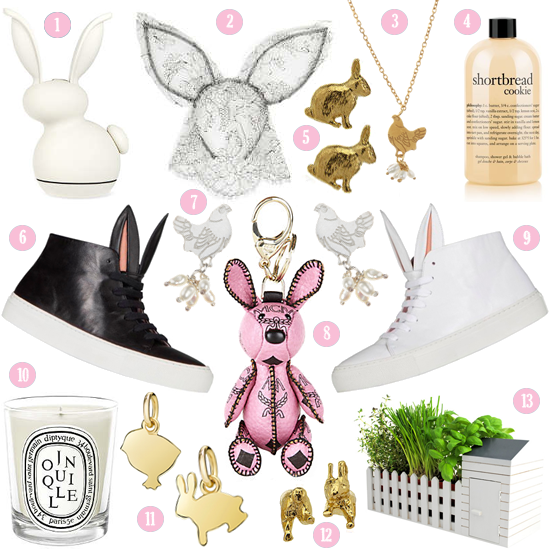 1 Chef'n, g'rabbit grinder, £25.95, and 2 Maison Michel, Heidi rabbit ears headband with veil, £305, both from Selfridges; 3 Amanda Coleman, Mother Hen necklace, £40, from www.amandacoleman.co.uk; 4 Philosophy, Shortbread Cookie 3-in-1 shampoo, shower gel & bubble bath, £14 from www.philosophyskincare.co.uk; 5 Alex Monroe, Sitting Bunny studs, £108, from Harrods.com; 6 & 9 Minna Parikka, Bunny Sneaks in black or white nappa leather, E.245 from www.minnaparikkashop.com; 7 Amanda Coleman, Mother Hen handmade earrings, £44 from www.amandacoleman.co.uk; 8 MCM, Visetos rabbit charm keyring, £120, from www.harrods.com; 10 Diptyque, Jonquille scented candle (daffodil scent), £40, from Selfridges; 11 DoDo yellow gold charms (bunny and chick pictured), £130 each from DoDo; 12 Alex Monroe, Chase top and tail bunny studs, £105, from Harrods; 13 The Gift Oasis, Indoor Allotment, £24.99, from thegiftoasis.com