Fashion's Night Out (aka FNO), the annual international shopping event and brainchild of US Vogue's Anna Wintour designed to help kickstart the economy, happened on Thursday and London is still buzzing from a night of parties, shopping and free champagne.
Never a fan of crowds, I only started going to FNO - also known as VFNO (Vogue's Fashion Night Out) - last year as I thought it was basically just late night shopping with the odd free drink thrown in. Whilst, in it's simplest terms that kind of is what it's about, launching the Autumn/Winter collections and getting sales going, until you've experienced it first hand you can't begin to comprehend the festival type atmosphere and party spirit this event has. The buzz is almost tangible - you can practically feel the parties happening streets away and sense the crowds' excitement.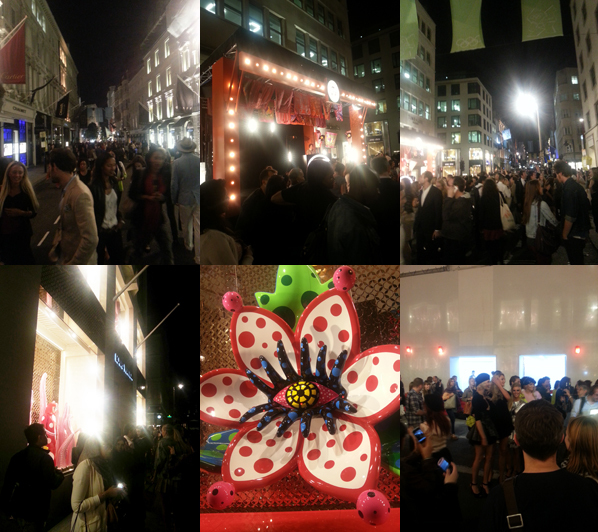 Bond Street was at the heart of the FNO action with something going on everywhere you looked - on the street as well as in the shops
The main action centres mostly around Bond Street and New Bond Street where there were temporary stages with bands and DJs playing, airstreams with hairdressers in etc, but the parties and events happen all over town. If you're not there to party, to shop or to people watch, it's best you get the hell out for the night - the crowds this year were absolutely incredible.
I went along to eight parties in two hours, zig-zagging across the West End as fast as my practically trainer-clad feet could take me - I literally felt 19 again but more sweaty (damn this humid weather - I knew I should have stopped for a Missoni ice cream!).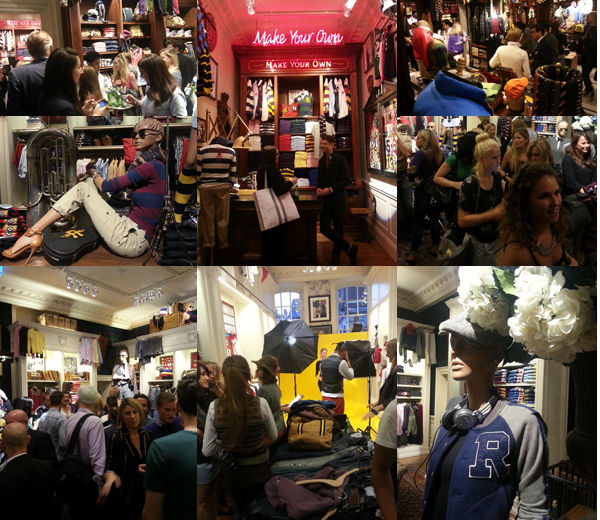 Rugby Ralph Lauren was packed with young hotties thanks to their model competition run with Storm whose model scouts were hard at it, talent scouting
I started off at Rugby Ralph Lauren, next to the Apple Store in Covent Garden, a store I hadn't visited before and wanted to check out so FNO seemed a good opportunity. Fitting for their youthful audience, everyone was greeted with trays of beers and bags of popcorn which made for lots of happy, smiley and - thanks to the fact they were running a modelling test shot competition in conjunction with the model agency Storm who were there scouting - very beautiful faces.
DJ Izzie Lawrence provided the soundtrack as the throng of shoppers and partygoers crowded around the store which, aided by the gorgeous preppy, college styles (which had a surprisingly quirky London style twist - like the skull embroidered chinos - which I hadn't been expecting), the all-American interior (love me some wood panelling) and aforementioned weather, made it feel like I'd been whisked straight off to Manhattan. Never a bad thing.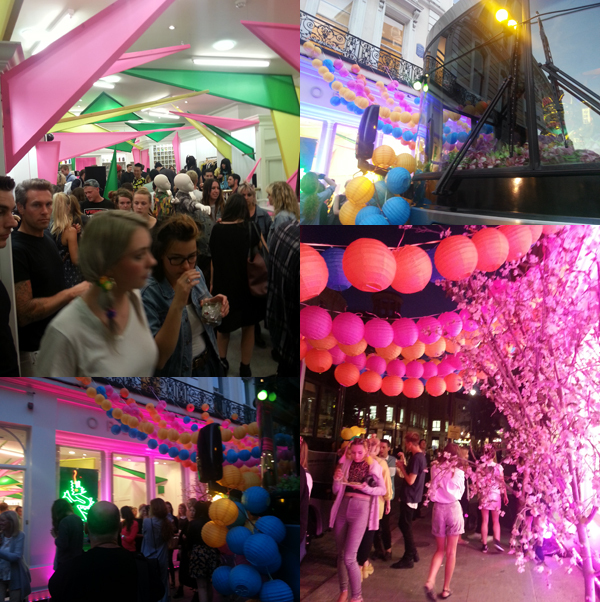 Opening Ceremony was rammed with revellers enjoying cocktails and cutting edge design, as well as visiting the Bleach London airstream parked outside
Then it was off to another US brand, my personal fav, Opening Ceremony for their pop-up store party which was so incredibly beautifully decorated - see the pics below - with cherry blossom trees and paper lantern lighting. With the addition of the Bleach London airstream outside and the Korean BBQ, it was, again, like bringing a bit of downtown NY cool to London and boy did the crowd love it. I managed to get roughly two metres inside the store before being unable to move any further. You could practically see the steam rising off these hipster kids (the kinds who wear Bart Simpson Jeremy Scott jumpers - I saw you, dude. Strong look).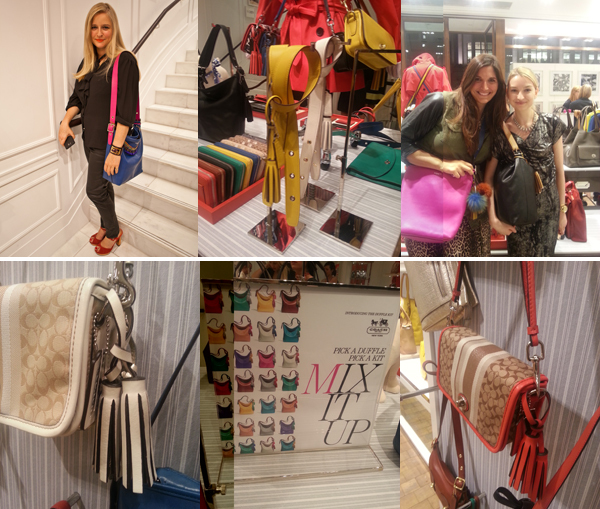 Coach had crowd control issues thanks to the team of uber bloggers - Liberty London Girl (above left), Fashion Foe Gras and Coco's Tea Party (pictured together, above right) putting a tassel on it
Then, I had to battle my way from Covent Garden to New Bond Street for the Coach party. As a blogger this was one I was really looking forward to as it was hosted by my girlcrush blogger, Sasha Wilkins aka the inspirational Liberty London Girl, along with fellow lovely blogging ladies, Ella Gregory of Coco's Tea Party and Emily Johnston from Fashion Foie Gras, and was all about customising Coach bags using their new tassels. As I fought through the crowds to get to the party - including a comedic stint stuck behind some guys moving a sofa Chuckle Brothers style - I overheard a couple of "Did you manage to get into Coach??" queries and quickened my pace.
I got there to find the party had been such a hit that they'd hit maximum capacity and been forced to lock the doors. Noooooo..... With some negotiating skills Kofi Annan would have been proud of I managed to sneak in to find some hardcore party people still hanging on in there between the handbags and tassel displays - honestly, it was a case in point for all those brands who still don't get bloggers - these ladies shut. it. DOWN. Great work.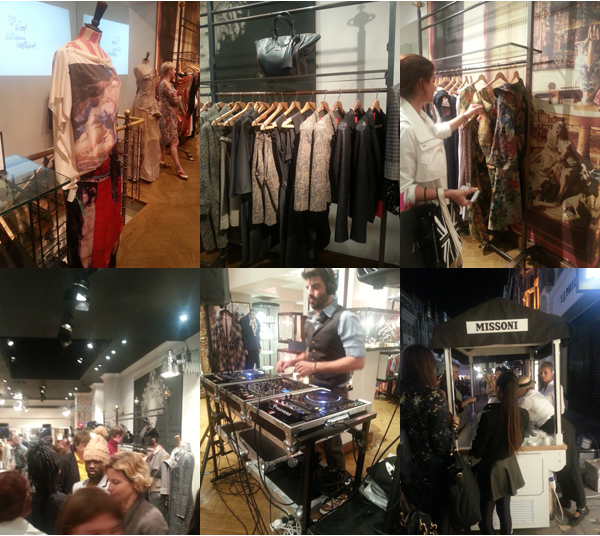 Vivienne Westwood FNO parties always have great tunes but Missoni had the best ice cream!
After a quick chat with Emily and Ella I hot footed it over to Vivienne Westwood - a brand I love and where I first popped my FNO cherry - which, as ever, had the best tunes of the night and a queue at the till. The loyal Westwood fans were all there, mostly clad head to toe in her designs and looking fantastic for it, as the DJ did his thing.
It was great to see the new AW12 collection which had a strong wool bias this season - Vivienne is an ambassador for wool and was celebrating Merino Wool in particular at the FNO party. I especially adored the new pieces featuring classical paintings, reminding me of the stunning Vivienne Westwood bustiers of the 90s which were club wear staples. Lots of tassels on the handbags here too - definitely a trend to watch out for.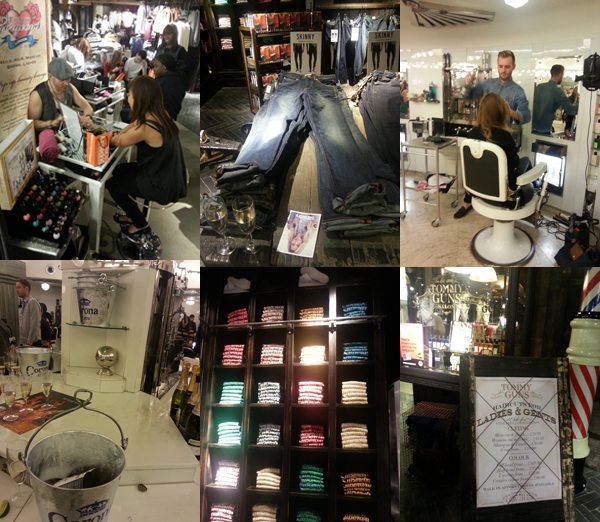 Superdry threw their FNO bash at their huge Regent Street store where there were free hair dos and manicures amongst the champagne and denim
One of the last parties I made it to was Superdry at their ridiculously huge store on Regent Street. Another shop I'd never visited but one I'd heard good things about, I mainly popped in to check out their new denim range and see about getting one of the free blow dries they were doing in their basement salon. Whilst the party in the salon was rocking, my lack of dinner caught up with me and hunger overcame the need for a good hair do so I decided to just peruse the denim over a glass of champagne instead.
The amazing denim specialist lady, Deon, who has worked in denim for nine years and is infectiously passionate and refreshingly knowledgable about it, talked me through the range from loose fit to skinny, high waists, mid rise, coloured stitching, new details, men's, women's. She explained how Superdry have brought in a designer from Levi's to rework their existing range and to add new styles, all in more premium fabrics mainly from Italy and Turkey, to give better fits for their customers. Deon had some great stories about what customers have started asking for and how their customers shapes change - apparently it's definitely now the guys who are most likely to ask "Does my bum look big in this?"!
Exhausted from my evening of fashion fun, I sadly missed out on the Agent Provocateur party which I got to only to find a big CLOSED sign on the door and a lot of empty champagne classes by the tills, so it looks like I wasn't the only one who had a great night. If you haven't been, make sure you go next year and be sure to wear comfortable shoes - but stylish too, because FNO is seriously the most glamorous late night shopping event EVER.