Even guys seem to find their fathers difficult to buy gifts for so, as it's Father's Day this Sunday, it really is time to get your thinking caps on.
If giving presents isn't your thing, you could take your Dad out for a drink or make him dinner, spend time with him by taking him out to the cinema or round of golf - just giving up that extra bit of your time will hopefully make for some great memories for both of you.
My brothers and I always club together to get our dad one great present rather than three smaller ones but, however you split it, if you want to avoid the usual socks or Amazon vouchers, here's a few suggestions to help you along.
And don't forget the handmade card - no matter how old or art-intolerant you are, the sentiment and effort will be much appreciated.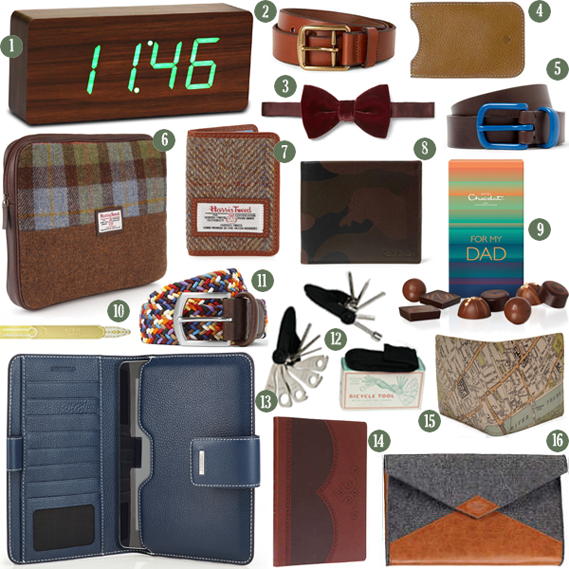 1 Red5, Click Clock Walnut, £44.95, from www.red5.co.uk; 2 Polo Ralph Lauren, Saddle Leather Belt, £45, from Harrods.com;3 Lanvin, New Alber Velvet and Silk Bow Tie, £80, from MrPorter.com; 4 Mulberry, leather iPhone cover, £80 from www.selfridges.com; 5 Oliver Spencer, Brown Contrast-Buckle Leather Belt, £95 from MrPorter.com; 6 M&S Harris Tweed laptop case, £45, and 7, Harris Tweed wallet, £15, both from www.marksandspencer.com; 8 Paul Smith, Camouflage-Print Leather Billfold Wallet, £140, from MrPorter.com; 9 Hotel Chocolat, 'For My Dad' chocolate pocket selection, £9 from www.hotelchocolat.com; 10 Tom Dixon, Tool the Bookworm Pen bookmark, £12, from Selfridges; 11 Anderson's, Leather-Trimmed Elasticated Woven Belt, £65, from MrPorter.com; 12 Home Candy, personalised map wallet, £115 from www.homecandy.com; 13 Lagerfeld iPad cover, £175, from the Karl Lagerfeld London store, 145-147 Regent Street, London W1B 4JB (Tel 020 7439 8454); 14 Ted Baker, Brogue Notebook, £18, from Selfridges.com15 Bicycle Multi Tool, £6.95 from www.dotcomgiftshop.com; 16 Wild & Wolf, Gentleman's Hardware 13" laptop sleeve, £40 from Selfridges.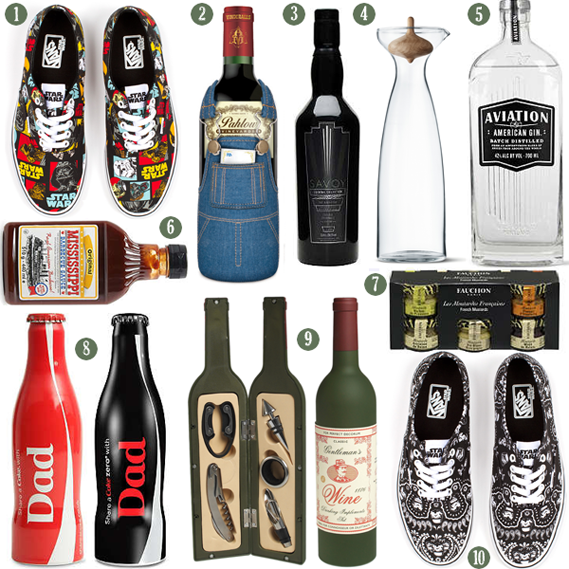 1 & 10Star Wars x Vans Classics shoes (1 is available in kids' sizes too), £52 each from www.vans.co.uk and various Vans stockists; 2 Vinderalls bottle cover, £13.99 from The Gift Oasis; 3 The Savoy, The Manhattan, £225 exclusively from Selfridges; 4 Georg Jensen, Alfredo Carafe, £40, from www.georgjensen.com/uk; 5 Aviation, Dry Gin Gift Pack with stainless steel cocktail shaker, measure and cocktail recipe book, £41.99 from Selfridges.com; 6 Mississippi Barbecue Sauce, Original Barbecue Sauce, £3.99, 7 Fauchon, Mini French Mustard gift set, £9.99, and 8 Exclusive Coca-Cola and Coke Zero limited edition Father's Day bottles, £1.99 each, all available from Selfridges; 9 Classic Gentleman's Wine Drinking Bar Set, £16.95, dotcomgiftshop.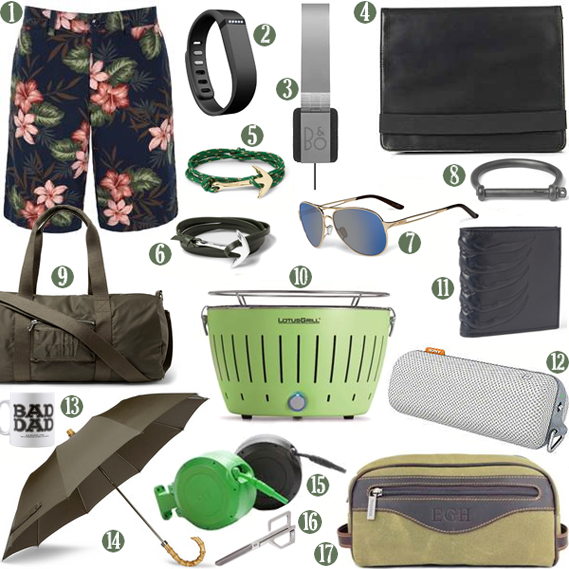 1 Banana Republic, Original Fit Printed Shorts, £45 from www.bananarepublic.co.uk; 2 FitBit, Flex wireless activity & sleep wristband, £79.99, and 3 B&O Play, Form 2i Ultra-Light On-Ear headphones, £109.99, 4 Moleskine, 10" laptop case, £39, all from Selfridges; 5 Woven-cord and Metal Hook Wrap Bracelet, £70, and 6 Leather and Metal Hook Wrap Bracelet, £60, both by Miansai from MrPorter.com; 7 Oakley Caveat Sunglasses, £130, from various Oakley stockists; 8 Miansai, PVD-Coated Metal Cuff, £190, and 9 APC, holdall bag, £150, both from MrPorter.com; 10 Lotus Grill barbecue, available in two sizes priced £129/£199, from cuckooland.com; 11 Alexander McQueen, Embossed Leather Billfold Wallet, £160, from MrPorter.com; 12 Sony, Splash-proof Portable Speakers with Bluetooth & NFC, £119.99 from Selfridges.com; 13 Goodhood, 'Bad Dad' (Bad as in Good) Mug, £12, from GoodhoodStore.com; 14 London Undercover, Bamboo-handled Collapsible Umbrella, £60, from MrPorter.com; 15 Zee, hose reel, available in 10m or 30m for £125 or £230 respectively, from cuckooland.com; 16 Craft Design Technology, CDT Scissors, £55, from The Goodhood Store; 17 Tusting, Excursion Waxed Canvas Washbag with Leather Trim in Lichen, £99, (can be monogrammed for an additional fee) from www.tusting.co.uk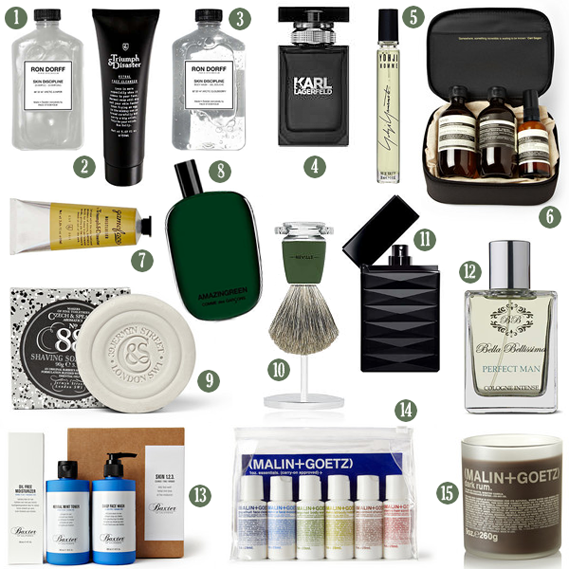 1 Ron Dorff, Skin Discipline shampoo, £18, 2 Triumph & Disaster, Ritual face cleanser, £18, and 3 Ron Dorff, Skin Discipline body wash, £18, all exclusively from Selfridges; 4 Karl Lagerfeld for Men eau de toilette from £33, from Harrods; 5 Yohi Homme eau de toilette, from £35 from Selfridges; 6 Aesop, The Athlete grooming kit, £80 from MrPorter.com; 7 Exclusive Triumph & Disaster, Gameface moisturiser tube, £34, and 8 Comme des Garcons, Amazing Green eau de parfum natural spray, £57, both from Selfridges; 9 Czech & Speake, Number 88 Shaving Soap Refill, £21 from MrPorter.com; 10 Cowshed, Neville Shaving Brush & Stand, £105 from Harrods.com; 11 Giorgio Armani, Attitude Extreme eau de toilette, £59, and 12Exclusive Bella Bellissima, Perfect Man cologne intense, £48, both from Selfridges; 13 Baxter of California, Skin 1-2-3 Kit, £45, and 14 Malin + Goetz, Essentials Travel Kit, £20, both from MrPorter.com; 15 Malin + Goetz, Dark Rum scented candle, £37 from Net-a-Porter.com