Folk is one of those understated, effortlessly cool clothing brands often spotted on trendy media types and music industry boys who want to look like they haven't tried too hard. Through combinations of intricately stitched patterns, beautiful fabrics or unusual, interesting cuts, for all it's seemingly simple design, Folk stands out because it's all about the detail.
I first came across the label a few years back when my boyfriend was looking to revamp his wardrobe and instantly loved the brand, particularly their knitwear which appeared to form the cornerstone of the Folk look.
It was so frustrating to find that the husband and wife team didn't do womenswear (although they did sell women's clothing from the likes of Acne, Sessun, Humanoid and Ally Capellino) but now, for Autumn/Winter 2012, their debut own label women's range is starting to go on sale and it's every bit as quietly exciting as the men's designs.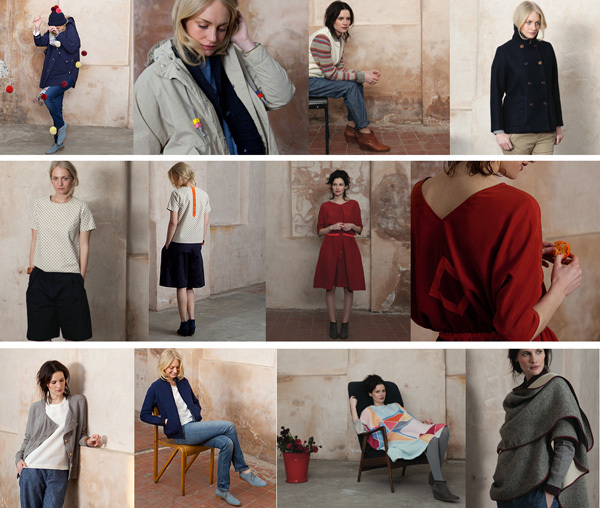 Looks from the Folk Autumn/Winter 2012 womenswear collection.
Elbe Lealman, Head of Design at Folk, explained what had taken them so long, "We have wanted to introduce the women's line into the business for some time, but it needed to be well timed and with all the right people in place to make sure it would be a success. We opened our first women's store 18 months ago in anticipation of the collection, so it's great to know its got the perfect environment ready for it to be seen for the first time. Now just seemed natural."
I wondered if she took a different approach to designing for women, "The main difference between designing the men's and women's collections is that when I design menswear I always have to put myself into a man's shoes and design for what I think my husband (the label's Creative Director, Cathal McAteer) or friends would like to wear. Designing womenswear is more natural, as essentially I am designing for me and can easily imagine how designs would make me and my friends feel. I originally trained in womenswear so after eight years of doing men's its nothing but exciting to be getting my teeth into something I love."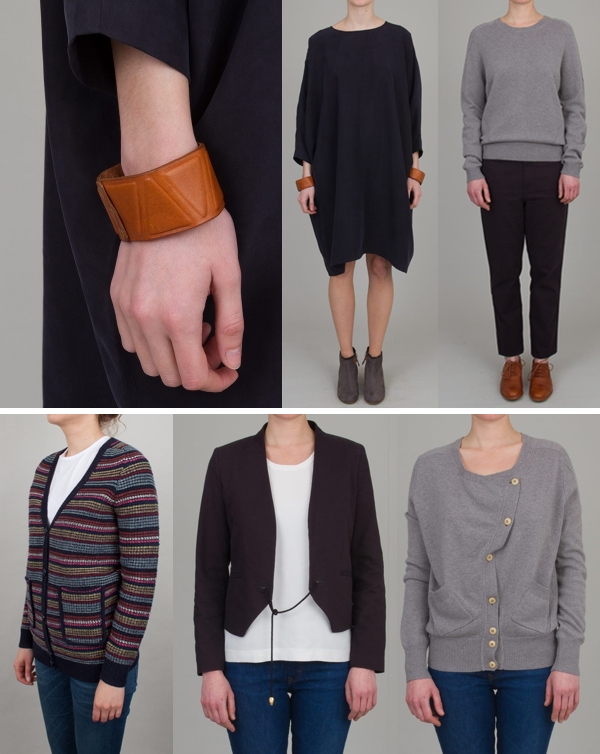 Some of my favourites from the new Folk AW12 women's collection.
Something I absolutely love about this collection is that, whereas some labels seem to consider practicality a dirty word, Folk have actively embraced it, producing wearable, clothes that are not only gorgeous and interesting, but which are also incredibly versatile and comfy too. As Elbe says, "Our first collection was inspired by what a women with a full life wants from her wardrobe: be it ease, practicality, beauty or effortlessness." The designs largely eschew faddy trends instead providing long-lasting, classic clothing with clever detailing which more than justifies their mid-level pricing.
It's hard to pick an absolute favourite as these designs are so spot on for me, there literally isn't anything I wouldn't wear here, but the merino wool panelled crew neck jumper in heather grey (below, top row, far right, £145) and the super chic Midnight bracelet dress, pictured above (£395), made from sandwashed Habotai silk with British made leather cuffs are definite standouts. Great shoes too.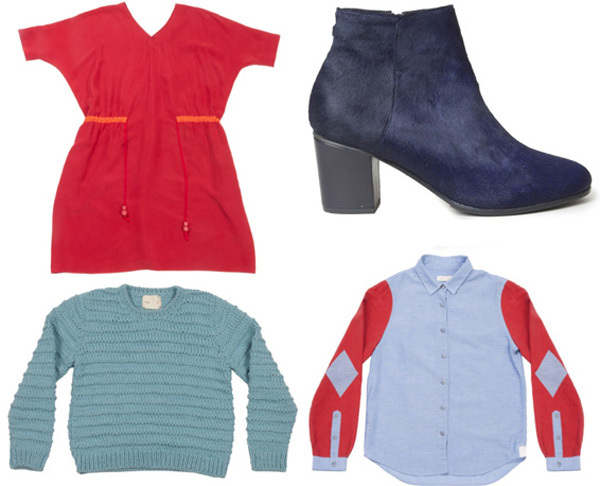 Red square dress, pony skin ankle boots, chambray shirt with geometric colour block detail and chunky knit jumper, all coming soon.
So with Folk's thriving menswear line, and now a women's one too, what's next? "Folk is inspired by craft, beautiful fabrics and cut. This season includes Japanese textured fabrics woven on vintage looms, sand-washed silks and Italian wools. We recently went to India which has opened up a lot of possibilities with handcraft so there will be some decorative pieces and trim details running through the collection. I have also been working closely with our Japanese mill to develop exclusive fabrics for us. Detailing and selective decoration will be a much bigger part of this collection."
Despite such a strong debut, it looks like there's a lot more still to come from Folk womenswear. Personally, I can't wait until the pom pom knit hats hit stores. Check out the look book for the full Autumn/Winter collection and for the pieces available to buy online now from Folk's website at www.folkclothing.com.