People often comment that I smell like a bakery - not because I'm always stuffing my face with cakes (I'm a savoury kinda girl), but because I tend to favour sugary, homely scents for my everyday beauty products. So, with the return of The Great British Bake Off, I figured this was as good a time as any to look at bakery-inspired beauty.
In particular and for no real reason that I can fathom (if anyone knows the science behind what attracts people to specific smells, I'd love to know), I find sweet and citrus hotel breakfast-style aromas (continental, not bacon and hash browns) deliciously comforting.
Anything cinnamon, vanilla, honey, sugar or milk-based will most likely work its way into my shopping basket, as will strongly scented citrus products that smell like grapefruit or orange.
I try to go for the less harsh end of the beauty spectrum with gentle formulas I know won't act like paint stripper on my skin, paraben free where possible, and tend to whack little 'treats' in with my Ocado food shops. I also pick up as many new products as I can on holiday - the exciting discoveries of gems you've never seen in the UK, like the Vanilla & Oatmeal Johnson's Baby Wash pictured below which has the softest, cosiest fragrance I will be hand washing all my wools in it this winter, but for some reason - as with the mouth watering Honey Apple version I've run out of now - they're only available in the States.
My go-to brands for reliably long-lasting, gorgeous foodie scents are Philosophy (makers of my all time favourite Cinnamon Buns range and, around October time, Pumpkin Pie 'flavour'), Kiehl's (the Grapefruit range is divine), Laura Mercier (grown up delights that make wonderful gifts) and Origins (their Ginger Essence products are so good I keep a bar of their soap in my clothes drawers to scent them). I also find High Street stores like the Body Shop and Marks and Spencer tend to do a nice line in reasonably priced fragranced products that won't break the bank or take your skin off too.
Here's a few from my bathroom and a host of my other favourite picks for bakery-inspired beauty...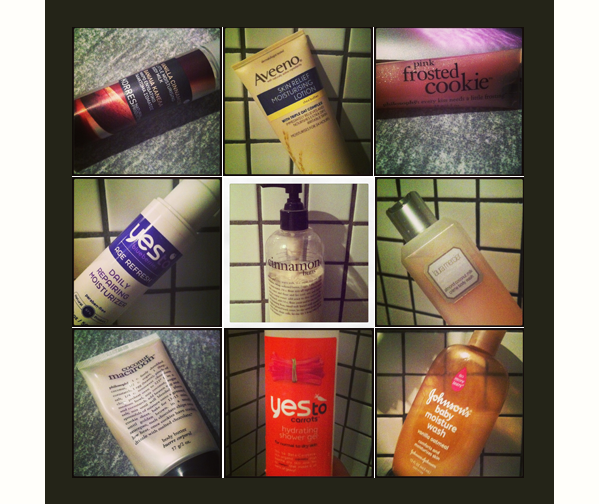 Top (L-R): Korres Vanilla Cinnamon Body Milk (travel size, from a set); Aveeno Skin Relief Moisturising Lotion with Triple Oat Complex (amazing stuff and great for sensitive skins); Pink Frosted Cookie lipgloss by Philosophy (I'm not sure they still do this but they should); Middle (L-R): Yes to Blueberries Age Refresh Daily Repairing Moisturiser (smells so clean and fresh it's a great morning lotion); Cinnamon Buns moisturiser by Philosophy (an enduring favourite, I slather myself in this - this is the scent that elicits the bakery comments); Laura Mercier Almond, Coconut & Milk Body Wash (a gift from my oldest friend and truly delicious in a holiday cocktail kind of way); Bottom (L-R): Coconut Macaroon Body Butter by Philosophy (I buy a lot of Philosophy products - I've been a fan since you could only get it on QVC in the UK and it's absolutely one of my all time favourites); Yes to Carrots Hydrating Body Wash (an impulse Ocado buy that I really love); Johnson's Baby Moisture Wash in Vanilla Oatmeal (WHY CAN WE NOT HAVE THIS IN THE UK???)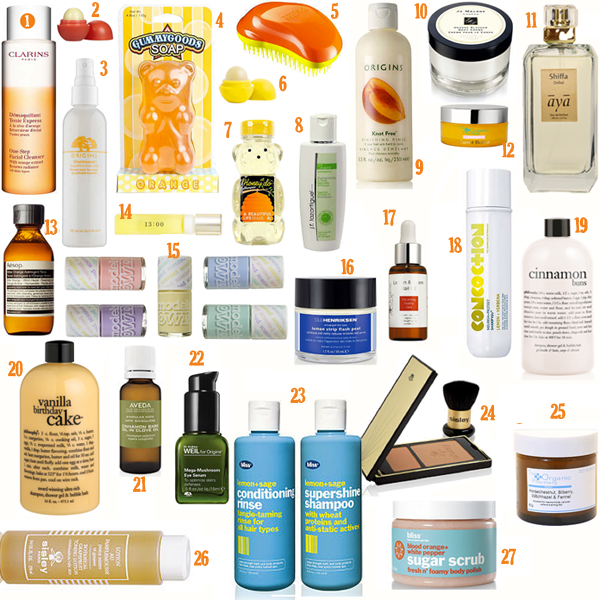 1 Clarins One-Step Facial Cleanser, £19.50; 2 Eos Summer Berry lipbalm, £5.99; 3 Origins Gloomaway Grapefruit Body Mist, £19; 4 Gummy Goods orange scented bear soap, £6 by FCTRY; 5 Orange Tangle Teezer, £10.50; 6 Lemon Drop Eos lipbalm, £5.99; 7 Honey Do 'A Beautiful Life' shampoo, £12.50; and 8 JF Lazartigue Orange Oil Shampoo, £30, all available from www.selfridges.com; 9 Peach Knot Free Finishing Rinse by Origins, £14 from www.origins.co.uk; 10 Jo Malone Orange Blossom Body Creme, £50 from Selfridges; 11 Shiffa 'AYA' perfume with cinnamon top notes, £150 exclusively from Selfridges; 12 Organic Pharmacy Carrot Butter Cleanser, £34.95; 13 Aesop Bitter Orange astringent toner, £37; 14 UKA 13:00 Mint and Lemon Nail Oil, £18; 15 Model's Own scented nail polishes - Strawberry Tart pink, Grape Juice purple, Banana Split yellow, Apple Pie green, Blueberry Muffin blue - £5 each; 16 Ole Henriksen Lemon Strip Flash Peel, £35; 17 The Organic Pharmacy Lemon & Neem Nail Oil, £22.95; 18 Concoction Nourish + Protect Shampoo with Lemon & Verbena, £11 (exclusive), all available from www.selfridges.com; 19 Cinnamon Buns and 20 Vanilla Birthday Cake 3-in-1 Shower Gel, Bubble Bath & Shampoo, both by Philosophy, £14 each from www.philosophyskincare.co.uk; 21 Aveda Cinnamon Bark in Clove Oil, £13.50 from www.harrods.com; 22 Dr Weil Mega Mushroom Eye Serum, £39 by Origins from www.origins.co.uk; 23 Lemon & Sage Supershine Shampoo & Conditioning Rinse, £13.50 each, both by Bliss and 24 Sisley Phyto-Touches De Sisley in Duo Miel-Cannelle, £64.50, all available from www.harrods.com; 25 Organic Pharmacy Horsechestnut, Bilberry, Witchhazel & Fennel Complex Cream, £15.95 from www.selfridges.com; 26 Sisley Grapefruit Toning Lotion for Combination/Oily Skin, £59.50; and 27 Blood Orange & White Pepper Sugar Scrub by Bliss (their body polishes and butters are fantastic), both available from Harrods.com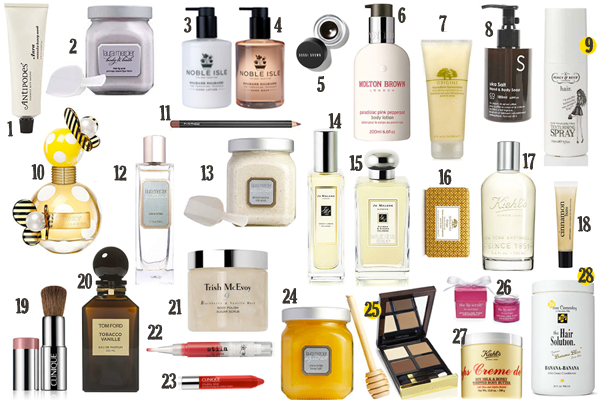 1 Antipodes Aura Manuka Honey Treatment Mask, £22, and 2 Laura Mercier Fresh Fig Scrub, £36, both from Selfridges.com; 3 Rhubarb Hand Lotion, £20, and 4 Rhubarb Hand Wash, £18, both by Noble Isle from www.nobleisle.com; 5 Bobbi Brown Rich Chocolate Collection Long-Wear Gel Eyeliner, £17.50, exclusively at Selfridges; 6 Molton Brown Pink Peppercorn shower gel, £18 from www.selfridges.com; 7 Origins Incredible Spreadable Smoothing Ginger Scrub, £24 from www.origins.co.uk; 8 UKA Salt Hand & Body Soap, £25; 9 Percy & Reed Wonderfully Wavy Texturising Spray with sea salt, £14; 10 Honey by Marc Jacobs, eau de toilette from £50; 11 MAC Spice Cremestick lipliner - the 90s classic, you NEED this for your AW13 winter makeup wardrobe, £12; 12 Laura Mercier Creme Brûlée Eau de Toilette, £41.50; 13 Laura Mercier Almond, Coconut & Milk body scrub, £31; 14 Jo Malone Sweet Lemon cologne, £38, exclusive to Selfridges; 15 Jo Malone Nectarine Blossom & Honey cologne, £78, also available from www.selfridges.com; 16 Origins Ginger Savoury Bath Bar soap (the one I use in my clothes drawers), £14 from www.origins.co.uk; 17 Kiehl's Orange Flower and Lychee eau de toilette, £52, and 18 Cinnamon Buns lipgloss by Philosophy, £10, both from www.selfridges.com; 19 Clinique Quick Blush in Berry on Time, £22, and 20 Tom Ford Tobacco Vanille (my all-time favourite fragrance I have never owned but douse on when I pass a tester), £320, both from www.harrods.com; 21 Trish McEvoy Blackberry & Vanilla Musk Body Polish Sugar Scrub, £31, and 22 Stila Lip Glaze in Berry, £15, both from Selfridges; 23 Clinique Intense Moisturising Lip Colour Balm chubby in Maraschino, £17 from Harrods; 24 Creme Brûlée Honey Bath, £30, by Laura Mercier from Selfridges; 25 Tom Ford Eye Colour Quad in Cocoa, £62 from www.harrods.com; 26 Sara Happ Sparkling Pink Grapefruit Limited Edition sugar Lip Scrub, £20; 27 Creme de Corps with Soy Milk and Honey Whipped Body Butter, £45, by Kiehl's, and, 28 Tina Cassaday of Beverly Hills Banana-Banana Extra Deep Conditioner, £95, all available from Selfridges.com