I can't remember if I've told you this already but I recently had a deeply unpleasant experience with a Lush shampoo bar. I make a point of never calling out 'bad' products as what works for one may well cause havoc for another, but I have never met anyone who's had a good thing to say about these things. Helpfully I found this out after trying to use one of these dreadful little bars to treat a scalp condition I suffer from.
What it left me with was hair that smelled like a stable and was so broken, dry and brittle that it tangled itself up, as if it was trying to get away from me, into a giant candyfloss-style dread. It took a WEEK of gentle Tangle-Teezing, washing and dousing in argan oil, coconut oil etc, to get it to the point where I could cut the unsalvageable pieces out without having to go full on 'Britney in 2007'.
So, after that utter disaster and the semi-miraculous recovery via a scalp treatment at the Belgravia Centre (this is usually reserved for people undergoing hair loss treatment courses but I was treated to one as part of a training programme), all things hair-related - including what to cover it or push it back with when you just can't deal - have been on my mind this week. I've tried loads of new hair products in the past few months and these are the cream for your crop.
PS. Two of my absolute fav headwear designers, Eugenia Kim and Piers Atkinson, both have pieces in the Net-A-Porter.com sale right now. Race you...!
Julien Farel Anti-Aging Haircare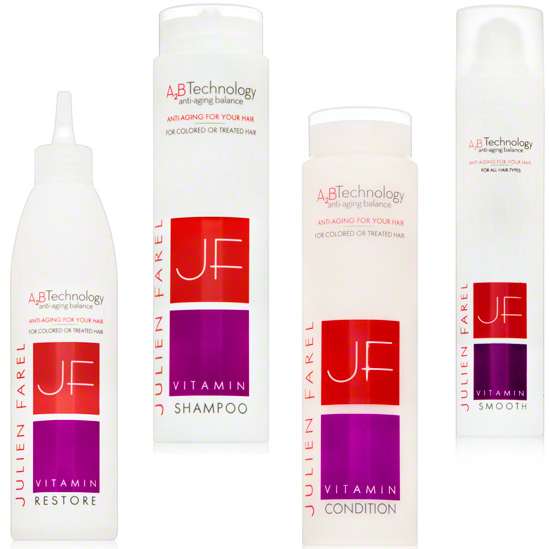 Julien Farel, the mane master of Madison Avenue is upscaling to a new role as hair Prince of Park Avenue with a new salon and spa in the Loews Regency Hotel. And whilst New York may be a little far to go for a cut and colour from the man who's trimmed and tended everyone from impeccably groomed Manhattanites like Ivanka Trump, to Kate Moss, Olivia Palermo, Adrien Brody and Wimbledon winner, Novak Djokovic, the goodness that is his anti-aging Restore haircare range is now available from Selfridges.
Marketed as 'anti-aging haircare', I thought this stuff might be pretty good given its pedigree, but wasn't really expecting much more than a decent shampoo and conditioner. I was given a three step programme to follow for dry/damaged hair (my hair was both dry and damaged from the aforementioned incident and constant colouring) - this comprised a Vitamin Restore shampoo which should be used every time, then a Vitamin Restore conditioner and a Vitamin Restore treatment which should be alternated.
First up, it all smells INCREDIBLE. It's beautifully zesty and has the scent of an actual orange - not chemical orange but actual orange. Delicately zingy - it practically had me from there. I used the shampoo and it lathered really well, didn't need loads to clean my bust-length hair and didn't leave my hair dry or 'sticky' (fellow bleach blondes will know what I mean by that...). A very decent and wonderfully scented shampoo, but, on its own, nothing revolutionary. It's when you use it in conjunction with the other parts of the haircare programme, particularly the scalp treatment which is super easy to apply, quick to work and is basically like a nourishing moisturiser for your head, that the magic happens. As Farel says, "Grass does not grow in sand. Likewise, hair cannot grow in a dry or damaged scalp. The only products that actually work are those that reach the follicle, scalp and hair shaft."
After using it my hair feels the same as my skin does after using my Clarisonic - thoroughly clean, fresh and somehow healthier. Stock up while you can at Selfridges - I went to bolster my supplies at selfridges.com the other day and noticed the previously fully stocked website was down to just two Julien Farel products so I'd imagine word is spreading fast.
Julien Farel Anti-Aging Haircare, from £16.95 exclusively available from Selfridges and Selfridges.com in the UK
Catwalk by TIGI Oatmeal & Honey Haircare Range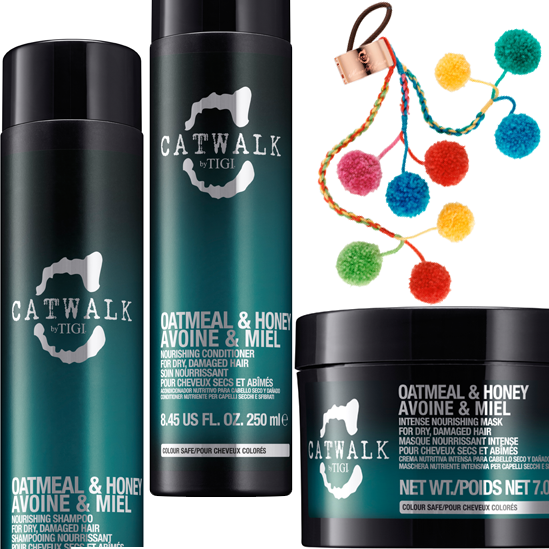 This was what all my friends' hair smelled of in the 90s (apart from Carly who was going through her dreadlocks phase). As we all experimented with dodgy DIY colours - and then bleached them back out again - we would buy the massive hairdresser sized bottles of the TIGI Catwalk Oatmeal & Honey products, as they were the most affordable products we could find that actually worked in rescuing such carelessly damaged locks.
And, OH the smell. As you may have gathered, I'm a sucker for products that smell good. This fragrance is so delicious and wholesome it's like a hug for your hair. The pure, milk and honey scent is as calming for the senses as the conditioning treatment is for your hair. It may have swanky new packaging but the product is an absolute classic and, as far as I can tell, hasn't changed a bit.
One thing that is different right now is that there's the coolest freebie EVER available with purchases of two or more TIGI Catwalk products from any TIGI salon. It's the pom pom hair accessory pictured above that was designed especially by Mara Hoffman. Isn't it adorable?! Find your nearest stockist at www.catwalkbytigi.com
CATWALK BY TIGI Oatmeal & Honey Nourishing Shampoo, 300ml £11.25, Conditioner, 250ml £12.50, and Deep Nourishing Mask, 200g £14.95, Mara Hoffman pom pom hair accessory free with purchase (details above)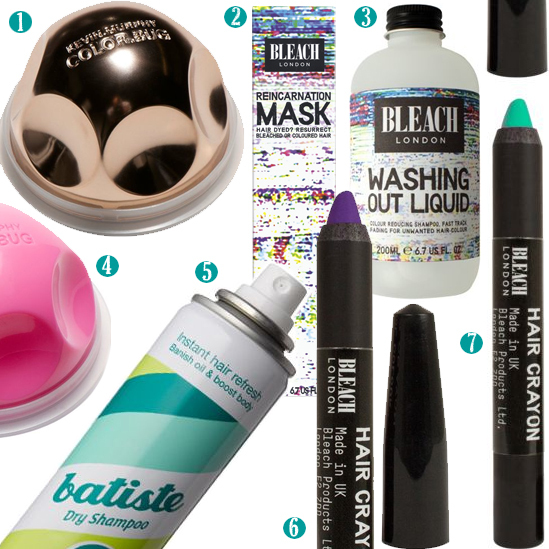 Some of my favourite haircare and temporary colour products:
1 & 4 Kevin Murphy Colour Bug hair chalks - wipe on, wash out temporary hair colour (there are loads to choose from) or try the rose gold one for a beautiful shimmer, £14 each from Beauty Mart at thisisbeautymart.com; 2 Bleach London Reincarnation Mask, £6, 3 Washing Out Liquid to speed up fading if your DIY colour doesn't quite work out, £6, from Bleach London or Boots; 5 The essential, ever-reliable Batiste dry shampoo is not just for those days when you don't have time for a wash and blow dry, it's great for adding volume to newly washed hair too - if it's good enough for Karl Lagerfeld etc etc (he uses the Klorane one but personally I find it smells funny...); 6 & 7 Bleach London hair crayons - semi-permanent colour in pen form for easy application streaks and touch ups, £4 each, from Bleach London or Boots.com.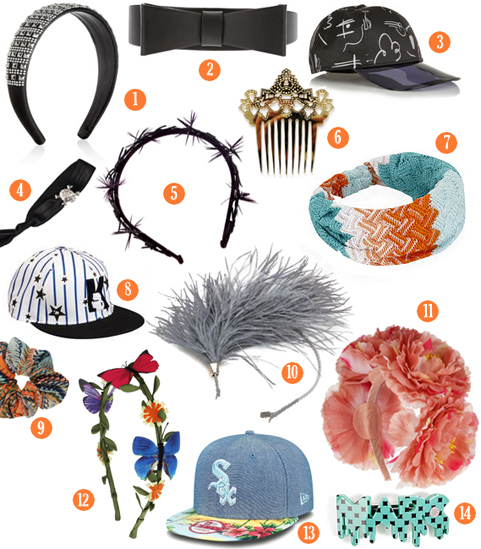 Hot Hair Accessories:
1 Valentino, embellished satin headband, £122 from £245, at www.theoutnet.com; 2 Fleet Ilya, bow head band, £172 from £215 from www.farfetch.com; 3 Acne Studios, Capote Chalk cotton-blend and rubber baseball cap, £35 from £100 at www.theoutnet.com; 4 Popband, £6 from Beauty Mart at thisisbeautymart.com; 5 Gigi Burris Millinery, Barbed headband, £144 from £240, from www.farfetch.com; 6 Finchittida Finch, Hmong hair comb, £30 from finchittidafinch.com; 7 Missoni Mare, crochet headband, £74.95, from Harrods.com; 8 Karl Lagerfeld cap from the St Tropez capsule collection, £45 from the Karl Lagerfeld London store, 145-147 Regent Street, London W1B 4JB; 9 Scrunchie, £ from Diva at Miss Selfridge; 10 Gigi Burris Millinery, Lola headband, £139 from £232 from www.farfetch.com; 11 Freedom at Topshop have got the festival essential flower crowns covered: floral headband, and 12 butterfly headband, both from a selection at www.topshop.com; 13 Cap, £15 from River Island; 14 Marc by Marc Jacobs, block print barette, £65 from www.stylebop.com