Everyone knows that accessories can transform an outfit, so why not apply the same logic when it comes to Halloween?
It plays well for those who aren't into going all out but want to join in a bit on the dressing up front, but it doesn't even mean you can't go in character either. Some celebrities' accessories are their calling card, you just have to put a bit of thought into your outfit.
Even just adding the right shaped sunglasses can be surprisingly effective. White shirt, black suit, fingerless leather gloves if you have them, lots of dry shampoo and some black glasses - voila! You're Karl Lagerfeld. A razor sharp bob, tailored sleeveless print dress, some kitten heels and oversized glasses - so Anna Wintour. Tote a copy of Vogue if you want it to be super clear. A pair of basic aviators can take you from any of the Kardashian-Jenners to Tom Cruise in Top Gun or Michael Jackson.
Best of all, if you choose your accessories wisely it means you can get tons of use out of something you'll wear year round, not just on Halloween. For those of you lacking inspiration or with last minute party invitations who are in a bit of a spooky sartorial panic, here are some ideas to keep you on theme for a haute Halloween.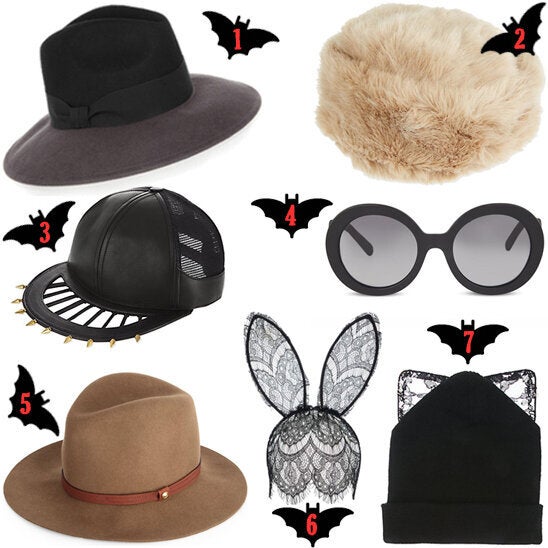 1 Marianna two-tone wool-felt fedora by Iris and Ink, £75 from TheOutnet.com - add a deep-v maxi dress and oversized sunglasses for a chic Rachel Zoe, 2 Faux fur hat by Ted Baker, £49 from Selfridges and Ted Baker stores for a winter-glam Bond Girl, 3 For Rhythmn Nation-era Janet Jackson fierceness try this cage crown cap, £200 by House of Malaki from Selfridges, 4 Go heavy on the accessories and add these round Prada sunglasses, £200, from Selfridges, for a fun Iris Apfel look, 5 Floppy brim fedora hat, £165 by Rag & Bone, also from Selfridges and Rag & Bone stores, makes for a brilliantly chic Indiana Jones, 6 Rabbit ears and veil, £12 from Topshop (in-store only), 7 Bad kitty beanie, £102, by Silverspoon from Selfridges.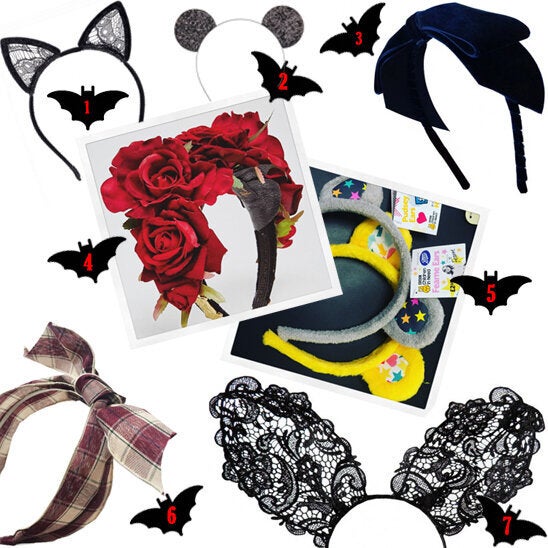 1 Lace cat ears headband, £7, from Topshop, 2 Sequin mouse ears headband, £5, from Claire's, 3 Blair Gossip Girl headband, £22.50, 6 Jessie plaid headband, £22.50 (Daisy Duke, Bananarama), and 7 Sara lace bunny ears, £85, all from Gemma Bishop London, 4 Day of the Dead style Beatrice red rose baroque crown, £45 from Rock n Rose, 5 Children in Need charity Pudsey Bear ears headbands, £2.50 each from Boots, the BBC Children in Need shop and various other stockists.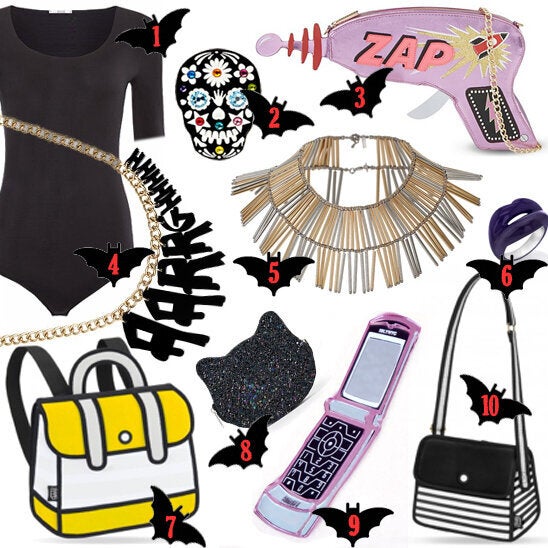 1 OK so a body probably isn't an accessory but it's a great basic and Wolford's are worn by everyone from Kim Kardashian to the empress of Empire, Cookie Lyon (who also wears jewellery from Topshop, see 5) so you can basically be who you want to be in this classic Bahamas Body, £105 from Wolford, 2Sugar Skull ring, £30, and 4 Aarrghhhh necklace, £60, both by Tatty Devine, 3 Mars Attacks-style Zap cross body bag, £30, by Skinnydip London, 5 Clean stick collar, £32, by Topshop if you want to release your inner Cookie, 6 Hotlips Lacquered Sterling Silver Metallic Purple Ring, £69, Solange Azagury-Partridge for Amazon Fashion, 7 and 10 make like costume queen Katy Perry and go as 90s favs Daria or her best pal Jane with these amazingly quirky 2D Jump from Paper bags, €129 for the backpack and €72 (reduced from €90 until 31st October) for the shoulder/cross body, available from www.jumpfrompaper.com, 8 ASOS Halloween glitter cat purse, £5, from www.asos.com, and 9 show how 'now' you are by going as Adele, accessorised with this old school flip phone brooch, £55, by ISLYNYC from Lazy Oaf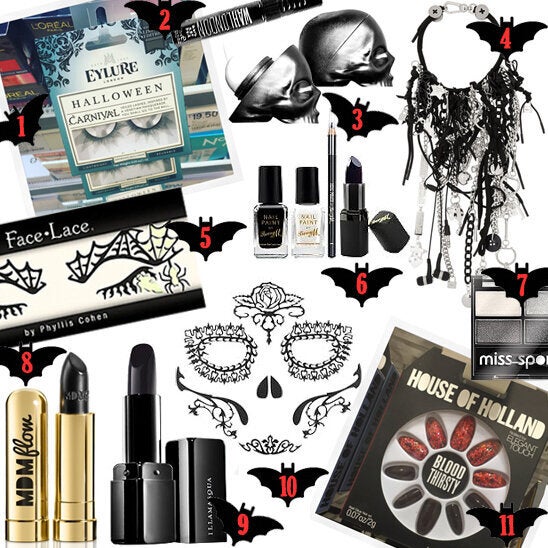 ... and a few transformative beauty bits for bewitching Halloween glam...
1 Carnival false lashes by Eyelure, £6.95, 2 WAH London black nail art pen, £7, 6 Halloween pack by Barry M, £10, 7 Studio eye colour quattro eyeshadow, £2.99 by Miss Sporty, 11 Blood Thirsty red diamante and jet black false nails by Henry Holland for Elegant Touch, £8.99, all available from Boots stores or use their Click & Collect service online; 3 Capital Vices Skull lip balm - mint or passion fruit flavours - by Rebel's Refinery, £8.50 each from Beauty Mart including the concession store in Topshop Oxford Circus, 4 Tim Burton character-esque charm necklace by Marc by Marc Jacobs, now £222 (half price), from TheOutnet.com, 5 Glowebutante design, £8.50, and 10 Day of the Dead - Rosa design, £23, both by Face Lace from Selfridges, 8 Di La La black lipstick by MDM Flow, £18 from Beauty Mart, 9 Colour-intense glossy lipstick in Pristine by Illamasqua, £19.50 from Illamasqua.
Popular in the Community