A few months ago on a red eye flight from New York to London, I made the schoolgirl error of flying without headphones. Never. Again. This is why...
Thanks to an unprecedented lack of traffic on the way to JFK, I arrived for my flight in plenty of time. Heading straight to the Virgin Atlantic desk, I checked in, did all the usual security stuff then proceeded directly to Hudson News to indulge in lots of lovely American magazines. Thanks to a rather painful back injury, I was struggling with my hand luggage so quickly decamped to the seating area where I waited for my, by now, delayed flight.
I always fly overnight on the way home from the States as I find it helps with jet lag, and, with a busy day ahead after I landed, I had it all planned out - I would simply sleep on the plane thus avoiding any plane food and most likely getting more sleep than I would on a regular night. The delay didn't bother me, but as soon as our flight was called, something troubled me deeply. Large groups of over-excited children started to gather in two separate spots by the boarding gate. My heart sank as I realised I was about to get on seven hour flight with two school trips.
I knew exactly what I was in for. The very first time I went to NYC was on a college trip and I wouldn't have wanted to be sat near me then either. In fact, we were just about old enough to drink so we were probably worse.
Sure enough, there was the predictable shouting over seat backs, running up and down the aisles, and an interactive, across-cabin game of Who Wants To Be a Millionaire that made me weep for our education system as well as my ruined sleep plans. Despite polite pleas from myself and many other passengers, there was little attempt to restore order by the woeful stewardesses or the kids' beleaguered tutors, who apparently went into hiding.
Now, like I said, I've done it myself so could I have expected any better from these students? No. When they're in big groups like this, with no parents or guardians to give them 'The Look', there's not a hope in hell anyone is just going to go to sleep quietly and it's unrealistic to think it would so much as cross the minds of teens hopped up on freedom, hormones and sugar, to just keep it down a bit. I get that.
Like many other passengers, I asked to move seats to a quieter area, before I realised they were literally everywhere; apparently there were over 100 children in total, all seated right down the centre of the plane. I was moved twice (due to stewardess errors which they've since acknowledged, if not actually apologised for, but that's another story...) and had the most appalling flight where I got no sleep whatsoever and landed stressed, tearful and so desperate to extricate myself from the situation that I paid an obscene £100 for a cab. All that and the unwelcome surprise of a stewardess' bum being smooshed in my face, to boot.
Hilariously, airline representatives told me they wouldn't warn passengers if school trips were on board as they could not predict how the school children would behave. Really? Because despite not being a teacher, a parent, an airline worker or a psychic, I could. From now on I will be asking at check in if there are any school groups travelling on my flight so I can decide what to do before boarding (upgrade, self-medicate etc) but in case all else fails, I am making friends with some decent headphones.
I always thought noise-cancelling headphones were dangerous (not being able to hear traffic etc) but where travel is concerned, I'm pretty certain they're an absolute godsend. My boyfriend and I both bought Urbanears Plattan headphones before our recent trip to Egypt which, whilst not being fully noise cancelling, blocked out enough sound to get us both through our return flights totally painlessly and without missing any announcements. I'm heading back to New York again soon and, having learnt my lesson the hard way, am fully armed this time. Fellow travellers, I heartily recommend you check out my three tiered headphone suggestions below before your next trip.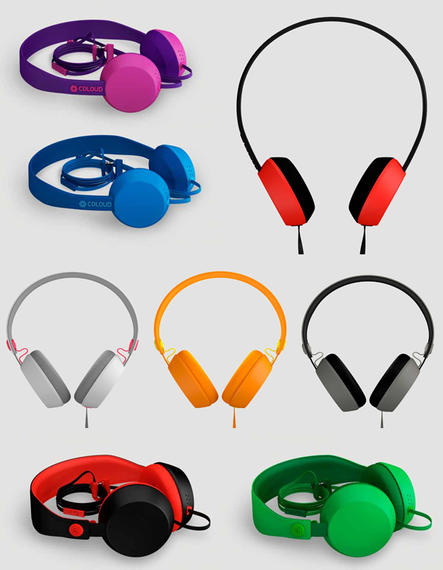 I had to check that the prices were actually right when I saw their website and it turns out it's not a typo! These fab little over ear headphones really are just £18-20 a pop. Given the slick design and cool colour ways, these Colouds look like they cost an awful lot more, and that's before you find out they also include noise reduction functionality to help block outside noise. A great look for the cheap seats.
Coloud over-ear headphones are priced between £18-£20 and are available from www.coloud.com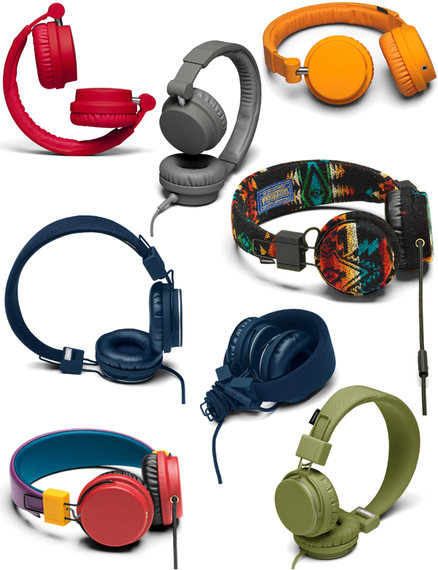 Premium Economy: Urbanears
Comfortable, cute and available in a huge variety of colours, I bought the fold-up Indigo Plattan Plus headphones, pictured above centre, before my recent holiday and linked them to my boyfriend's (he got the same but in Black) via a clever function which allows one of you to plug your headphones into the sound source, whilst the other person connects their headphones to yours by plugging them in to a hole in the side (I'm not sure this is the technical term but you get the picture). Blissful, uninterrupted West Wings with fantastic sound but without so much noise cancelling that we missed any important flight announcements. I've now discovered they make a pro DJ model - 'Zinken' - too. which blocks out more sound than the Plattan Plus models, and are specifically designed to be more compatible with Apple products.
Urbanears on-ear headphones cost £49.90 (Plattan), £59.90 (Plattan Plus) and £89.90 (Zinken), not including sale models or the fantastic new Pendleton Plattan editions, pictured above (£79.90), and are available from www.urbanears.com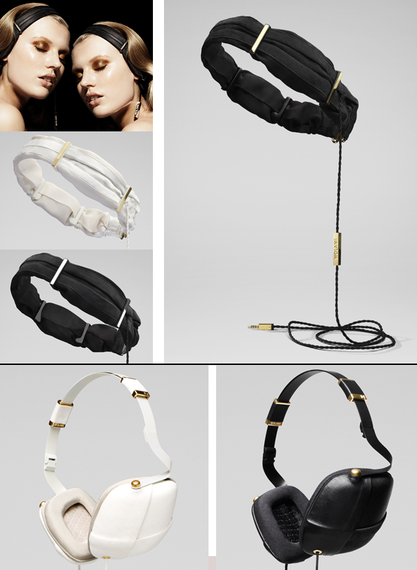 For those concerned about fashion as well as function for their aural accessories, I give you Molami. The fashion-meets-technology Twine designs are headphones for glamorous, groomed women who hate headphones. Sonic technology is given a fashion forward makeover in the form of statement sculpted headphones designed to frame and enhance facial features. Detailed with silver or gold hardwear, the headphones look more like a high fashion accessory or jewellery. The Pleat style is a more unisex design of over ear headphone that looks supremely luxe thanks to its napa leather finish offset by gold detailing.
Molami over-ear headphones cost between €200 and €300 , and are available from www.molami.com which also has a list of international stockists
Related