With the news buzzing about WhatsApp's sale to Facebook, my thoughts turned to tech accessories. As a devoted Apple fan, I make no apologies for the extreme bias towards items that fit their products in my selection below although most pouches can also be used for other tablets, as well as in place of a regular clutch bag to pop your phone and other bits into.
I love how the new breed of chic pouches, big enough to fit an iPad, Kindle or tablet computer, and cool tech covers mean you don't always have to lug a big bag around with you. Long gone are the days of ugly black wheelie laptop cases - now you can co-ordinate your phone case and tablet cover with your outfit, opening up a whole new world of fashion forward, technologically advanced accessorising.
The fashion aspects are obviously in addition to the clear protection benefits a good case provides - I'm eternally grateful to my Marc by Marc Jacobs bunny cover which saved my iPhone after a mugger recently snatched it, dropped it and the cover meant my phone bounced along the road and I got it back without as much as a scratch on it.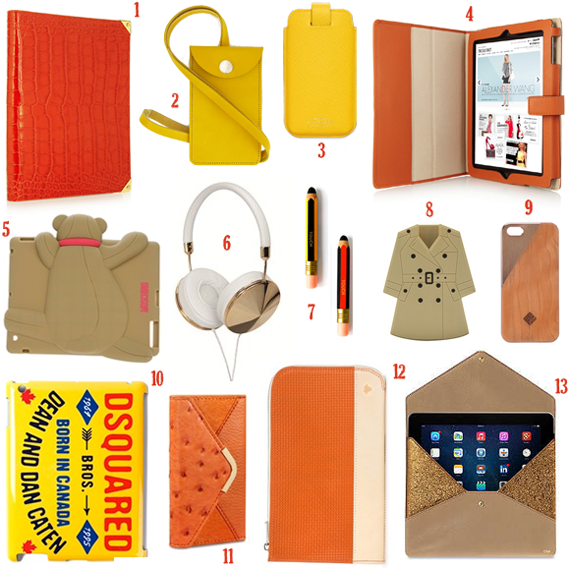 1 Alexander Wang, Prisma croc-effect leather iPad case, was £355, now £159.74 from www.TheOutnet.com; 2 Kate Sheridan, Made In England yellow Italian leather iPhone case £55 from www.katesheridan.com; 3 Smythson, Panama Collection Samsung S3/HTC1 phone cover in Yellow, £95 from www.smythson.com; 4 Michael Michael Kors, Faux leather iPad case in Tangerine, original price £115, now £57.50 from www.theoutnet.com; 5 Moschino, Gennarino iPad2 case, £67 from Gisa, Italy via www.farfetch.com; 6 Frends, Gold Taylor Headphones, £170 from www.avenue32.com; 7 Suck UK Pencil Stylus, available in various colours, £7.50 from www.suck.uk.com; 8 Moschino, Porta Trench iPhone case, £59 from FiveStory, NYC via www.farfetch.com; 9 Native Union, Clic Metal handcrafted iPhone case made from cherry wood, £59.99 from www.nativeunion.com/uk; 10 DSquared2, logo print iPad case, £56 from Vitkac in Warsaw via www.farfetch.com; 11 Covert, Suki faux leather iPhone case in Orange, £19.99 from www.cuckooland.com; 12 Tusting, Leather Mini Folio for iPad Mini or Kindle in Orange Weave, £165 from www.tusting.co.uk; 13 Chloe, Patchwork iPad case, £330, from www.selfridges.com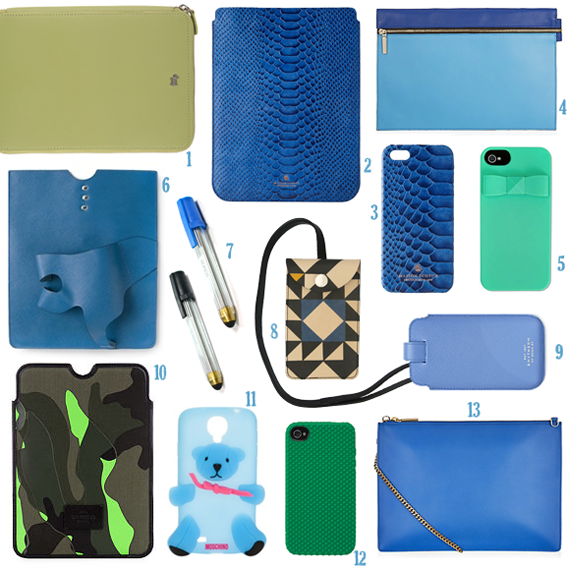 1 Radley, Blair mini iPad case, £79 from www.radley.co.uk; 2 & 3 Maison Scotch leather iPad case, £69.95, and iPhone 5 hard case, £41.95, both from www.scotch-soda.com; 4 Victoria Beckham, Large Zip Pouch, £425 from www.Harrods.com; 5 Kate Spade, Bow iPhone 5 case, £30 from Selfridges; 6 New Ultra Group, iPad 2 case, £179 from Primitive London via FarFetch.com; 7 Suck UK Pen Stylus, £7.00 each from www.suck.uk.com; 8 Kate Sheridan, Made In England digital geo print iPhone case £75 from www.katesheridan.com; 9 Smythson, Panama Collection Samsung S3/HTC1 phone cover in Nile Blue, £95 from www.smythson.com; 10 Valentino, Camouflage iPad Case, £330 from Harrods; 11 Moschino, bear Samsung Galaxy S4 cover, £39 from Stefania Mode in Italy via www.farfetch.com; 12 Incase, Ping Pong protective cover for iPhone 4, £9.99 from Get the Label; 13 Whistles, Rivington Chain Pouch, £75 from Harrods.com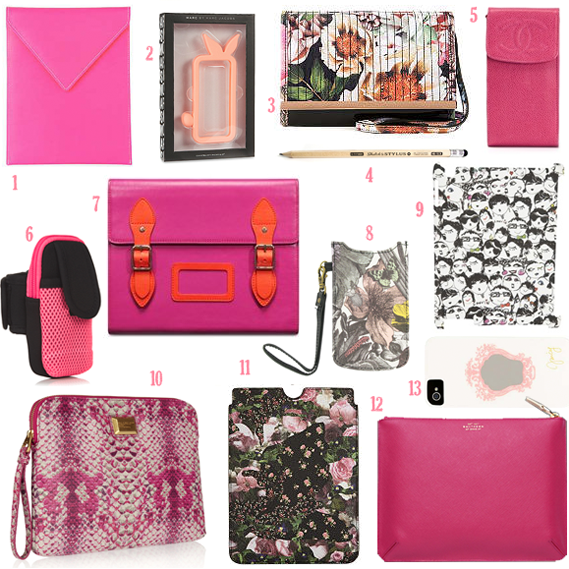 1 Under Cover, Leather iPad case in neon pink, £39.95 from Selfridges; 2 Marc by Marc Jacobs, Jet Set Pets Katie iPhone 5 Case, £39.95 from Harrods.com; 3 Ted Baker, Floral mini iPad case, £79 from Selfridges.com ; 4 Suck UK Sketch Stylus, £5.00 from www.suck.uk.com; 5 Chanel, vintage mobile phone holder, £685 from Vintage Heirloom via www.farfetch.com; 6 Primark, Workout armband, £2.50 from Primark stores; 7 Covert, Varsity Leather Satchel iPad case in Pink, £90 from www.cuckooland.com; 8 Paperchase, Secret Garden iPhone 5 case, £8, from www.paperchase.co.uk; 9 Lanvin, Alber Elbaz 'Faces' iPad 2 case, £86 from PL-Line in the Netherlands via www.farfetch.com; 10 Marc by Marc Jacobs, Supersonic iPad case - was £110, now £66 from www.theoutnet.com; 11 Givenchy, Floral iPad mini case, £150 from Harrods.com; 12 Smythson, Panama Collection Large Pouch in Fuchsia crossgrain calf leather, £195 from www.smythson.com; 13 Juicy Couture, Mirror iPhone case, £35 from Selfridges