Heads up, fashion fans: the new exhibition opening at the Barbican on 9 April is absolutely not to be missed. The Fashion World of Jean Paul Gaultier From the Sidewalk to the Catwalk does exactly what it says on the designer label - it's a retrospective showing the accomplished style journey of the French, avant-garde couturier and his many inspirations. And it is HUGE. From start to finish this show is all killer, no filler.
I visited the exhibition in December at New York's fabulous Brooklyn Museum and, without even realising, happily idled away far more time than intended. Taking in this vast, theatrical experience was like falling down a big fashion rabbit hole. The incredible clothing was interspersed with the designer's hand drawn illustrations, photography, art and video content, all displayed in larger than life sets that were so on point it often felt like being in a film set.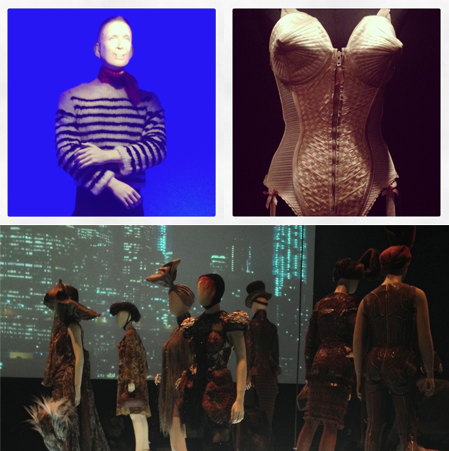 Soundtracked to perfection to fit the mood of the separate rooms which were all spectacularly lit with dazzling, mostly projected visuals that managed to enhance the experience without detracting from the work. It was a fantastic example of music, fashion and set design coming together to create an utterly intoxicating, warm yet cutting edge atmosphere no fashion lover could resist.
Innovative aspects such as interactive mannequins which used carefully created facial projections and pre-recorded scripts to make it seem like the models, as well as Monsieur Gaultier himself - in his signature Breton stripes - were talking to you, further amplified the unique feeling of these specially curated surroundings.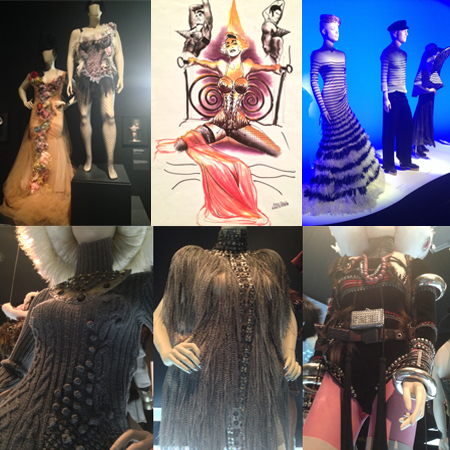 Whilst it took every bit of willpower I could muster to drag myself out of the boudoir room that showcased the iconic designs for Madonna's Blonde Ambition tour (including JPG's best known conical bra corsets), being so close to his couture pieces was my absolute favourite thing about the Jean Paul Gaultier exhibition. You cannot truly appreciate the amount of love, sweat and tears that goes into each piece until you see for yourself the remarkable workmanship and mind-blowing level of detail involved. It felt like such a privilege to get up close with this astonishing art.
The only criticism I had, and this may be something that gets ironed out before it hits The Barbican, is that the mannequins used to depict two of Gaultier's muses, model Crystal Renn and Gossip singer, Beth Ditto, (pictured above, top left) were clearly male. These two women may not be standard model sizes but that doesn't mean they suddenly changed gender. A very odd choice.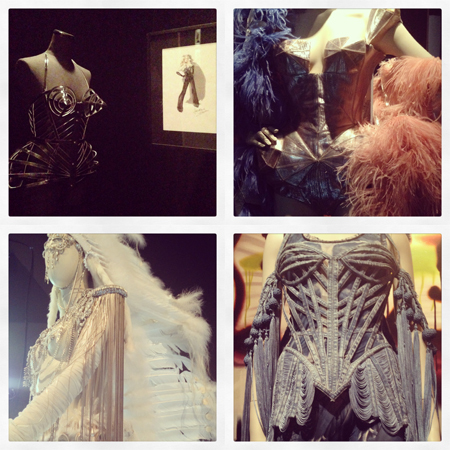 The pictures here are just a few of my snaps from the exhibition when it was in Brooklyn (you can also see more here) to whet your appetite. I really cannot recommend this highly enough and am sure it'll be a similar situation to the recent V&A Bowie retrospective, with regards ticket demand, so best head over to their website to book in advance to make sure you don't miss out.
Oh, and PS. if you like a bit of JPG's navy stripes, you'll definitely want to exit through the gift shop.
The Fashion World of Jean Paul Gaultier From the Sidewalk to the Catwalk, 9 April - 25 August 2014 at The Barbican, Silk St, London EC2Y 8DS. For more information and to book tickets in advance, visit: www.barbican.org.uk