Ever wondered where Jedward get their crazy trainers from, or the Tony the Tiger coats they bumbled about in on Celebrity Big Brother? Jeremy Scott, the cheekily outrageous LA-based fashion designer and top pop fan, seems much less well-known than his instantly recognisable designs either for his own label, or one of his many collaborations including Adidas Originals, Linda Farrow and Swatch.
Whilst you may not know the man, you'll certainly be familiar with his work (click to view some of his best celebrity style moments) - *that* air stewardess outfit in Britney's Toxic video? Jeremy Scott. Lady Gaga's Mickey Mouse sunglasses from Paparazzi, also borrowed by Beyonce for the Telephone video? Those winged and teddy bear trainers loved by the likes of Jedward, Lil' Wayne and Nicki Minaj (and me)? All Mr. Jeremy Scott.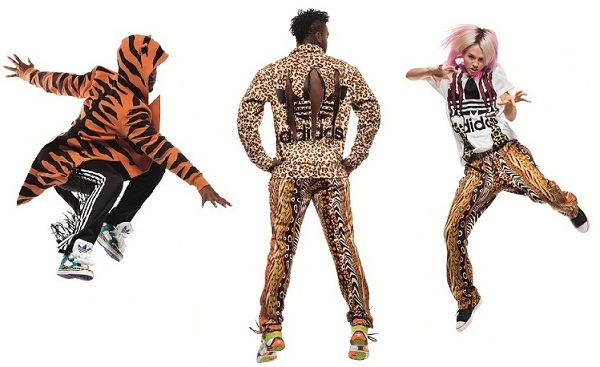 From Jeremy Scott x Adidas Originals AW 2011 collection
Rihanna - who wears a denim overall bra and skirt from his Spring Summer 2012 collection in her new video We Found Love - and Katy Perry who caused a stir in Scott's designs at this week's MTV EMAs, are seemingly never out of his clothes; he even gets a namecheck in newbie fashion designer Kanye West's The Good Friday ("Did I mention that the sweater was a Jeremy Scott?"). His famous fan base, whilst mainly drawing from the upper eschelons of the pop and rap worlds (and Jedward), also includes The Hardest Working Man in Fashion TM - one Karl Lagerfeld, who is quoted as saying that Scott is the only person who could succeed him at Chanel. So suck it up haters (and there are plenty who don't share Jeremy's technicolour, fun-filled fashion views) - praise doesn't get much higher than that.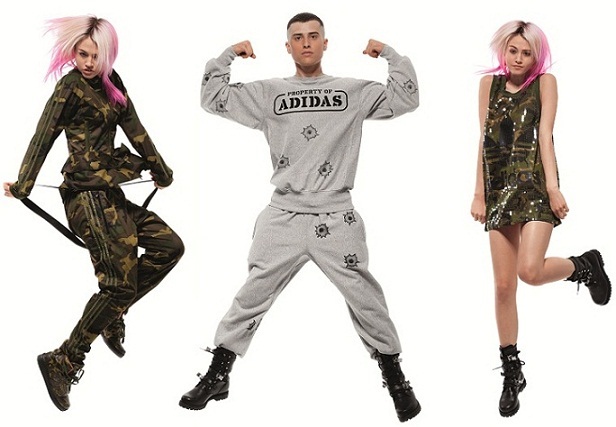 From Jeremy Scott x Adidas Originals AW 2011 collection
The latest collection in the hugely successful Jeremy Scott x Adidas Originals colab line for Autumn/Winter 2011, available now, is characteristically bold with some pretty literal interpretations of his wild jungle and bootcamp themes twisted with a quirky 90s edge - camo-print bondage trouser track pants, anyone? - but what will Jeremy do next? Check out these sneak preview pics of his Spring Summer 2012 Adidas Originals collection and have a look for yourself...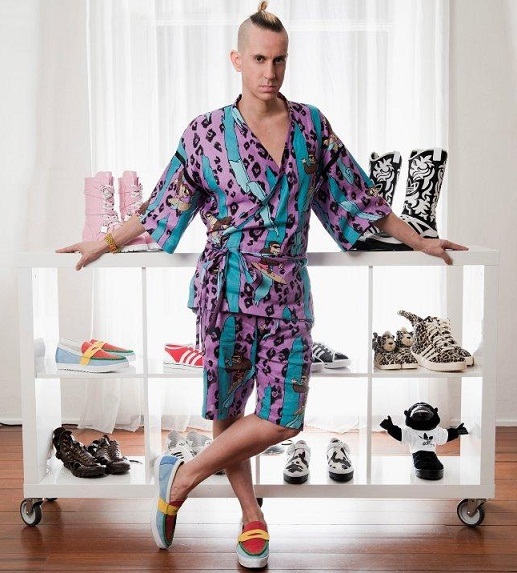 Putting a face to those famous designs, the inimitable Jeremy Scott, obscuring what could be some bowling shoe trainers...? Check out the little leopard hi-tops and it seems next season's panda is the gorilla. Nice deck shoes too!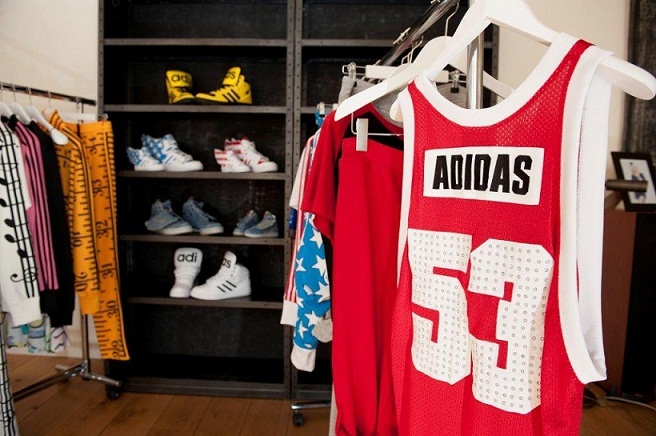 OMG I LOVE! Those look exactly like stars and stripes JS Wings...WANT! And are those ruler print tracksuits? WANTWANT! Oh and super fat, exaggerated tongue yellow hip hop hi-tops perfect for rocking next season's whole Neneh Cherry vibe? WANTWANTWANT!
Can't make out much of the apparel here other than the strong, patriotic Americana print theme...looks like we'll have to wait until around March time - more info after the drop! Shop this season now at www.adidas.co.uk