Whilst scrolling through my instagram an image that looked part fashion blogger outfit post, part cartoon caught my attention. The picture featured a bright, simple, colour blocked handbag with heavy black outlines that appeared to have been cut out from a child's colouring book and superimposed onto the girl's fashion pic. So I double tapped my approval and sought out the website for Jump From Paper - the aptly-named brand behind this mesmerisingly playful bag.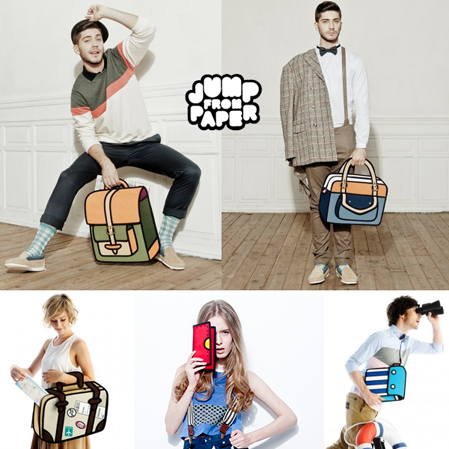 I wasn't even sure if it was real, but if it was, how did it work? Was it actually as two dimensional as it looked? How would you fit anything inside? I confess, I became a little obsessed and, as I was in the States at the time I hunted down every listed Jump from Paper stockist in New York, determined to get my hot little hands on one of these adorably quirky carriers from designer duo Chay and Rika, whose happy accessories brand is the perfect reflection of their philosophy, " Why take everything so serious?".
After a fruitless search for any of the super popular designs, I contacted Jump from Paper directly who very kindly arranged for the two bags I wanted to buy to be sent to me (pre-UK shipping) and I cannot stop staring at them. They are PHENOMENAL. And, I'm delighted to reveal that they have just started shipping to the UK as well as the US (and various other countries), spreading their unique, childlike brand of affordable accessories joy worldwide.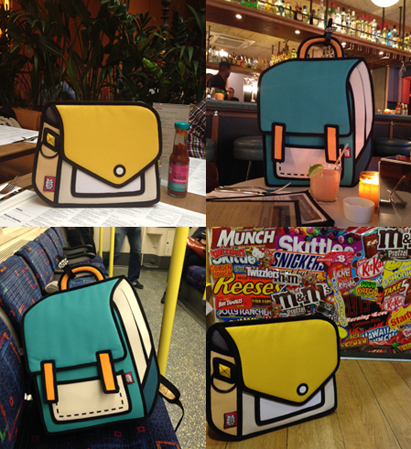 Honestly, I have never seen anything like them in my life - well, nothing outside of a colouring book, anyway. I'm becoming used to being stopped about them and having pictures of my Spaceman backpack taken on escalators when people think I'm not looking. The reaction they get from complete strangers is incredible, and I was happy to see they made other people smile as much as me. You can find more pics of my prized Spaceman backpack (E. 120), and super cute, yellow Giggle crossbody handbag (E. 70) on my instagram @SarahMcGiven.
The thing most people want to know - after "Is that real??" - is how the bags work. So here are a few pictures to help explain the basic zip-around mechanics in the sides of each style which allow these fun designs to work as fully functioning 3D bags, whilst retaining a 2D appearance. It's very simple and the bags are unbelievably well made. Made from durable, boldly coloured fabrics, the fantastic quality and attention to detail in the construction were a pleasant surprise. You can see these images in bigger, better quality here.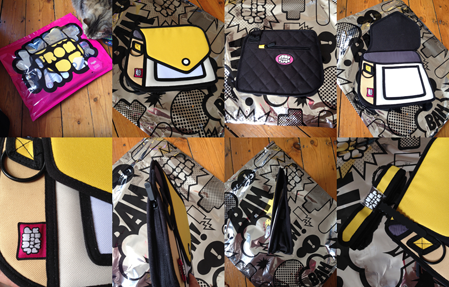 Check out the full Jump from Paper collection, which includes bags, purses, backpacks and even an iPad/laptop tote, as well as online-only exclusive styles, all available to order online from www.jumpfrompaper.us for USA readers, and www.jumpfrompaper.com for all other countries.