Nelly.com is the Nordic equivalent of ASOS - an online retailer selling own brand and designer label fast fashion - and it's just launched here in the UK.
Founded in Sweden in 2003, Nelly.com now gets a hefty 10 million hits per month internationally, and has firmly established itself as the number one fashion site across its homeland Nordic regions, whose fans kept it a closely guarded style secret.
I spent three hours browsing the womenswear section of the website (they also do menswear, maternity and beauty) with no specific shopping agenda which - given it stocks 800+ retailers as well as around 20 of their own-brand labels and adds new stock EVERY DAY! -didn't touch the sides. Their huge range includes brands with a range of price points -the likes of Villa, Cheap Monday, J Lindeberg, the fabulous Defeeter shoes and my personal label du jour, Carin Wester - as well as a wealth of Scandinavian designers that can be hard to find in the UK.
Clothing tends to come in UK sizes 6-16, with a smorgasabord of filters - including long sleeves or short sleeves, hurrah! - and one little quirk of their site, which is probably just a teething issue, is that if you try to filter by colour, once you've done it once, the colour names turn Swedish! They have colour swatches by each name too though so don't let that put you off.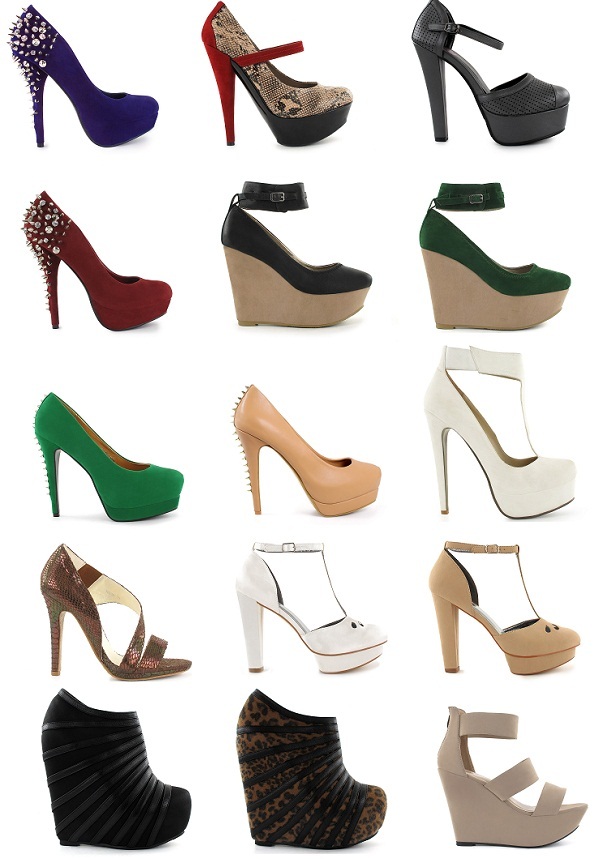 All footwear by Nelly Shoes (how amazing are the Columbine wedges, £41.95, in black or green - second row?)
I have to admit to not even getting as far as the underwear and swimwear sections yet as I was lured into their amazing shoe department and spent most of my web time on the footwear pages. Drooling over the on trend designs of the Nelly Shoes brand - which look expensive but all come in around the £50 mark (many cheaper) - I was crushed when I saw the sizing. Being a UK size 7.5/8 sasquatch, I physically reeled when I saw that their sizes run from a UK 2-7 - great for all you petite feet types but lousy news for me. Please can we have some bigger sizes soon Nelly.com people? Pretty please?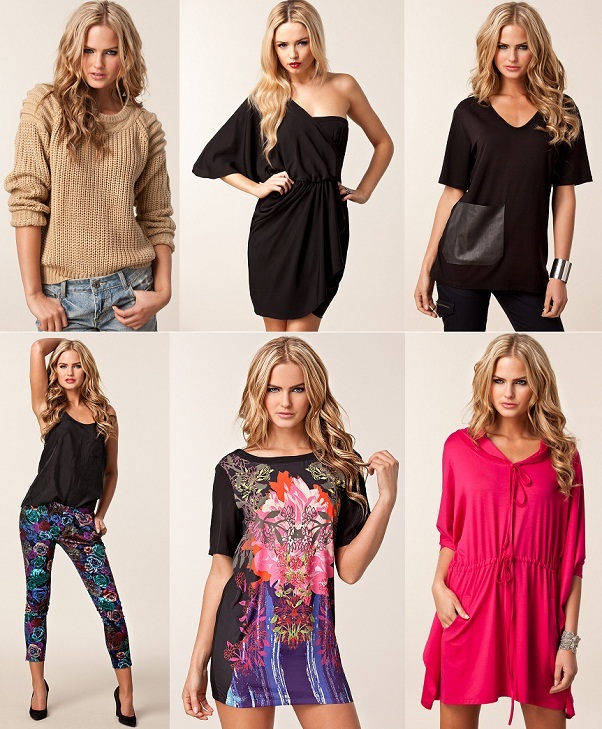 All clothes by Nelly Trend (I am desperate for that chunky knit Ottoman sweater, £41.95), apart from the black Feelgood tee, £33.95, top right, from the exclusive Mungolife for Nelly range.
If you're placing an order, UK delivery usually takes around 3-5 working days and shipping costs £4.95 for orders under £65 - over that and it's free but you do have to pay the postage on any returns. I find that's quite a standard thing when online store start up or add a new country to their roster but usually once they're more established in that territory the shipping ends up being free so hopefully Nelly.com are following this model.
It's early days for them in the UK but they bring even more choice to the UK's trend conscious consumers and, particularly with their own labels, at a really affordable price which is a great thing so let's see how they fare. These images are my wish lists from Nelly.com's own brand accessories, clothing - including the exclusive collaboration, Mungolife for Nelly - and footwear (sizes permitting...).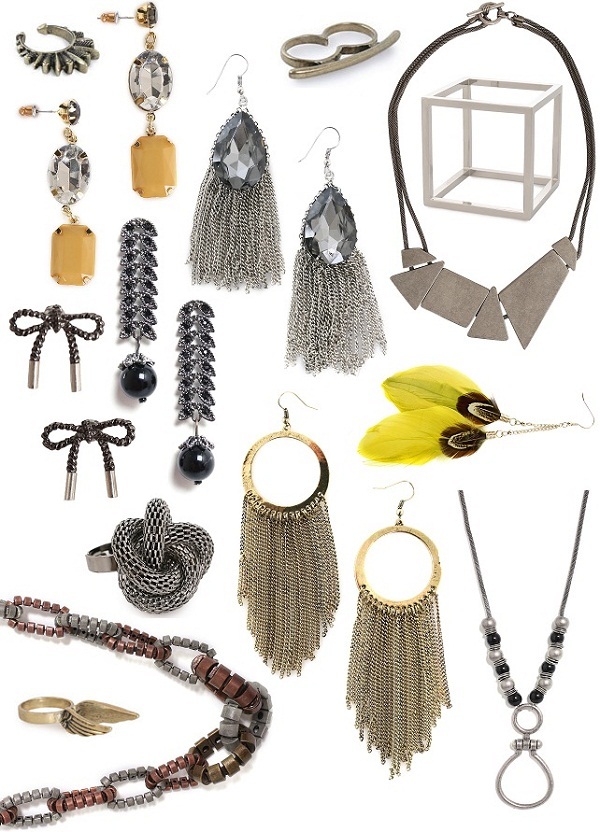 All jewellery by Nelly.com - j'adore the smokey grey crystal and fringed chain BFF earrings in the centre - never has £8.95 looked so decadent!
Check it out for yourself at www.nelly.com which will redirect you to the UK specific site www.nelly.com/uk - hopefully they'll get the stop instead of a comma in the prices to make it really British soon too!