Dublin-born, London-based menswear designer Sean McGirr takes inspiration from music and art to create fashion that captures "the pureness of the teenage spirit".
First let me tell you, I'm no menswear expert; I can tell you about street style, about sportswear and about the kinds of grown up skate brands my boyfriend tends to wear but that's about it. So when Sean McGirr dropped me a line about his new collection I had no real frame of reference to draw from, I just knew his clean, layered lines and interesting details - the knotted trousers in particular - instantly appealed to me and I was curious to find out more.
"My interest in fashion design is rooted in any music or drawing I practiced as a kid. I reached a certain age when I started applying what I knew in these areas to clothing and textiles. Tailoring my school uniform seemed like a fun thing to do. I'm always learning and training but I learnt a lot from travelling and working with my course director on my degree at LCF"
By 'LCF' Sean means the prestigious London College of Fashion where he did his degree before topping up his industry knowledge with work experience at Burberry and internships with Vogue Hommes Japan, where he was assistant to the senior fashion editor, Shun Watanabe, and Singtex, a technical fabric specialist in Taipei.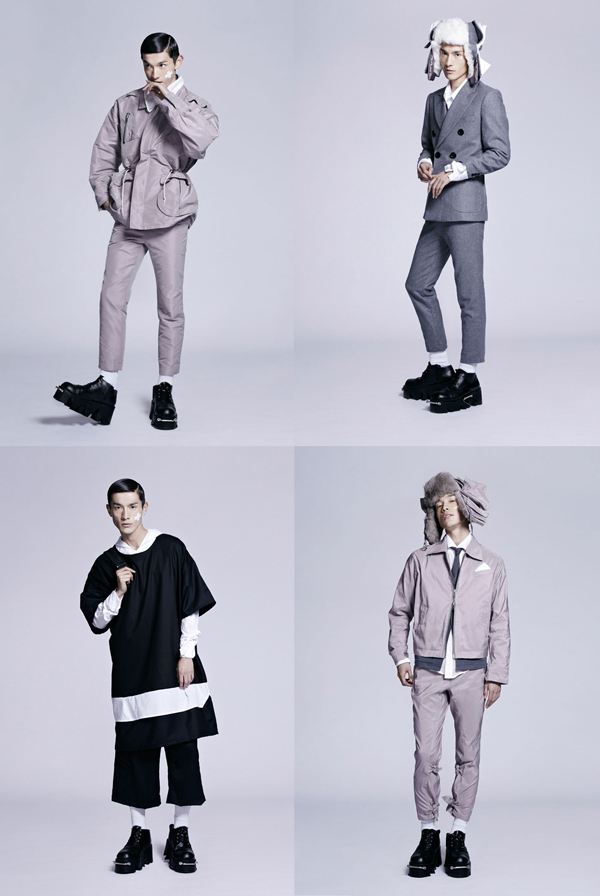 Looks from the Sean McGirr AW12 Collection.
McGirr, who designs for "the self assured male" and says he chose to get involved in menswear as he likes "the changing limitations - I think these are the most exciting things to work with and around", reinforced his ties to the Far East early on in his career when his BA graduate collection was bought by CANDY NIPPON in Tokyo and Immense Clothing in Taiwan.
Thanks to a commission from famed hair sculptor Charlie Le Mindu - the edgy Knightsbridge coiffeur du jour behind outrageous and arty wigs and weaves for the likes of Peaches and Lady Gaga -McGirr showed a five look collection of his own label menswear for SS12 as part of Paris Fashion Week. He seized the opportunity to showcase styles made up of dark, hard and soft, textural pieces playing on his signatures of irregular layering and rich, textured fabrics.
He's been described as "showing a penchant for raw creativity" and admits to being inspired by "books, galleries and exhibitions - sometimes by people I meet too", but with his cropped jackets, loose and hanging shirts, who does Sean McGirr design for? "I want to create clothing which can appeal to a fashion connoisseur and to the complete opposite. The A/W collection is about to go into a cool store called 'Deeplay' in Taipei so hopefully some boys in Taiwan will like 'em."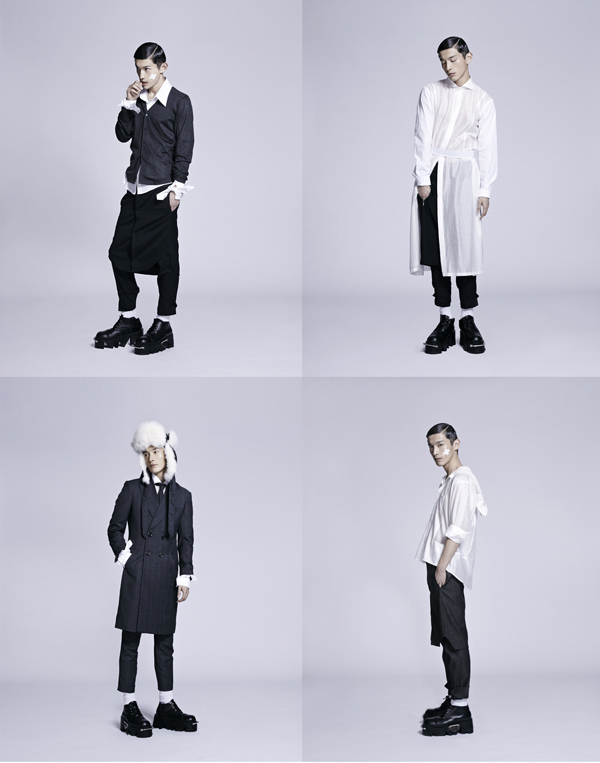 Looks from the Sean McGirr AW12 Collection.
On the subject of pricing, Sean explains, "I make the clothes as affordable as possible so I minimize costs by acquiring old rolls of super luxe fabrics from an Italian supplier but for a fraction of what it was worth, say five years ago. Producing small quantities is always going to be expensive."
He says he would definitely like to explore doing a more affordable line, "I've done a couple of tee and iPhone collaborations but at the moment I enjoy testing out finishings and experimenting on clothes that aren't super cheap."
With his sci-fi school uniform tinged AW12 collection entitled 'Stand and Deliver', pictured here about to drop with its fresh, accessible urban style, I wondered what Sean - who also works with the leading fashion trend forecasting and creative intelligence company, Stylus - was planning next. "Keep working and collaborating. I'd like to bring the label into a London-based store very soon and I'm about to shoot a story and lookbook for S/S 2013 with super talented people - set designer Thomas Petherick and photographer Saga Sig."
As I leave the designer, who uses meditation to help keep everything in balance and says that he's currently "really into Jamaica and boy scouts", I may well still know very little about menswear but I know what I like and I definitely like Sean McGirr. www.seanmcgirr.co.uk