I have a new MUST HAVE and it's basically a giant babygro. These roomy OnePiece onesies, the latest incarnation of the jumpsuit trend, came about in 2007 when three hungover Norwegians (Thomas Adams, Henrik Nøstrud and Knut Gresvig) had the kind of brainwave you only get after a truly great night out. Their idea to sew a hoody to a pair of sweatpants and connect the two with a giant zipper saw the birth of the first OnePiece 'Jump In' which was an instant success that spread across Scandinavia and beyond.
The UK started embracing OnePiece's urban fashion/function fusion from the second they arrived here at the end of 2010 and I for one cannot get enough of these supremely comfy, rad unisex rompers. Perfect for lounging around in or a quick Saturday shop run they are way more practical than a slanket and infinitely more stylish than the strictly-indoor kigurumis that are flooding the High Street (they're those giant zip-up Japanese animal costumes with ears and feet etc. like the dinosaur suit that Lily Allen famously wore at Bestival in 2009).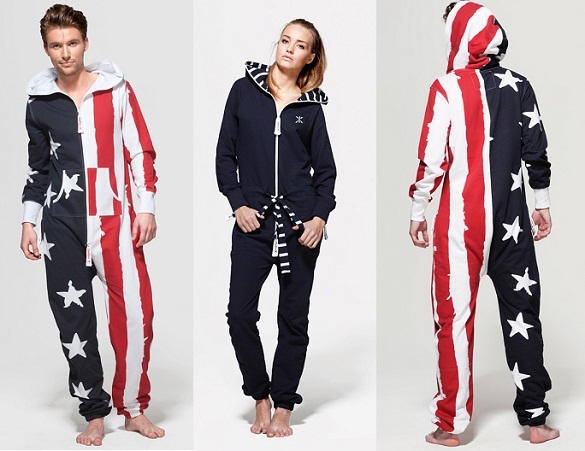 Celebs including Rihanna, Lady Gaga and One Direction, as well as reality stars, have gone crazy for them. You might recognise the traditional Norwegian print suits ('The Lusekofte', pictured below) from Channel 4's excellent series Dirty Sexy Things (NEW SERIES PLEASE!) as photographer Perou and all the models were rarely out of them, as well as being favourites of TOWIE's Maria Fowler and Gabriella Ellis from Made in Chelsea who recently tweeted about stopping traffic in her pink and purple version.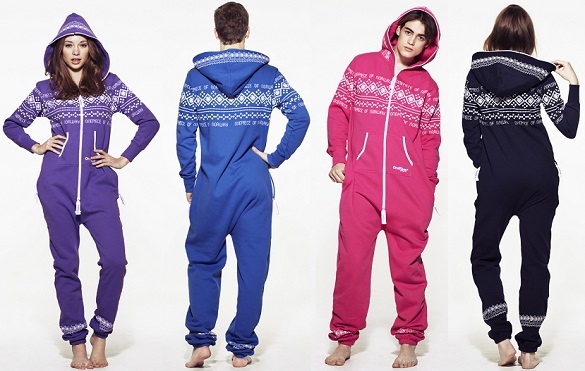 Justin Bieber was spotted in the Stars and Stripes flag design on tour, sending OnePiece sales soaring, but don't let that put you off, it's still my favourite. One of those and a pair of the Jeremy Scott x ObyO Adidas American Flag winged trainers and that's next year's sweeeet Independence Day outfit sorted!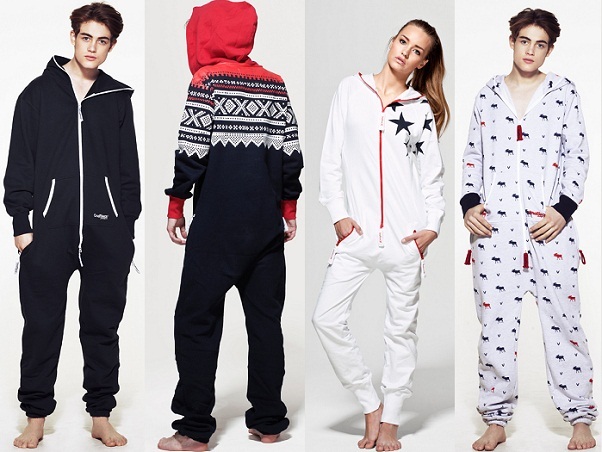 These awesome hangover cocoons come in a range of designs, mainly made from regular or lightweight cotton jersey, and suit prices start from around £98. You can get your hot little hands on them online direct from OnePiece or from their brand new store in London's hottest retail destination, BOXPARK - the UK's first five year pop-up shopping mall in Shoreditch which opened on Saturday. I hear exciting plans are afoot for more OnePiece styles and some new leisurewear, all in-keeping with the relaxed cool of the current range, so watch out for more developments next month.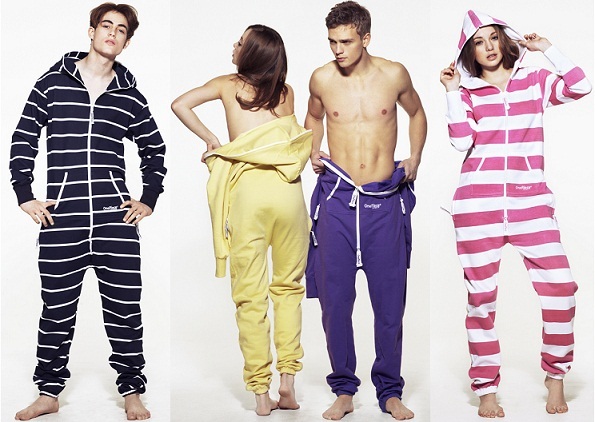 OnePiece @ BOXPARK, 2-4 Bethnal Green Road, London E1 6GY.
NB. The original version of this article appeared on my FightForYrWrite blog, just to clear up any overwhelming sense of déjà vu