Sorry to bring you news of something you can't buy just yet but I can't keep quiet about these mint green Monster Mash brothel creepers any longer. Having literally worn out my last triple sole creepers - one of the hottest shoe styles around - I'm in the market for another pair but, on discovering this AW12 collaboration between the Norwegian fashion designer Fam Irvoll and original creeper label, Underground Shoes, I decided to hold off purchasing until October when these styles come out.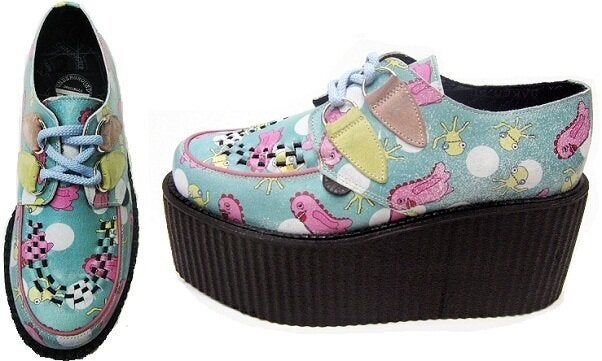 The creepers were first shown at Fam's Autumn/Winter 2012 catwalk show which was inspired by cartoon monsters, Ghostbusters, and 90s rave, as seen below (more on the clothing collection nearer the time). Adding a toughness to her series of fun and extremely pretty, girly outfits these creepers, with their pop art style monster motifs or colour blocked suedes, saved Fam Irvoll's super cute runway looks from being overly sugary, bringing them back to smiley, fun street fashion.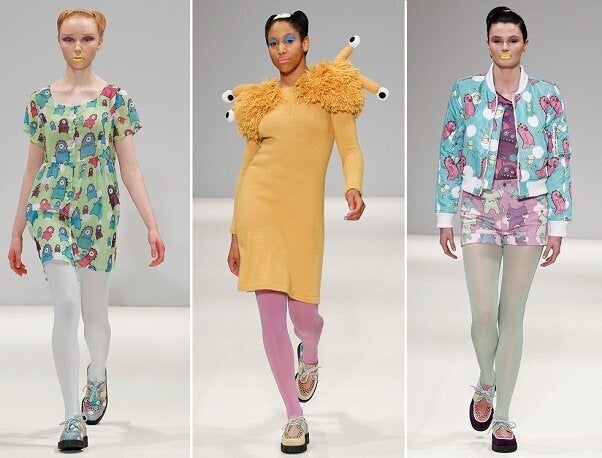 Comfy, cute with trousers or dresses/skirts and easy to fling on to add some quick cool to any look, creepers are my go-to shoe style when trainers just won't cut it. If a triple sole isn't your thing, you can try a lower version - they're still nicely chunky but are less intimidating although, being short, I can highly recommend the three tiered soles for anyone who goes to gigs and wants the added bonus of being able to see what's going on.
As this is such an early sneak preview, pricing info is currently sketchy but I do know the creepers will definitely be available from Fam's about-to-be-revamped website at www.famirvoll.com. I'll bring you more news on additional stockists and the AW12 collection (which also drops this October, along with a mini-me-tastic childrenswear line) later in the year too. C.A.N.N.O.T. W.A.I.T.