Tassels, fringing - if it swishes when you walk, you'll probably want to snap it up to get in on this fun fashion trend.
It's a bold High Summer look that's currently populating high street stores and designer boutiques alike, particularly in the form of holiday kimonos, but choose your weapons wisely and the pieces you pick up now will see you through next season too. Fringed kiltie shoes and sandals are where it's at right now with tassel loafers everywhere for winter.
Designers including Stella McCartney and Michael Kors showed fashion forward variations on this decorative trim trend in both their clothing and accessories lines for AW14. Interestingly each designer aligned their interpretations of fringed fashion with their heritage. So, whilst Kors went for a luxurious, laid-back western feel, using soft suedes and knits for a tactile chic that was gloriously American, McCartney's signature slick-yet-slouchy, super cool London look gave us what I'm pretty sure will be one of the most knocked-off items of next season - the oversized tassel knit sweater - along with sexily draped fringed dresses that make you want to shimmy and you just know will be AMAZING for dancing in.
There are some particularly special luxe-looking bohemian bags coming through that will instantly update a look, as well as great bag charms and jewellery for a more subtle acknowledgement. M&S have some fantastic tassel necklaces and clothing due out in October for a reasonable, high street rendering of this trend which can work for any age, although I've noticed plenty of amazing fringed bargains in the sales right now so see what you can pick up for a song now, safe in the knowledge you'll be wearing it all winter too.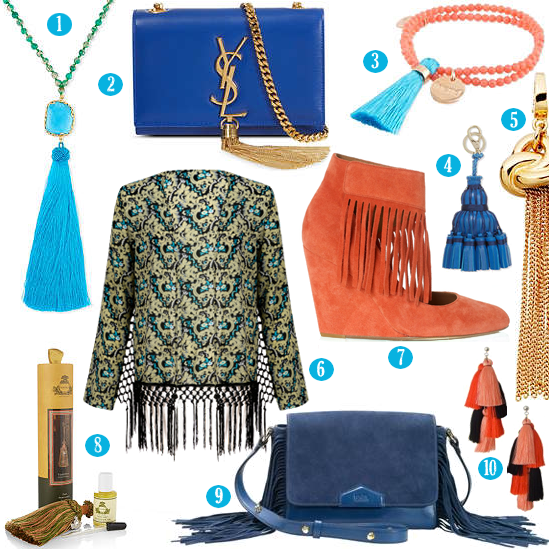 1 Ashiana, Beaded tassel necklace, £80, 2 Saint Laurent, Classic small Monogramme tassel shoulder bag, £1,200, 3 Jacques + Sienna, Tassel bracelet, £29, 4 Anya Hindmarch, Courtney tassel bag charm, £195, and 5 Astley Clarke, Knot tassel 18ct gold vermeil charm, £125, all from Selfridges; 6 Fringed kimono, £20, from www.shelikes.com; 7 Eugène Riconneaus, Red Coral Suede Annasea Wedges, reduced from £595 to £178 at www.avenue32.com; 8 Agraria, Bitter orange TasselAire scented tassels for your doorknobs - how cute?!, £42.95 from Harrods.com; 9 Blue fringe mini handbag £360, from the Karl Lagerfeld store, 145-147 Regent Street, London W1B 4JB (Tel 020 7439 8454); 10 Boticca, Coral multi-tassel earrings by Jenny Jenny, £48 from www.boticca.com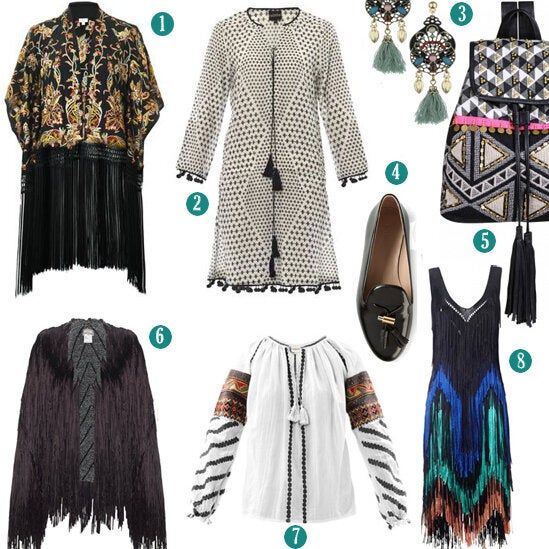 1 Tara floral-embroidered kimono, £1,457, and 2 Shyla Tara-print kaftan dress, £284 (exclusive), both by Talitha, one of my new favourite luxury brands that makes effortlessly stylish, immensely wearable, worldly pieces for bohemian jet setters, and which work for almost every occasion and body shape, both from www.matchesfashion.com; 3 Freedom at Topshop, Green tassel beaded earrings, £10, from Topshop; 4 Chloe, tassel loafers, £396 from FarFetch.com; 5 Miss Selfridge, Tassel backpack, £35 from Miss Selfridge; 6 Tim Ryan, Silver Lurex Fringed Jacket, £1,430 from www.avenue32.com; 7 Talitha, Khema tribal top, reduced to £192 from £385 at www.matchesfashion.com; 8 Tim Ryan, Multi Chevron Fringe Dress, £895, exclusive to www.avenue32.com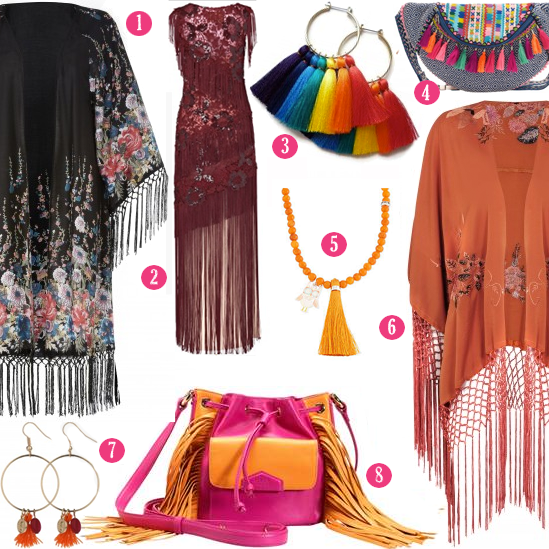 1 Primark, Printed beach fringe kimono (so Jessa from Girls...), £15 from Primark stores; 2 Phase Eight, Plaza fringe dress, £295 from Phase Eight; 3 Boticca, Rainbow tassel hoops by Jenny Jenny, £45 from www.boticca.com; 4 Accessorize, Peri tassel bumbag, £25 from Accessorize; 5 Jacques + Sienna, Tassel necklace, £39 from Selfridges.com; 6 Miss Selfridge, Kimono, coming soon; 7 Freedom at Topshop, Mini coin hoop earrings, £6.50 from Topshop; 8 Pink and orange fringe drawstring £335, from the Karl Lagerfeld store, 145-147 Regent Street, London W1B 4JB (Tel 020 7439 8454)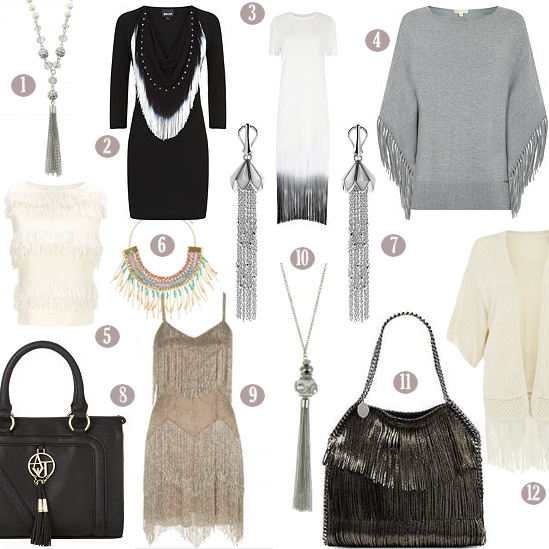 1 Allusions at BHS, Pearl and bead tassel necklace, £10 from BHS; 2 Just Cavalli, Cowl neck fringe dress, £340, 3 Raquel Allegra, Fringe tea dress, £385, and 4 MICHAEL Michael Kors, Fringed poncho, £125, all from Harrods.com;5 Samuji, Ecru White Rooibos Cropped Top, £215 from www.avenue32.com; 6 Primark, Beaded tassel necklace, £6 from Primark stores; 7 Stephen Webster, Superstone tassel earrings, £620, from Harrods; 8 Armani Jeans, Small tassel logo shopper, £170, from Harrods.com; 9 Topshop, Beaded fringed dress; 10 Wallis Jewellery, White enamel ball necklace, £10 from Wallis; 11 Stella McCartney, Fallabella small fringed bag, £1,050 from Selfridges; 12 Primark, Cream tassel kimono (also available in black), £14 from Primark stores