Although I love a good beauty product, I'm not usually willing to put myself out too much to get them. For instance, I adore the Marc Beauty makeup range yet would rather stock up on my trips to the States or online than bother myself with a trip to Harvey Nichols.
So, when I tell you I literally (accidentally) scaled a building to get me some goodies from cult New York beauty brand Glossier, it'll give you an idea of how motivated I was. And why I'm so glad they're now shipping to the UK.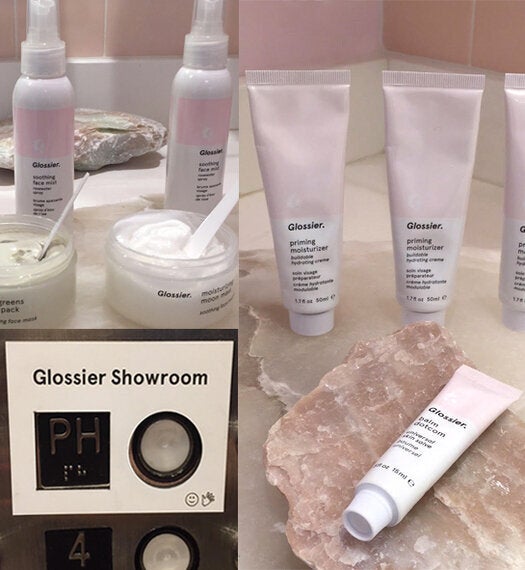 It was a rainy morning in NY's Little Italy in January of this year. Having ordered their products online since the brand first launched, via its US delivery only website, in 2014 I was hugely excited to visit the first physical Glossier showroom. As the sign outside said, it's "the most instagram-able room in SoHo" - as any cursory glance at the brand's hashtag will tell you - and photo ops aside, you also get to play with the products so win-win.
The Lafayette Street showroom is on the top floor of a building that otherwise seems fairly mundane and office-y, at the Chinatown end of the road. I arrived outside around 10.50am and hopped in the lift with a guy in a suit and a 20-something local who also looked kind of excited. We both went to press the Glossier button and a silent friendship was formed.
The guy got out at some kind of clinic on one of the floors and we stood waiting for the lift to take us up to our floor. But the lift went down. Confused, she pressed the button again. We laughed and talked about being excited to visit and it being both our first times at the showroom. The lift went to the floor beneath the showroom then back down AGAIN. We pressed the damn button once more before ascending only to stop at the penultimate floor for the third time.
Lift girl quickly formed a plan. "My dad has a studio in a building like this, I know what to do - follow me". We half ran up the stairs to what we thought was the right floor and eventually found a door. She went through first, I followed and let the door close behind us before realising we were stuck on the roof.
To cut a long story short, eventually a woman wearing the best pink boilersuit I've ever seen and an extremely confused expression, opened the door. It turned out the showroom didn't open until later but the Glossier girl kindly let us in. For a few glorious minutes we were saved from the rain, the roof and were the only customers in this spacious and serene spot, peppered with gorgeous skincare and makeup products displayed as if they were interactive art installations.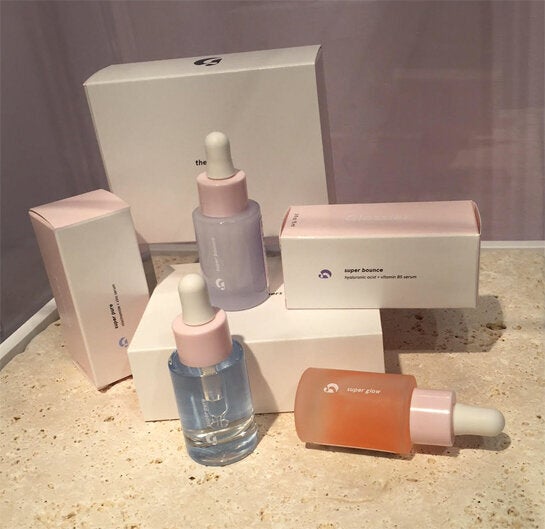 Glossier, with its millennial pink and white packaging, is certainly one of the most photogenic brands around but it's not a case of 'fur coat, no knickers'. The product range is a triple threat, being both effective, and affordable as well as super cute. It's also cruelty-free, paraben free, hypoallergenic and dermatologist tested.
To me, what makes Glossier stand out as a brand is its carefully considered product range and the process of how each product comes to be. To understand this is to get the essence of why CEO, Emily Weiss, founded Glossier in the first place.
As the CEO and founder of leading beauty platform Into The Gloss, Weiss and her team were constantly testing and reviewing all kinds of skincare and makeup products from a range of brands and various price points. But say you like the texture of one face wash, the smell of another and the action of a third - how do you get those three elements in one hero product? You make it yourself.
Before you do though, how about crowdsourcing opinions from your friends, your readers and social media followers, and other editors, asking for their feedback so that you're not just limited to a product that works really well for the skin type you know about, and actually meets the needs of a range of women? That's basically the story of Glossier and how Weiss created the "beauty brand inspired by real life". And, like Rihanna's 40 shades of Fenty Beauty foundations, it's SO OBVIOUS it's a bit mind-blowing that no-one did it before.
This wasn't just a pre-launch approach either - it's on-going, and this constant, open dialogue between brand and consumer is why Glossier develops products that real women with real needs want to spend their real money on. I know because I'm one of them! I have been buying from them since the launch and have at least one of pretty much all their products. I can honestly say that I've not bought a bad product from them yet, which makes it hard to pick a favourite. The serums, rose quartz Haloscope highlighter and stretch concealer are certainly up there though. I've also just ordered the latest additions to the Glossier line-up: Body Hero Daily Oil Wash (which is also gynecologist-tested), Body Hero Daily Perfecting Cream and their non-clogging facial suncream serum, Invisible Shield SPF35, which I'll leave feedback for on my Instagram @sarahmcgiven.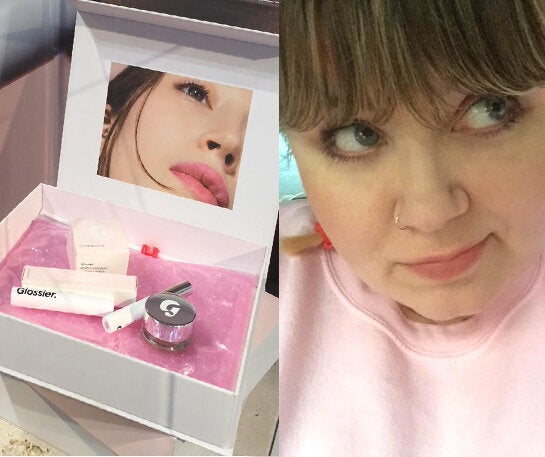 Me wearing a no-makeup look using Stretch Concealer in Light, Boy Brow in Blond, Cloud Paint gel-cream blush in Dusk, and Generation G sheer matte lip colour in Crush. Image: author's own
The power of social media feedback doesn't just extend to their products either. Thanks to the thousands of comments left on Glossier's social channels, Into The Gloss and via email, the US-only brand has now extended the glossier.com shipping roster to include Canada and the UK. France is set to follow in early 2018, too.
"Ever since Day 1, we've dreamt of making Glossier a global beauty movement that celebrates real girls in real life wherever they are. We've always been internationally focused thanks for the Into The Gloss readership and our community on social media. Now we're excited to actually get Glossier in their hands," said founder and CEO, Emily Weiss.
NB it turned out that amazing pink jumpsuit was the super cool Glossier uniform and - although they do sweatshirts - it's not actually for sale. So if you're leaving them some feedback, maybe mention that and we might have another little win for social soon :)
Glossier is sold exclusively through glossier.com and currently ships to the USA, Canada and the UK.