What exactly constitutes an 'essential'? If you go by Waitrose's suggestions, it's everything from raw prawns and hummus to yum yums, so I'm guessing it's pretty subjective.
One thing I decided was an absolute essential in my life was a pair of short rubber boots. Something lightweight that would repel rain and provide enough grip to stop me from slipping even on the soggiest of London streets. In the space of three days I saw three separate people fall over in the rain and this properly gave me the fear. I went online on the bus home and starting scouting rain boots. I wasn't entirely sure what I was after at first other than something stylish that wasn't quite wellies as they're too cumbersome, but something just as effective in the rain.
Given they are synonymous with wet weather attire these days, I started off on the Hunter website and found some absolutely amazing heeled ankle boots with good, grippy soles. The high heel styles were astounding and made me wish for less-flat feet. Fallen arches in mind, I browsed on and found the fabulous short Hunter Original Short Chelsea boots with neon soles pictured here and in the round-up below, which I subsequently purchased.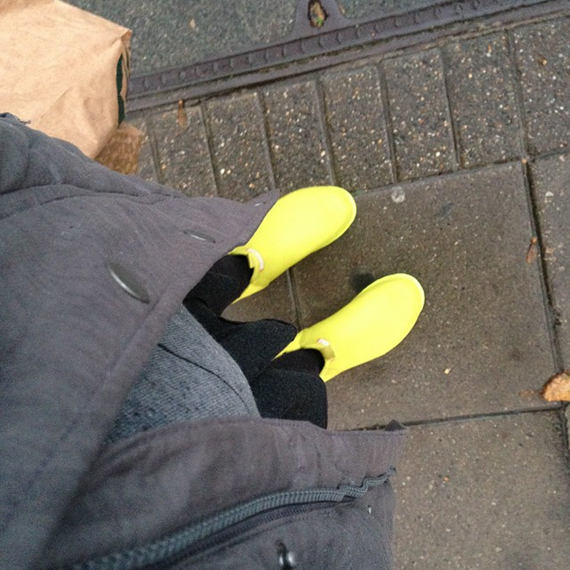 I wore them home from work the day they arrived and then wore them four out of the next five days. With jeans, trousers, tights - whatever, these cute little booties are just the best. They're super comfy, I've had no blisters or discomfort of any kind, and - more importantly - I haven't fallen over once despite sheet rain and a total lack of balance on my part. I've just found that there's a whole bunch of matching accessories too with hats, gloves and an awesome scuba backpack *excited face*
Next on my list are the new Converse rubber Chuck Taylors which were released the day after my Hunters arrived. The iconic baseball boots are now available in rubber and a range of colours - so even welly-phobes can keep their feet dry without compromising on personal style.
If you're looking for sensible footwear that's also stylish, have a look at my little round-up below.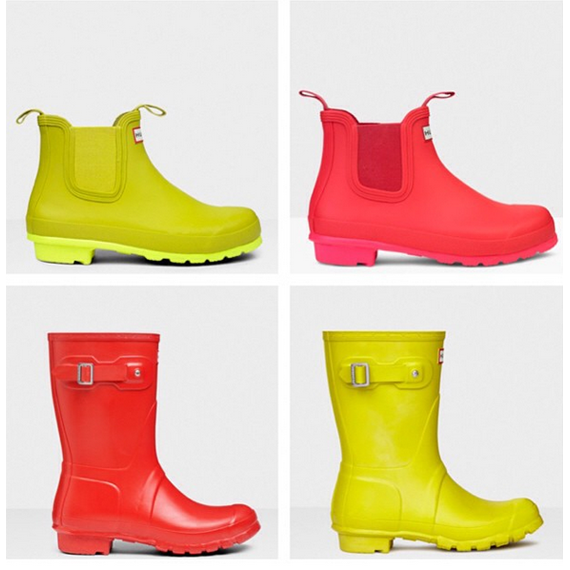 Hunter Boot short rain boots
Short in height but strong on style, these bright boots had me at 'neon sole'. They come in a whole range of colours - the yellow short rubber Chelsea Boots, top left, are the ones I got (£80).
Available from www.hunterboots.com the new Hunter flagship store on London's Regent Street, and various other retailers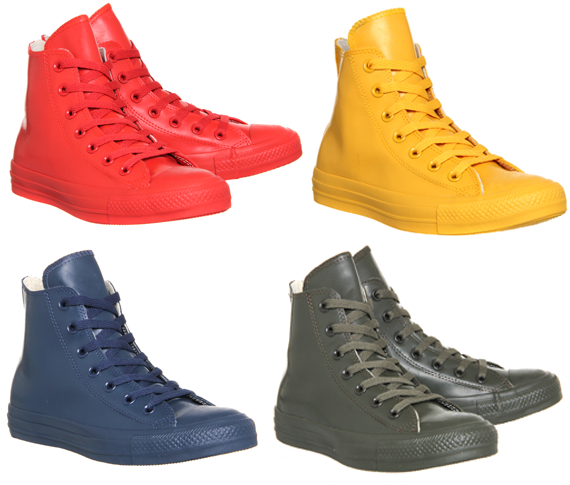 Converse Chuck Taylor All Star Rubber Baseball Boots
Such a great idea. Avoid wet feet without losing that inimitable Converse style with these rubber Chucks. These rain-resistant baseball boots come in a range of colours which all have a fleecy lining for extra comfort and warmth.
Available from Office stores and at www.office.co.uk, priced £59.99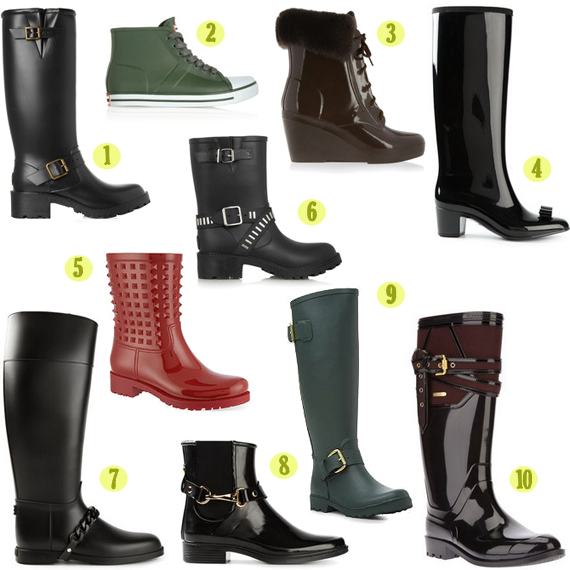 1 Dav moto tall PVC rain boots, £44 from £89 at www.theoutnet.com
2 Hunter 'Millbank' rubber sneaker-style boots, £38 from £70, from www.theoutnet.com
3 Hunter 'Earlham' shearling-trimmed Wellington boots, £87 from £145 at www.theoutnet.com
4 Salvatore Ferragamo 'Niper' rain boots, £243 from www.farfetch.com
5 Valentino stud wellies, £255 from www.Selfridges.com
6 Dav 'Seattle' rubber rain boots, £39 from £65 at www.theoutnet.com
7 Givenchy 'Eva' rain boots, £234 from FarFetch
8 Burberry London 'Equestrian Buckle' Chelsea rain boots, £234 from www.FarFetch.com
9 Steve Madden 'Dreench' buckle-detail wellies, £48 from Selfridges
10Burberry London buckled rain boots, £275 from FarFetch