So September has come around quicker than ever and whilst it doesn't seem quite the time to put summer dresses away, it's definitely time to pile on the knits and to become reacquainted with your tights drawer. Wolford - the high end hosiery company established in Austria after the war - held a timely event last week to reveal their new Autumn/Winter collection and to show that there's more to the brand than just luxe legwear.
The company has firmly established itself as an expert in the field with both classic and trend-led fashion collections which now extends far beyond premium tights, socks and stockings into ready-to-wear clothing, accessories, lingerie and one of its biggest selling ranges, shapewear.
On Thursday a group of us gathered at the Wolford store in the village of the original West London Westfield to view the AW12 collection which ran the gamut of the full product range, featuring designs which fused retro 1950s flirtiness with a tougher 90s edge, and gorgeous glamazon models who harked back to the brand's iconic Helmut Newton photo campaigns (if you haven't seen these, please do Google).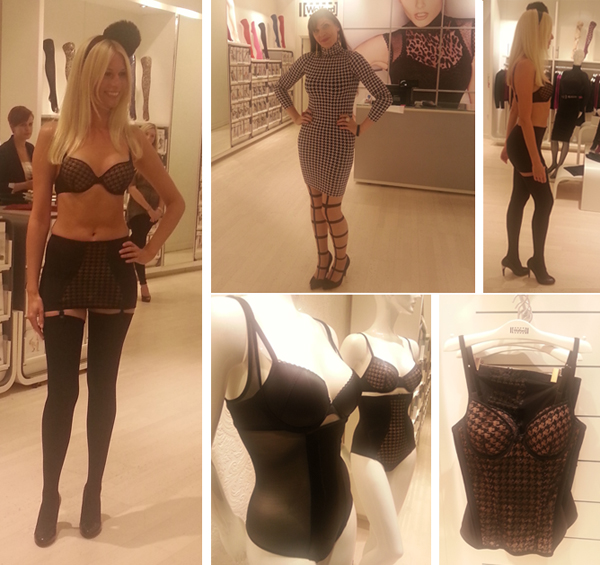 Putting their own spin on the season's big Houndstooth check trend, as seen everywhere from Jil Sander, House of Holland and Diane von Furstenberg to the Manchester United goalkeeper's jersey, Wolford showed the 'Elisa' range of super sexy shapewear and lingerie in the pattern du jour.
The event's co-host, the brilliant BangsandaBun blogger, Muireann Carey-Campbell, pictured above, even sported one of their fab monochrome houndstooth body con dresses which was so 90s I kept expecting her to break into 'Ride On Time' or similar. Awesome.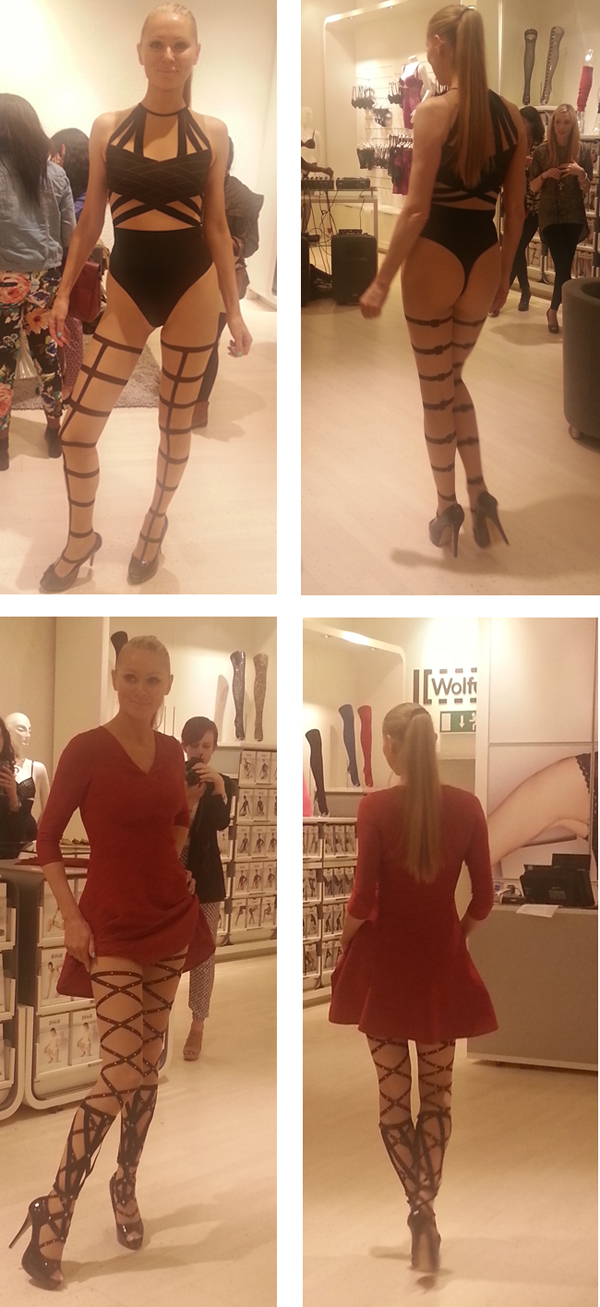 Bondage style was introduced through buckle print Mirella tights paired with a matching Domenica string body and criss-crossed Stud Tights worn with Tamara Gaiters - leather shin cage accessories - again, very 1990s and so Helmut Newton. The S&M feel was tamed slightly with the introduction of the red skater Shania Dress with its girly prettiness and uber swishy skirt, bringing that Fifties high school aesthetic back into play.
The delightful electric damson coloured Sophia Forming Dress - satin panelled shapewear reminiscent of Madonna in her Truth or Dare phase - was worn with my favourite accessory - the Pompon Gaiter - which is attached to a long ribbon so you can tie one around your wrist, waist, wear as a headband, or get two and wear them round your ankles! So cute and Paris showgirl but sadly they're currently only available in fox fur so I've put in a cheeky request for them in faux fur as well so fingers crossed us veggies can get our pompom on soon too.

Some other highlights from the collection included the cut out, sheer panelled bodies - really running with that 90s theme; the glamorous shaping bodies with moulded cups to suck those tummies in; rock star style hosiery with the Satin chain tights with below-the-knee chain embellishments (pictured bottom right) and this clever short sleeved, cropped bolero cover up, the Danielle blouse.
These are just my personal highlights but you can see the full collections in Wolford stores now and online at www.wolford.com