As a soppy old romantic I absolutely love Valentine's Day. It's the most wonderful opportunity to show someone you love them through thoughtful actions, kind words and, of course, gifts. It's not about how much you spend on a present or how extravagant the gesture, it's about how showing your sweetheart that you understand them and have gone to the trouble of really thinking about what they would really like.
It could be as simple as doing the washing up or going out for the day (and taking any kids, annoying flatmates etc. with you) to give your partner some peace but if it's presented nicely - make up a hand written gift voucher, the message is from the heart so you don't have to be good at drawing or anything, and wrap it in a ribbon - it'll make it so much more special.
Whether you're looking to say 'I love you', want to ask her to move in or if you're about to pop the question, this weekend I've come up with a few gift ideas to hopefully make your girl smile. (NB. I haven't forgotten you, boys - Valentine's gift guide for guys is coming up next week!)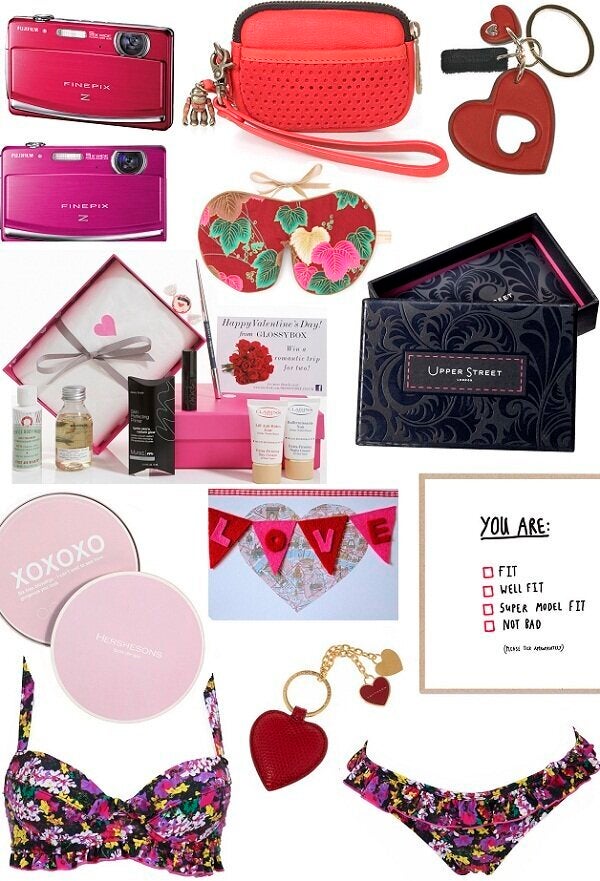 Cameras are great gifts as you can capture so many memories - you can also use them as a leading gift too if you're going for the grand gesture or proposal eg. slip a note inside the box or between the box and the wrapping paper with a message on "You'll need this to take pictures in Paris...", or "To help capture the moment you said Yes" (if you're doing that, best to make sure it's fully charged and set up ready to use though).
I adore my battered old Fuji digital camera and their new Finepix Z90 model comes in some really cute Valentine's colours (www.fujifilm.co.uk); Kipling have just brought out this edgy little camera bag (£32) too in collaboration with blogger Andy Torres of StyleScrapbook, that goes perfectly.
Swimwear is a nice alternative to traditional underwear gifts, especially if you have a holiday coming up, just try and get her size right! This Playful Promises digital garden print underwired bikini (£37.50 top/£25 bottoms) with its tiny seahorse charms is super cute. If you're planning on surprising her with a trip away, again, slipping a note inside the wrapping makes it even lovelier or for a more urban version, instead of a bikini, a bag like this graphic Jamalle rucksack from Kipling (pictured below - they're on a bit of a roll at the moment) would work a treat too.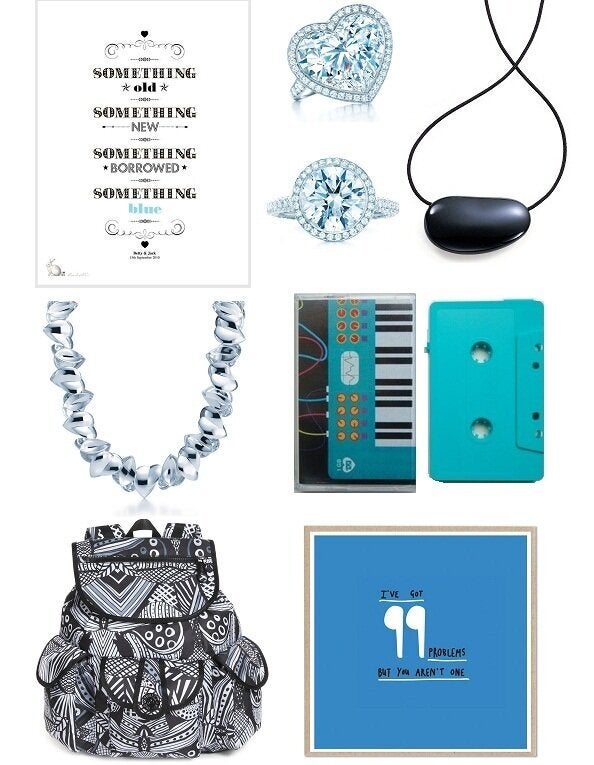 I'm a firm believer in the girl choosing her own engagement ring (think about how long we take choosing regular jewellery and this is something we have to wear every day for the rest of our lives... see what I mean?) so if you're planning on proposing, why not give her illustrator Ros Shiers' 'Something Old...' print , £25, or Smythson Panama 'Honeymoon Recollections' notebook, £45 (below) to unwrap over dinner, giving you time to beckon over the bubbly and get down on one knee (too many movies?) without needing a ring.
If you want to get her jewellery but not a ring, this chicly quirky Elsa Peretti for Tiffany bean chain makes for a much more impressive present than a cookbook for any cookery fans (I wish they still did the coffee bean necklaces too - such a great gift for coffee lovers, along with a prepaid Starbucks card!). This silver Tiffany Hearts necklace (£1,825) with its stacked design is just stunning and would be a wonderful gift for anyone who likes modern design but particularly for fans of architechture as it's designed by the legendary Frank Gehry (the Guggenheim Museum etc).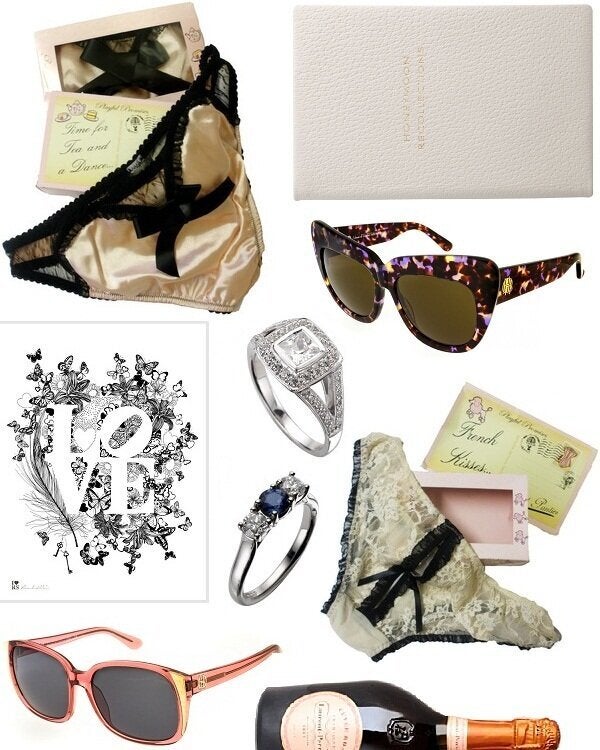 Whisking her off for afternoon tea or a romantic weekend in Paris? Let her know with a Playful Promises 'Time for Tea and a Dance' or 'French Kisses' knickers gift set, £15 each. For romantic trips further afield, House of Harlow 1960 has some great sunglasses that will get the message across - just stick her ticket in with the card - 'Chelsea' sunglasses in Bloom and 'Julie' sunglasses in Strawberry, both by House of Harlow 1960, £132 each from www.my-wardrobe.com. This Ros Shiers 'Love' print , £39 should state your case pretty clearly, as would one of these EC One engagement rings - Amelia Princess cut 0.5 carat and white gold ring, £4,345 and the Trilogy diamond and sapphire rose ring with white gold band, £3,510 which is either a classic or retro as it's exactly the same as my mum's engagement ring.