So it's February already and Valentines, summer parties and wedding season are approaching rapidly, bringing with them the inevitable sartorial dilemmas. Opt for an old favourite and a little voice goes "but I wore that last time" (sulk), or opt for something new and I find it hard to quash those "but what if someone else is wearing it" fears.
When I was little, my mum's way round this was to hire dresses for fancy do's, reasoning that she would never wear any of them again and could get more for her money that way too. I still remember how amazing she looked in a particularly wonderful scoop back black velvet cocktail dress with satin trim (it was the early 80s) - such a memorable showstopper that you definitely couldn't wear it more than once if you were partying with the same crowd.
Dress hire seemed to disappear as I was growing up but now, thanks to the likes of the wonderful Girl Meets Dress.com who rent out dresses from the likes of Herve Leger, Thakoon, Issa (including the infamous Kate Middleton engagement dress) and last night's Fashion Fund winner, Jonathan Saunders, in UK sizes 6-16, it's back in a big way.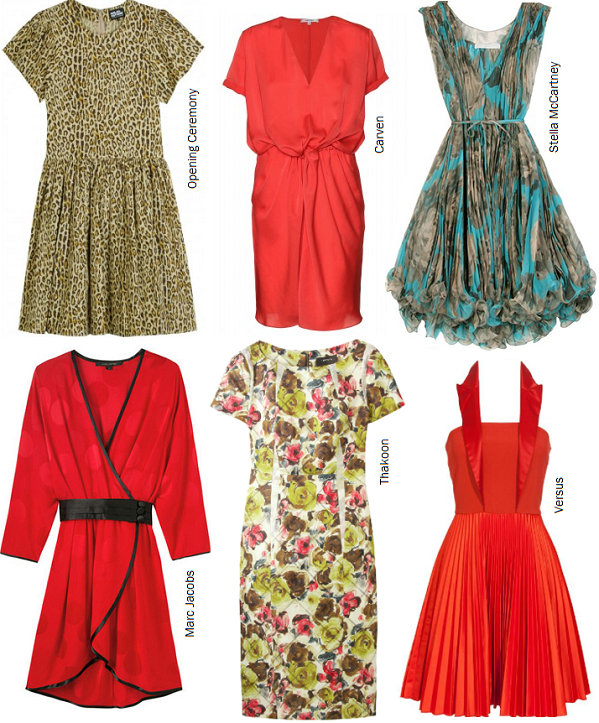 Inspired by the amount of lending and borrowing of designer dresses she saw going on, Anna Bance who previously worked for the likes of InStyle, Harpers Bazaar and Hermes, teamed up with Xavier de Lecaros-Aquise and together they founded www.girlmeetsdress.com.
As Anna says: "We wanted to create a brand which would not only allow women to afford the designer brands they always aspire to, but also experience a different dress for every event. We all have pieces at the back of the wardrobe, bought for yet another wedding/party/job interview but then not worn more than a couple of times so the rental concept of Girl Meets Dress reconciles such fashion conundrums perfectly."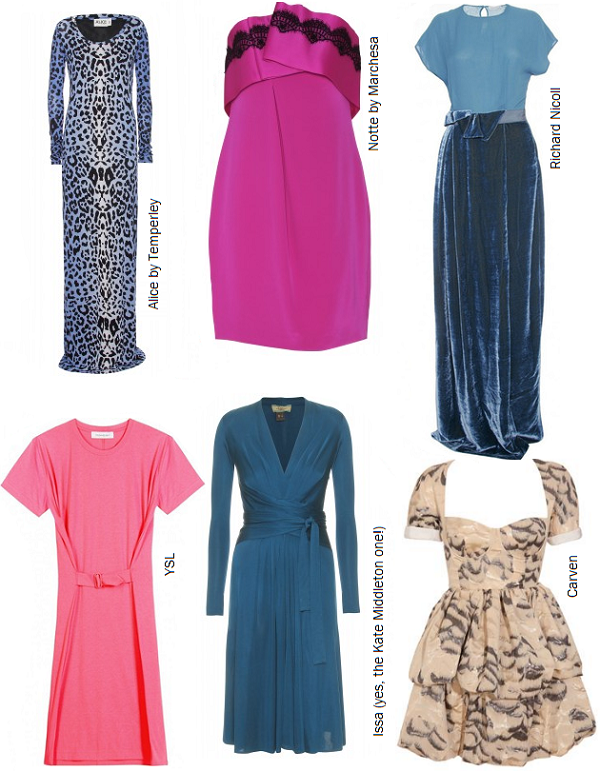 Whilst Girl Meets Dress.com often lend to their celebrity clients - sadly, but fairly, they're staying tight lipped as to who these are - for red carpet events as it's an easy way to avoid repeat outfits, the majority of their clients are regular women who just want to look great and feel special without splurging on something that will end up in the dry cleaning pile, never to be seen again.
Anna explains: "Our customers are not only using us for those larger black tie events in their calendar, but also booking dresses to make the smaller but meaningful occasions memorable, such as a wedding anniversary, Christening or a romantic date."
Whilst I love the options Girl Meets Dress.com provides - like next day UK delivery for those last minute panics and refunds for any dresses that don't fit, as well as there being no joining fee and totally reasonable rental rates (from around £29 for two nights) - my main concern about hiring outfits has always been what happens if you damage them by accident.
I recall a big drama when someone spilt a glass of red wine down the front of one of my mum's hired frocks at a party, but thankfully GMD has already thought of this and most wear and tear is covered by the £7 insurance charge, although not all - Anna tells me "A while ago we received back from a customer a brand new white gown in tatters, covered in staple holes! The guests at her party had been stapling money to her dress all evening!"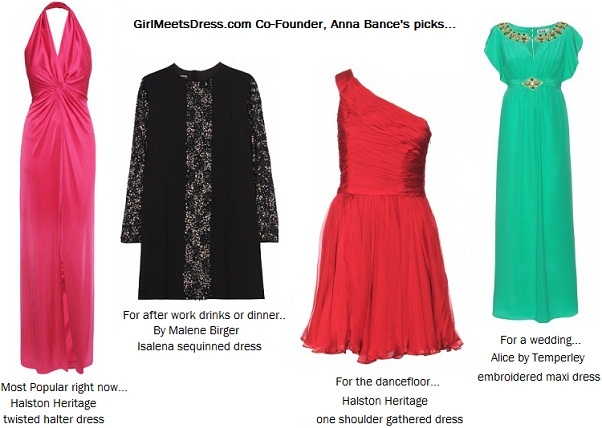 New items are added to the website each week (including suggestions from customers) and are announced via their newsletter with styles going through waves of popularity depending on the season - right now, the Halston Heritage twisted halter dress, pictured above alongside Anna's current personal favourites, is proving particularly popular.
You can also hire accessories - bags and jewellery - to compliment and complete your look which is so helpful and makes for a great one-stop-occasionwear-shop. Check it out at www.girlmeetsdress.com and get it in your bookmarks ready for your next fashion emergency!