I adore America. I also love a bit of theme dressing. As a kid I spent a lot of Independence Days in the States and, even though with the exception of having a few American relatives, I don't really have any reason to celebrate 4 July, for me it's just a great excuse to dress up, eat some Reese's Peanut Butter Cups and drink even more Diet Coke and Starbucks than usual.
What with 2012 being Britain's year (I believe we've even gone so far as to copyright it), there are Union Jack print everythings, everywhere but you never have to look far to find the iconic stars and stripes design of the American flag in one form or another. Here's my pick for a variety of USA-inspired looks from street chic and high fashion to cheapo high street fun pieces for anyone else who doesn't need much of an excuse for a party.
My 4th July Outfit: American flag-print OnePiece onesie jumpsuit (lightweight unisex version, £129 from onepiece.com), Christopher Lee Suave Jessica Simpson Scandal t-shirt (£60 from www.nylaboutique.com), Jeremy Scott x Adidas Originals Wings 2.0 USA trainers (they're from the SS12 collection so pretty much sold out everywhere I'm afraid but try www.sizeonline.co.uk who still have a few left), accessorised with some Reese's Puffs peanut butter breakfast cereal (£7.49), and all American Coca-Cola (special exclusive Olympics bottles, £1.99) both from Selfridges.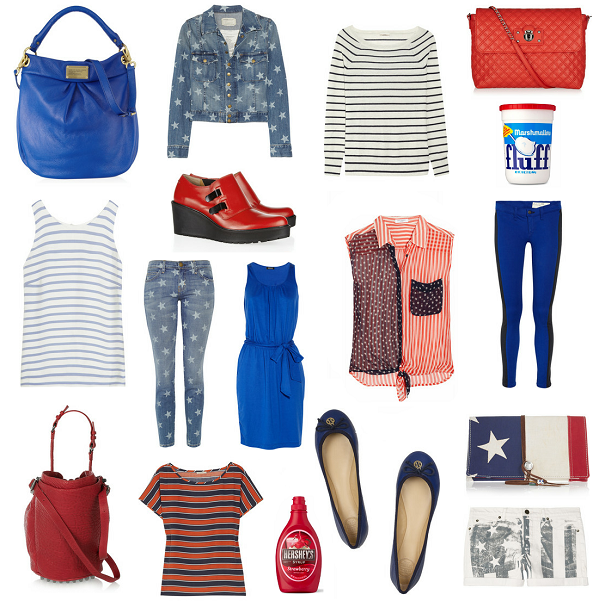 Clothing, clockwise from top left: Blue Marc by Marc Jacobs Classic Q Hillier Hobo textured-leather shoulder bag £350, Current/Elliott The Stiletto star-print low-rise skinny jeans, £225, J. Crew striped cashmere sweater, £230, red Marc Jacobs The Single Large quilted leather bag, £580, Rag & Bone Contrast-stripe mid-rise skinny blue jeans, £165, Totem Salvaged Appliquéd cotton clutch, £170, Haute Hippie American flag-print stretch-denim shorts, £185 , Tory Burch Chelsea leather ballet flats, £165, J. Crew Gondola striped silk T-shirt, £100, Alexander Wang Diego textured-leather shoulder bag, £695, J Crew Striped silk top, £90, Current/Elliott The Snap star-print stretch-denim jacket £305, DKNY Gathered jersey dress, £185, Equipment Diem stars and stripes-print silk-georgette shirt, £210, 3.1 Phillip Lim Wallace monk-strap leather brogues, £470. All available from www.net-a-porter.comFood: Marshmallow Fluff, £4.99, and Hershey's Strawberry syrup, £4.99, both from www.selfridges.com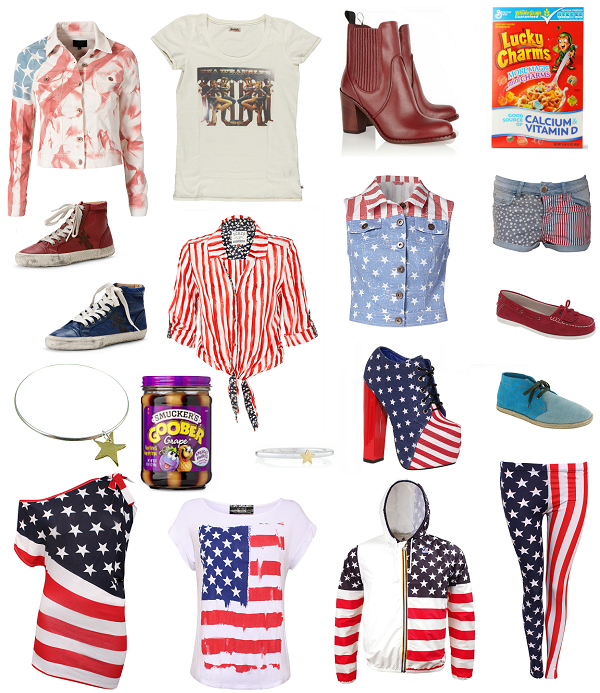 Clockwise from top left: Jacket, £72.95 from www.nelly.com, Wrangler stars and stripes t-shirt, £25 from www.wrangler-europe.com, Marc by Marc Jacobs stacked-heel leather ankle boots, £445 from www.net-a-porter.com, Lucky charms breakfast cereal, £7.49 from www.selfridges.com, Pilot American Flag Denim Hotpant, £16.99, Gant Serena boat shoes in red, £95 and Gant Rose desert boots, £95 both from www.gantuk.com, Pilot Stars Stripes Legging, £7.99, K Way American Flag jacket, £120 from www.kappastore.com, short sleeve Stars Stripes oversized top, £9.99 and multi colour wide neck Star Stripe top £13.99 both from www.pilotfashion.com, Customisable star charm bracelet £70 from www.melindamulcahy.com, Frye Kira high tops, £110 from www.thefryecompany.com, Soul Cal Stars and Stripes Shirt, £20 from www.Republic.co.uk, Internacionale American Flag Denim Gilet, £19.99 from www.internacionale.com, Pilot's Jeffrey Campbell style lace up Stars Stripe platform shoe boots, £31.99, Daisy Alpha ring, £37 from www.Daisyjewellery.com, and Smucker's Goober grape, £4.89 from www.selfridges.com.