Being predominantly a trainer-wearer, I have super soft, easily irritated, coddled feet, so sandal shopping is a nightmare. I despise anything that goes between my toes so thongs and toe posts are a total no-go. Trying to find sandals without them is a hard slog plus I also hate straps that cut across my ankles as they always rub, so I'm generally a pretty awkward customer when it comes to summer footwear.
I recently went to see the new range of Spring/Summer 13 designs from Ancient Greek Sandals and - sound the Heavenly trumpets - the majority of styles were totally toe annoyance-free! Not only that, but they were utterly gorgeous too. The fun, winged Icarus designs have been everywhere for the past couple of Summers but there are so many more styles this season and in beautiful new colour ways, including a divine rose gold.
I decided to write this post solely about the Ancient Greek Sandals range because it was just so refreshing to find a huge collection of gorgeous styles in the most beautiful colours, where I would genuinely wear the majority - rather than, at a push, one - of the designs. This collection - all handmade by craftsmen using traditional techniques - is strongly influenced by ancient Greek jewellery and uses earthy colours found in nature and in Ancient Greek artifacts, alongside shimmering metallics.
It might not be the weather for them yet, but I plan on buying some of the Nephele sandals now (or maybe the Clios - or the Electras, something with the super cute, AGS trademark wing-shaped buckle anyway - I can't decide, I'm seriously not used to having this level of choice), so I can wear them round the house and have them nice and broken in by the time the sun finally does appear. Assuming it's still coming.
Have a look at some of my favourite styles below, or more information on Ancient Greek Sandals visit the website at www.ancient-greek-sandals.com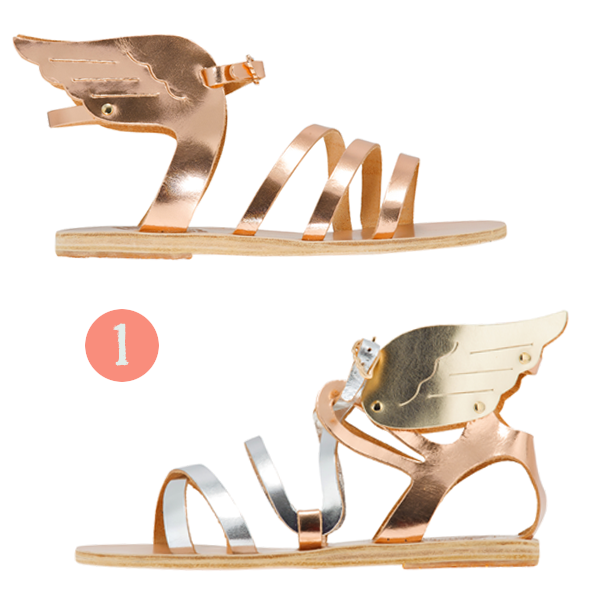 Clockwise from top right: Eros Knot White - £120 from www.avenue32.com, Electra Blue Mix - £130 from Matches, Ikaria Marine/White - £130 from Selfridges (side and front views)