After a big Christmas spend-up I'm window shopping this weekend, making plans for when payday comes. The jungle jean trend for animal print denim has my name written all over it with Current/Elliott a major player - they had me at 'pink leopard print', but the red snakeskin print skinnies are almost as tempting.
The high street has various versions on offer too with some great classic leopard coloured jeans from Tripp NYC at Urban Outfitters. I'm tempted to get a Dylon pen out and have a go at customising some of my own jeans - it can't be much different to painting leopard print nails, surely?
Anyway, wild denim aside, another thing I'm really feeling right now is the initial trend - as a former graphic design student I'm all over a good bit of typography, particularly when it's mixed with a bit of a retro letterman, Americana feel. Initials are everywhere, not just on varsity style college jackets but in accessories, sportswear and homewares too. I'm totally coveting Markus Lupfer's sequinned letter badges for Net-A-Porter and new urban apparel company, A Public Nuisance's vintage sweats with the big A on (P and N also available! More about APN coming soon...).
Here's my selection of a few things vying for a place in my shopping bag when this month's cheque drops...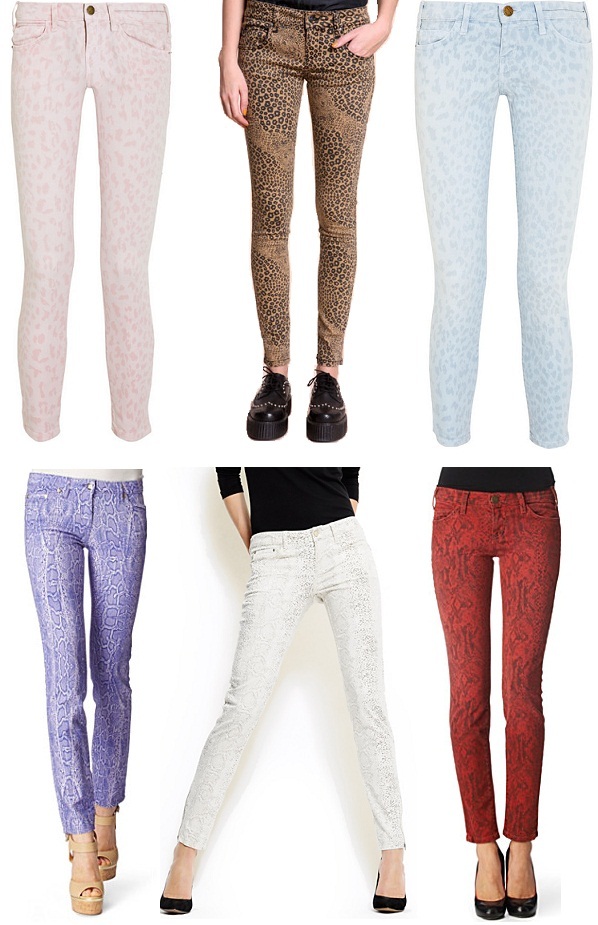 Top row: Left and far right - Current/Elliott pink and blue skinny low-rise The Stiletto leopard print jeans, £200 each from Net-A-Porter.com; Middle: Tripp NYC classic leopard print skinny jeans, £60 at Urban Outfitters. Bottom Row:Roberto Cavalli purple python print jeans, £480 at Selfridges, super skinny animal print grey/white jeans, reduced to £19.90 from Mango, Current/Elliott paprika red snakeskin print skinny low rise jeans, £210 at Selfridges.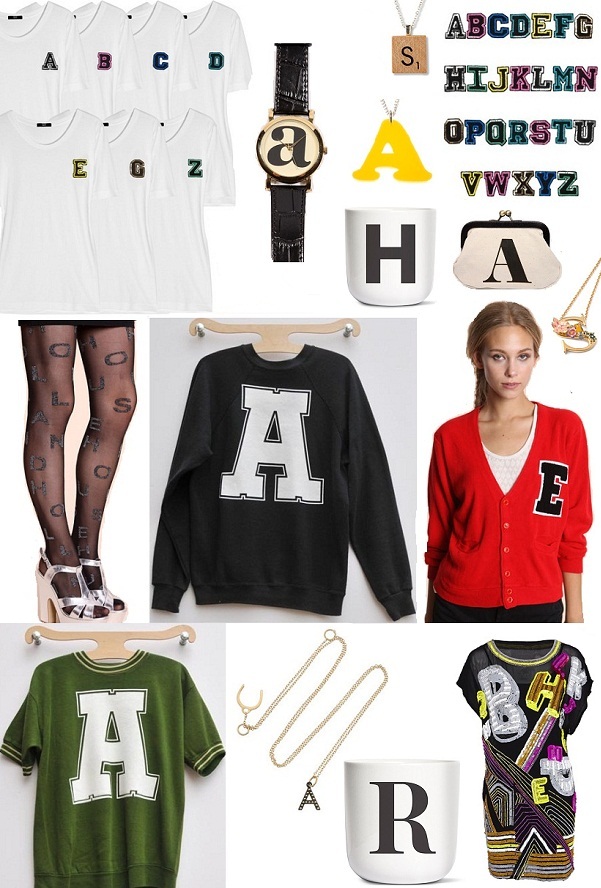 Clockwise from top left: Markus Lupfer sequinned initial applique T-shirts, £45 each at Net-A-Porter, Initial face analogue wristwatch £28 from Urban Outfitters, Emma Louise Originals Scrabble tile necklace, £10 from Selfridges, Markus Lupfer sequinned letter brooches, £15 each exclusive to Net-A-Porter.com, Tatty Devine initial charm necklace, £15, PLAYTYPE sans 'H' mug £18 at Selfridges, Initial kisslock purse £14 from Urban Outfitters, Les Nereides floral alphabet charm necklace £95 exclusively at Selfridges, vintage 1950's style customised letterman cardigan £35 exclusively at Urban Outfitters, embellished alphabet dress from ASOS, PLAYTYPE serif 'R' mug £18 at Selfridges, letter charm 14 carat gold Philip Crangi necklace £565 at Net-A-Porter.com, short-sleeved vintage sweatshirt £45 from APN, House of Holland lurex alphabet tights £15 at Urban Outfitters, black A sweatshirt by A Public Nuisance, £40.