I loathe jeans shopping. Hatehatehate it. If they fit on the waist they don't fit round my thighs, if they fit round the waist and the thighs, chances are they look like mega flares from the knee down and being a short-arsed 5'2" I have to turn everything up anyway so I have no business with unnecessary material. I bought some awesome Levi's in the States over Christmas which I've somehow managed to lose and have been wearing my interim cheapo Dorothy Perkins boyfriend jeans to death while I decide on a new investment denim purchase.
I used to get all my premium jeans from TK Maxx as they had a brilliant selection of old season styles from labels like James Jeans, 7 For All Mankind and Paper Denim & Cloth, for a fraction of the original prices but I never get time to hunt through their rails for those rare finds anymore, so I'm sucking it up and looking for some 'proper' jeans.
The difference between cheap denim and expensive denim is immense - you can feel it without even having to try it on, it wears better for longer and just gets better with age. Aside from the feel, there's the difference in weaves and weights and dyes and how you care for them etc. I have to say, I'm not a big fan of the school that says you should put your dark indigo denims in the freezer rather than wash them (euwwww) but denim nerds totally fascinate me.
So, all this brings me round to the actual act of denim shopping. If I'm going to go through the painstaking process of choosing some jeans that I'm going to drop at least a ton on, I want everything all under one roof so I don't have to drag my hot, mithered ass around town only to decide on a pair from the first store. I want serious choice, honest staff who know what they're taking about and aren't just going to tell you something looks awesome to get commission or to get rid of you. If I'm having to use changing rooms - which clearly I am otherwise I'd get arrested - this means I'm in a bad mood already so I also want shop assistants who know when to back off. Demanding? Moi?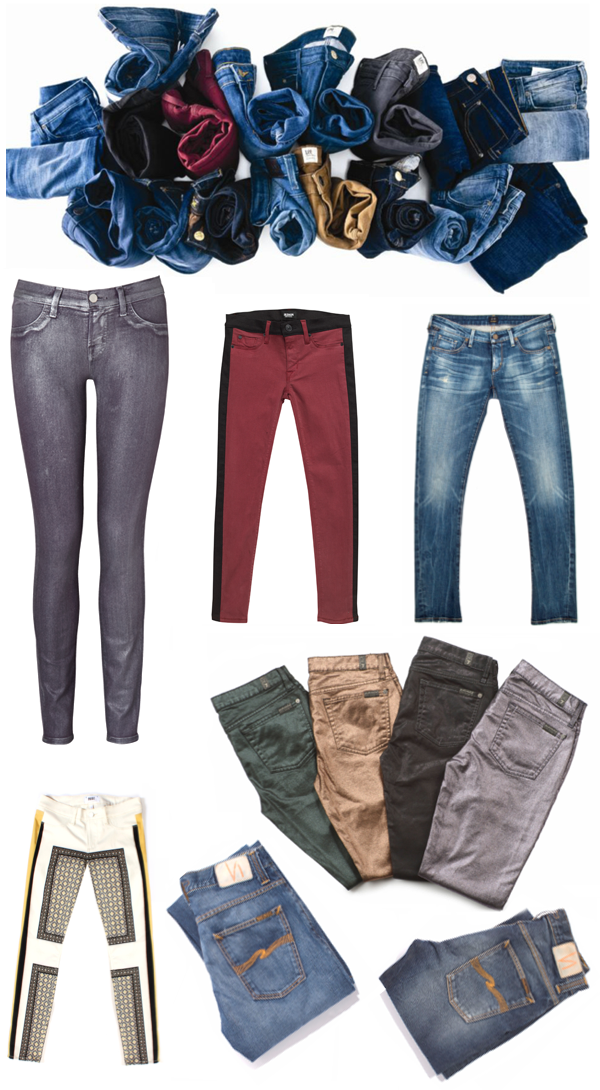 A few styles from Selfridges #destinationdenim Event:
Top: Lee Jeans' Stretch Deluxe stretch denim collection
Middle: J Brand Coated Bullet jeans in Purple £270, Hudson LEELOO in Bordeaux £245, Citizens of Humanity Racer Slash Jeans £270 - all exclusive to Selfridges
Bottom: Paige exclusive printed jeans £355, 7 For All Mankind Liquid Metallics collection, all £230, Nudie 'The Average Joe' men's jeans in Midworn and Tough.
I heard about Selfridges' 'Destination Denim' month which they're running across all their stores from 20th August - 9th September and includes a host of events all designed to celebrate denim and to help shoppers find their 'perfect fit'. They hooked me when I read that they have the longest denim wall in Europe with 35 different brands for women (although the event is for men's denim as well and they have an incredible 65 different brands to choose from - jealous...).
There are various exclusive styles specially designed for the store on offer and you can buy certain collections from brands like J Brand and 7 For All Mankind before they hit other stores too and they have a global exclusive on the Hudson's LEELOO collection on offer too. Not too shabby.
I'm going down this Bank Holiday weekend to check out the (menswear) Dr. NOKI free instore denim upcycling (no - me either) and to see if the womenswear department can sort me out. Wish them luck, boys and girls...
For more information on the Destination Denim month and a list of in store events, as well as the online denim takeover, visit www.selfridges.com