As cold and flu season gets under way, now seems the perfect time to bring to your attention a fabulously quirky American fashion brand whose current collection is inspired by viruses, bacteria, and DNA structures. Welcome to the wonderful, wacky world of DEGEN.
DEGEN is Ohio native Lindsay Degen, a fashion designer who specialises in extraordinary, innovative knits and first started knitting at the age of three - this, to my mind, makes her something of a child genius, given I still struggle to knit anything more complex than a very straight, very simple, one colour scarf.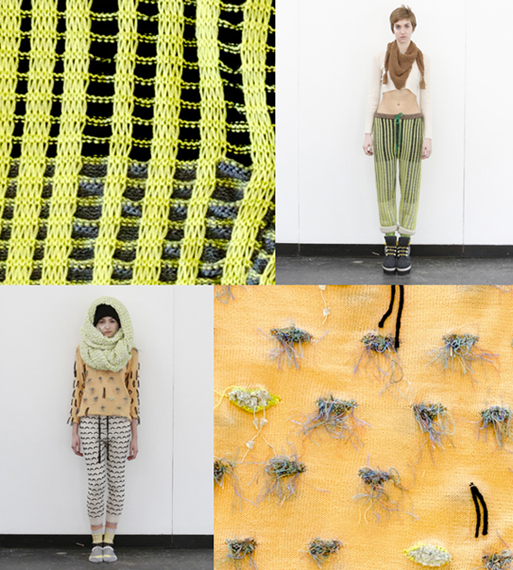 Following formal schooling at London's renowned Central Saint Martin's and the Rhode Island School of Design, Degen moved to New York City where she indulged her passion for "binge-knitting" further, and set up her eponymous fashion label, DEGEN.
Since her first collection in 2012, Degen's talent for eye-catching design has lead to a number of collaborations with well-known brands, my favourite of which is her work with Converse. Check out her footwear 'platforms' based on children's roller skates, here.
Lindsay Degen also grabbed headlines this week as she debuted her aesthetic to the masses in her guise as knitwear designer for the recent, internationally-anticipated Victoria's Secret runway show. Models including Jessica Hart rocked rave-tinged DEGEN designs inspired by the lighter side of social media, in the PINK section of the show, from a body suit made out of fishing line to a fishing line hoodie with an LED embellished emoticon smiley face, matching lite brite leggings and hat.
Her acclaimed, avant-garde designs examine the human body, inspired by the work of her geneticist parents. This theme is particularly strong in the current Fall/Winter 13 collection entitled 'Doctor DEGEN', which centres on the study of viruses, crystals, bacterium and moulds at a microscopic level in her parents' lab archive.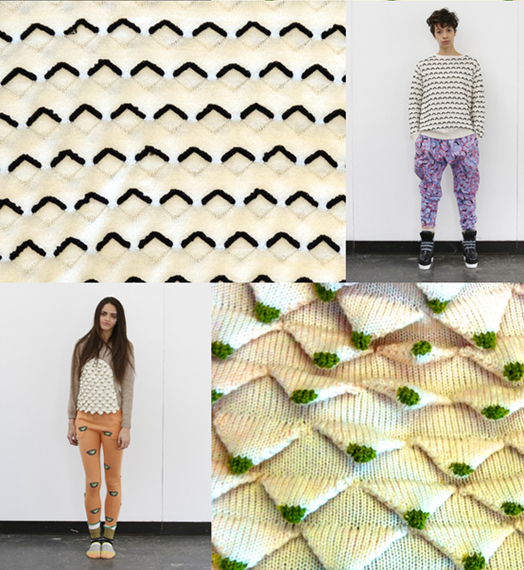 "My brand celebrates the human body as a work of art and encourages expression through garments. DEGEN embodies the love of the handmade, general silliness, and an exploration of ideas through the knitted stitch." says Lindsay Degen.
The resulting AW13 pieces play with texture, weaves, structure and murky, slimy colour to tangibly convey Doctor DEGEN's sickly theme in the most fashion forward, fun way. The collection, crafted in the USA from cotton, merino and wool, simultaneously grossed me out and made me smile - a lot - which is what I loved most about it. It demands a reaction.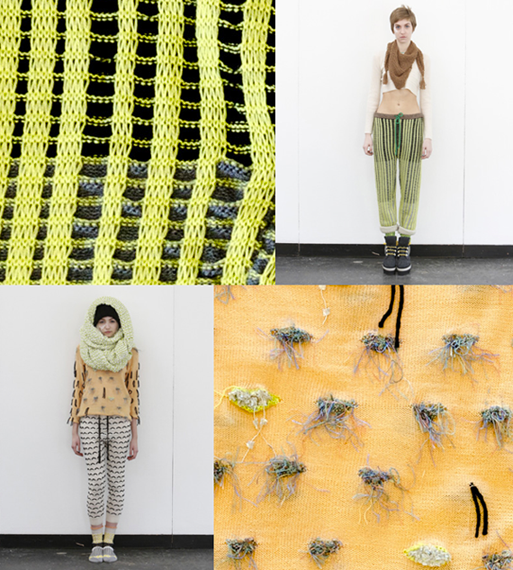 The clever combination of techniques which acutely capture in physical, fashion forms, the genetic structures and 'hairy', scary molecules that most of us only ever see in science textbooks, or on CSI-style TV dramas, are utterly inspiring.
Whilst DEGEN's cheeky clothing and its luxe grunge leanings may not be for everyone, the artistry and style DNA that goes into each piece is unquestionably laudable. I love how the witty, playful spirit of her work is balanced by the effortless cool of the DEGEN models, pictured here with their mix of 'Singles'-style slacker meets Brooklyn 'Girls' (and boys), with a touch of East London rave, keeping the collection firmly on a conceptual, fashion tip.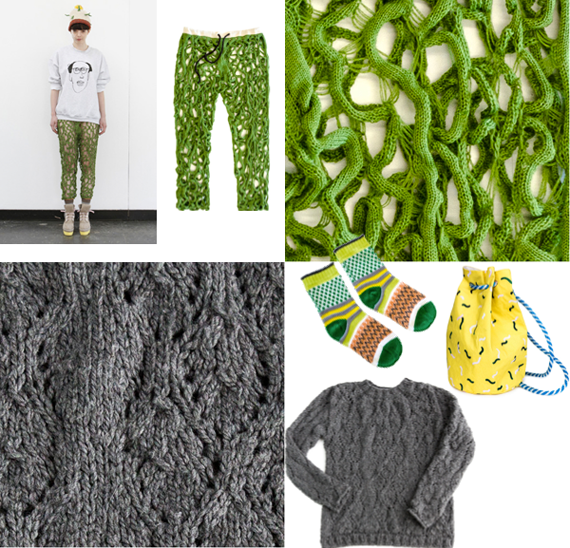 My favourite pieces this season are the merino wool Virus Sweater, the Gutz!!! Pant, pictured above (someone get Rihanna's stylist on the phone, STAT, these are a stage outfit waiting to happen), the Yellow Fever Backpack and the cotton drawstring Chromosome Pant. The cheery, super-soft, merino/angora blend 'Sockies' are totally covetable too.
To view the full Autumn/Winter 2013 'Doctor DEGEN' collection, and for a list of international stockists, check out the DEGEN website at degen-nyc.com
Related