I have been overhauling my health and diet recently and the last time I had to make major changes around 15 years ago it was no fun at all. Being a gluten free vegetarian (no, no fish) who's closer to being a vegan was pretty difficult back then so I can't say I relished these latest tweaks.
It got me thinking about how I could make myself actually enjoy drinking (a lot) more water, making sure I got a full 'rainbow' of fruit and veg every day and going to sleep - not just bed - at a reasonable hour.
I'm a huge sucker for good design and packaging. Make it cute, make it slick - make it Instagrammable - and I'm there for it. Of course the actual product has to be good too or what's the point? Style over substance may work for fast fashion but it's not what you want from health food or drinks.
By applying these admittedly basic and shallow criteria to my health goals I looked into ways to help make these three habits stick. Turns out that unlike my first time round, now the whole healthy living thing is a major trend there are a ton of techy phone-based and fashion forward options to both monitor and motivate.
These are the things that are so far working for me...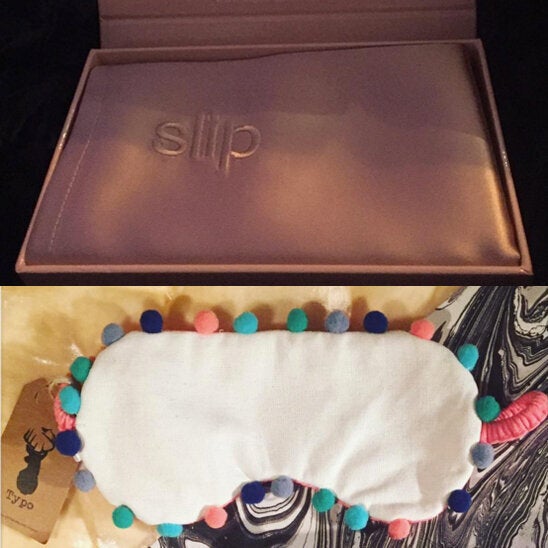 As a chronic insomniac I often get between 3-5 hours of sleep a night so re-establishing a proper bedtime routine and, most importantly, sticking to it is important to me.
I'm not going to turn my phone off but I do now put it on night mode because, concessions. I've been focusing my efforts on slowly making our bedroom, and specifically my side of the bed, a sanctuary of calm and tranquillity complete with good quality, natural fibre bed linens (if you don't mind the potentially looooong wait, sale site Cocosa.co.uk often has incredible deals on).
First up, a Slip silk pillowcase (£62-£78 from Net-A-Porter.com) that I can't wait to lay my head on - which besides being anti-ageing and better for your hair and skin than cotton also stays cool also feels incredibly luxurious.
Secondly, scented candles - good ones that don't leave smoke marks on the walls and ceiling. My signature 'sleep scent' is now the smell of Neom Organics 'Happiness' candles (£30-£45). I find their soft glow and light white neroli fragrance instantly relaxing - they actually do a Scent to Sleep range but I personally don't like lavender. Top tip: buy a three wick, they last me three times as long as a single candle so work out cheaper plus they gently scent two floors of our house without being over-powering.
Lastly, and the final part of my routine: a Pom Pom Eye Mask (£7) from the fabulous, affordable online store Typo which has recently launched in the UK. It's cotton lined and though not as good for my skin as the pillowcase, it's FUN.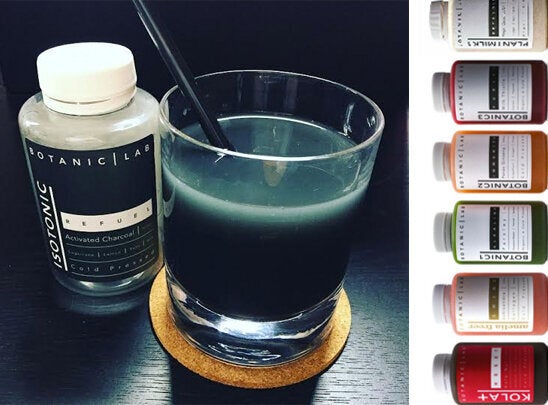 My Nutribullet, much loved yet only sporadically used (because honestly, who can face the sound of blitzing ice before breakfast?) got me right into the whole juicing thing but until I'm sleeping better on a consistent basis, the problems outlined above mean I am so not a morning person. If it comes down to even 30 seconds more sleep versus getting up and making myself a delicious healthy juice packed with nutrients and smug self-satisfaction, I'll be the one under the duvet ordering an uber.
But I need a wider variety of fruit and veg in my diet so what to do? Go for convenience and buy pre-made. But which ones?? Trust me when I tell you I have drunk A LOT of juices and a few accidental smoothies in a quest for a range that wasn't too sweet (a frequent issue), too much like chilled vegetable soup (bleurgh) or too smelly (Sorry spirulina, it's not me, it's you). I've made my way through the shelves at Planet Organic and Pret and I'm pretty sure that I've ordered at least two from every juice range stocked at ocado, and now I've found something that's just right.
Botanic Lab is a chic, modern juice brand whose founder, economist and yoga teacher Rebekah Hall, is a former city financier so she knows a thing or two about needing convenient nutrition on the go. Featuring cute toteable bottles with sleek minimalist graphics, her juices are stocked online at botanic-lab.co.uk, at various hip health spaces (I get mine from Ethos in Spitalfields) as well as some rather high end hotels - they can even be used as mixers if you're into multitasking.
This works for me because it's so comprehensive and the juices genuinely taste good. They come in various different categories - Lab (unusual juices including a veg-based cola), Botanic (raw cold-pressed juices featuring rare botanicals), Tonic (highly potent tonics to promote wellbeing) and 100% organic Plant Milks designed to boost the metabolism.
I'm particularly obsessed with their black, lemon and activated charcoal Refuel juice - because who doesn't want to match their drink to their lashes?
BKR fashion water bottles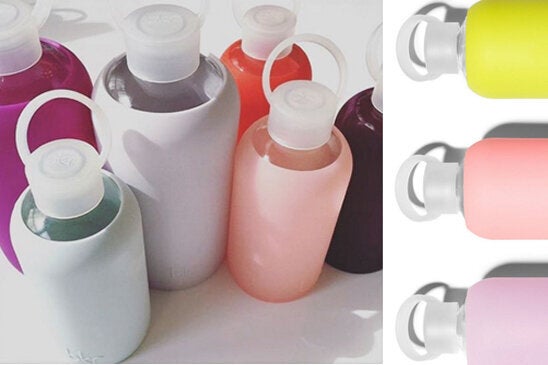 These water bottles are not only peak pretty and one of the hottest lifestyle accessories of the moment, but they are way better for the environment than buying bottled water. The also look gorgeous perched on your desk at work as a constant reminder to drink up - definitely a consideration when the two San Francisco-based lawyers who ditched their day jobs to launch the company started up.
Made from glass and BPA and phthalate-free, these frequently sold out refillable beakers come in on-trend colours that are all just beautiful. The stunning shades first caught my eye on instagram and have now been launched in the UK at retailers including Selfridges, BeautyBay.com and their own UK website mybkr.co.uk.
They come in work-perfect 1 litre (£35), gym-appropriate 500ml (£25) and on-the-go 250ml (£20) sizes with accessories including the cutest ice cube trays that make sticks - the shape and size of a kit kat finger - of ice that you can drop into the bottles for some instant chill.
Truth: they're not exactly cheap so I bought a $10 version in the States and it's metal not glass and the colour chipped and the water tasted horrible from it - it was a waste of time and money - so I'm finally doing the right thing - just as soon as I can decide on a colour.