OK so we all know films have a big influence on fashions but would you really have expected superhero movies to be causing a serious trend moment right now?
First The Amazing Spider-Man and the Nike athletics suit (to be fair, that inspiration is my observation, nothing official), now the new Lazy Oaf x Batman collaboration with retro bat logo clothing on a cool, East London, street style tip right in time for the hottest film opening of the year, The Dark Knight Rises.
Then there's the high fashion collection from Romance Was Born, who partnered with Marvel to open Mercedes-Benz Fashion Week Australia with a POW, a BLAM and even a KAPOW!
Superhero style is kicking off so if you're into comic book colours, iconic logos and great, graphic fashion, read on...
Sequinned Marvel Superhero dress by Romance Was Born.
Romance Was Born partnered with the Marvel comics - creators of iconic characters such as Thor, Captain America and Iron Man - for their sass-powered Spring/Summer collection. The punchy graphic designs opened the 2012 Mercedes-Benz Fashion Week Australia of the collection entitled 'Berserkergang!', socking onlookers with eye popping CMYK colours and comic art styling.
Their bold print designs and use of cartoon-like shapes - spots, stripes, zig zags, strong lines - bring humour to the collection, whilst the neat silhouettes lend what could have been a totally avant garde project, a wearable edge.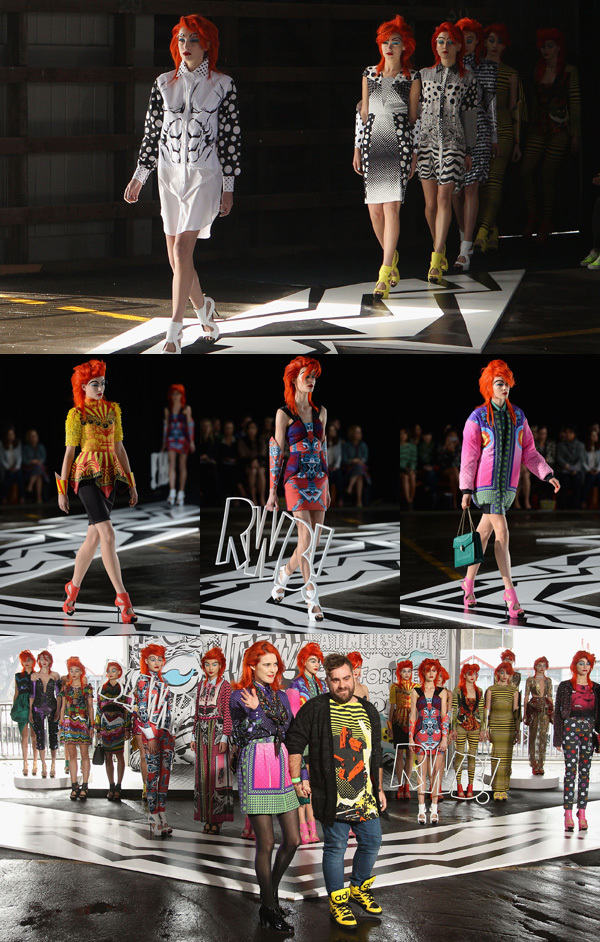 Superhero style on the catwalk from Australian designers, Romance Was Born.
The collection's colour palette charts the progression from Marvel's early black and white days through to the striking, modern colours - where characters like the legendarily green Hulk, found their strength and fame - adding exaggerated comic book style shading to vivid effect.
Romance Was Born can be found at Harvey Nichols in the UK, Bauhaus in Hong Kong and Taiwan, plus Dual in Japan, and will be available to buy online from their website - www.romancewasborn.com - soon too.
Now, for all you Batman fans, wait til you get a load of this...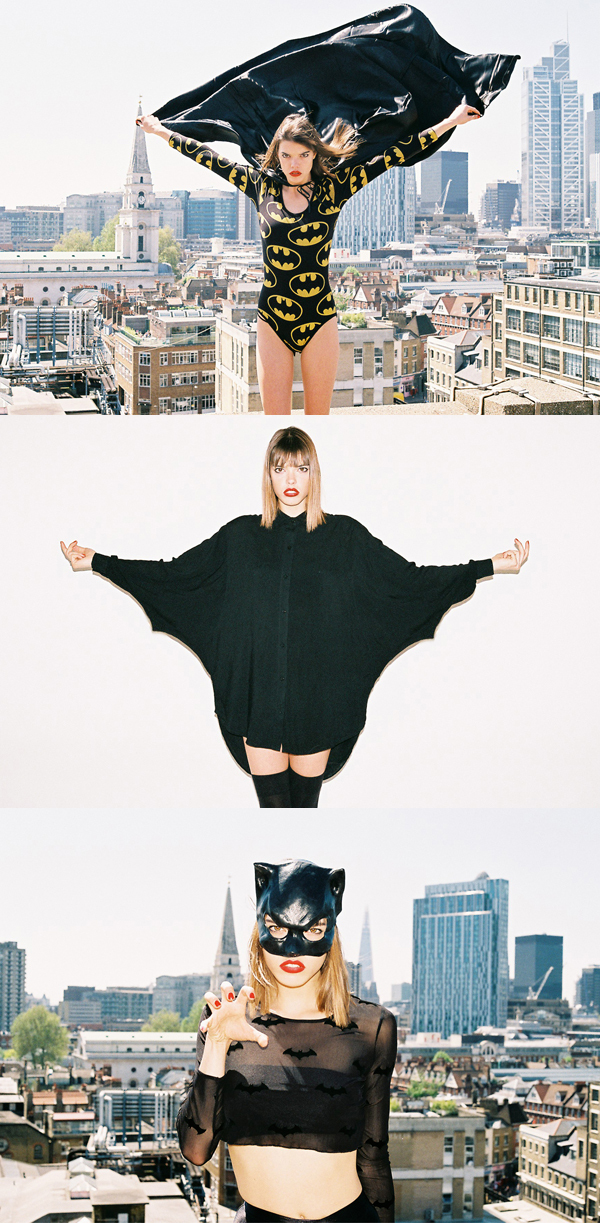 Looks from the Lazy Oaf x Batman collection
As regular readers will know, I'm a big fan of Lazy Oaf's quirky, fun fashion which often has a 90s style to it. I clearly remember going mad for a Batman t-shirt when the Michael Keaton film first came out in 1989, having been totally sucked into the hype spread around town by teaser logos all over the city. With the next in the film series, the hotly anticipated The Dark Knight Rises, about to open, Batman fever is here again and Lazy Oaf is all over it.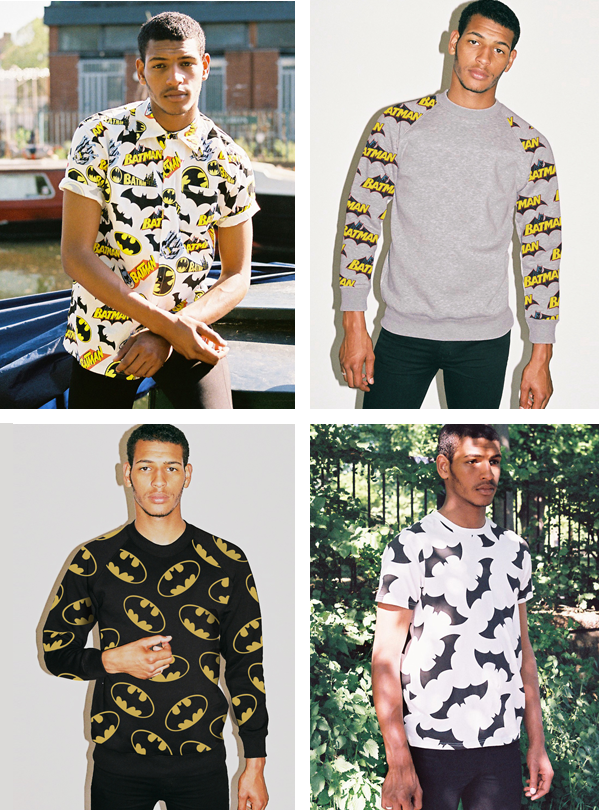 Men's printed tops and T-shirts from the Lazy Oaf x Batman range
Their collaboration with Warner Bros sees the classic retro Batman motifs and comic book renderings applied across womenswear, menswear and a few unisex pieces. There's also an amazing one size fits all black women's batwing shirt (£60) - my favourite piece from the collection (pictured below) - that takes it's inspiration straight from the Caped Crusader putting a more glam spin on Gotham fashion. Out now in Lazy Oaf stores and from www.lazyoaf.co.uk.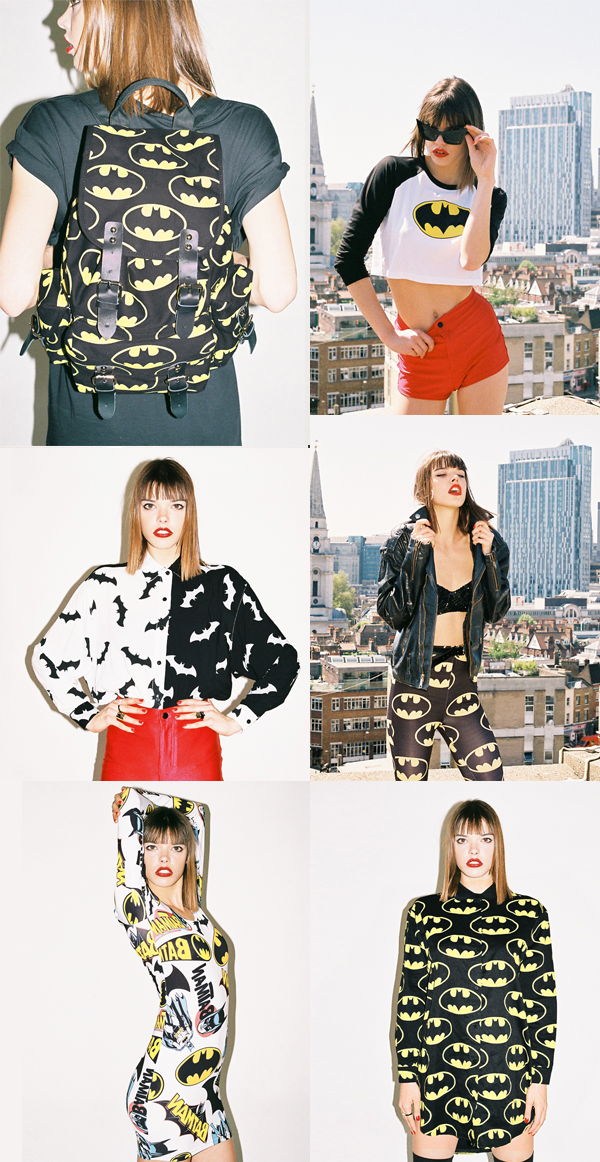 Womenswear from the Lazy Oaf x Batman collection